NHL All-Star Game 2012: Jarome Iginla and Veterans That Won't Be All-Stars Again
January 29, 2012

Bruce Bennett/Getty Images
As the 2012 NHL All-Star Game is one of the most exciting events of the season, it may also be the last experience like this for some of the best players in league history.
While stars like Jarome Iginla and Daniel Alfredsson are NHL legends, their run of All-Star dominance is coming to an end.
All of the following stars need to enjoy their All-Star stay because it will be the last of their careers.
Jarome Iginla
As long as the fans get vote stars into the NHL All Star Game, this will not be the last time Iginla gets into the show. With possible talk of the NHL doing away with the fan selection, however, Iginla's numbers may not be good enough to warrant selections in the future.
That is, especially if he ends up getting traded to a team that has a bigger star than himself.
If Iginla stays with the Flames and continues to struggle the way he has, you can consider the 2012 All-Star Game his last, which would be a real shame.
Daniel Alfredsson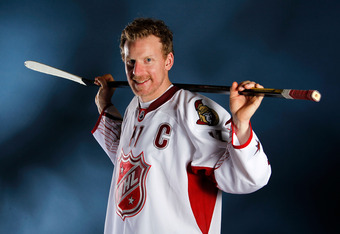 Gregory Shamus/Getty Images
At 39 years old, there isn't much doubt that if it wasn't for the hometown Ottawa fans voting for the Senators captain, Daniel Alfredsson wouldn't have made the game.
Whatever the reason he made it to the game, it will be the last time he gets to enjoy it as a participant. And what better way to go out than in the hockey city he helped build into prominence?
With Alfredsson's numbers dropping each season, it will be time to hang the skates up for good soon. In the meantime, he should just enjoy the final All-Star experience of his life.
Kimmo Timonen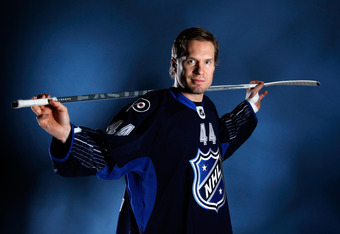 Gregory Shamus/Getty Images
While the Philadelphia Flyers' veteran defenseman may still be playing some of the best hockey in the NHL, he won't be the top guy in Philadelphia next season. That means he won't get the proper love.
Whether it's the return of Chris Pronger or a move that brings a huge name like She Weber to the Flyers, Timonen will see his ice time and point numbers decrease next season.
At 36 years old, there isn't much time left for the Finnish defenseman in the NHL and this will be his last All-Star Game as a participant. This is sad because he still has plenty of good hockey left in his legs.
Check back for more on the National Hockey League as it comes, and check out Bleacher Report's NHL Page to get your fill of all things hockey.