Boston Bruins: 10 Best All-Star Moments in Franchise History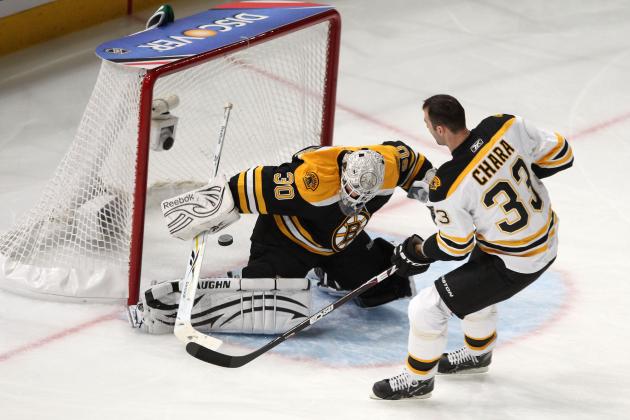 Bruce Bennett/Getty Images

This weekend, Zdeno Chara will be the first Boston Bruin to captain an NHL All-Star team since Ray Bourque filled that role for the North American team in 2000. Head coach Claude Julien will stand behind an All-Star bench for the second time in four seasons, looking for a 2-0 career record.
Chara will vie for his fifth-consecutive victory in the hardest shot portion of the skills competition on Saturday. In Sunday's marquee event, goaltender Tim Thomas—assuming he is withheld until the third period—will try to garner his fourth-straight All-Star game victory.
And only the hockey gods know if there's more to come from Tyler Seguin, as he puts in his first midseason exhibition appearance as part of his breakout sophomore campaign.
For every personality serving as an All-Star ambassador for America's oldest NHL franchise, there is potential for another moment to join the upper echelon of Bruins All-Star memories.
Will one Bruin—or a collaboration of full-time Boston teammates—pen a log entry worth supplanting any of these 10?
Begin Slideshow

»
Despite letting the NHL All-Stars fall behind 2-0 and 3-1, goaltender Frank Brimsek held the host Toronto Maple Leafs scoreless for the remaining 34 minutes and 59 seconds of game action. Meanwhile, his teammates surmounted the deficit for a 4-3 victory.
The following year, making his second and final All-Star appearance at the same site, Brimsek would repeat his feat, backstopping the NHL to a 3-1 triumph over the Leafs.
Phil Esposito, Bobby Orr and Terry O'Reilly pitched in a goal apiece, and O'Reilly added an assist as part of the Wales Conference's 7-1 drubbing of their Campbell counterparts at the Montreal Forum.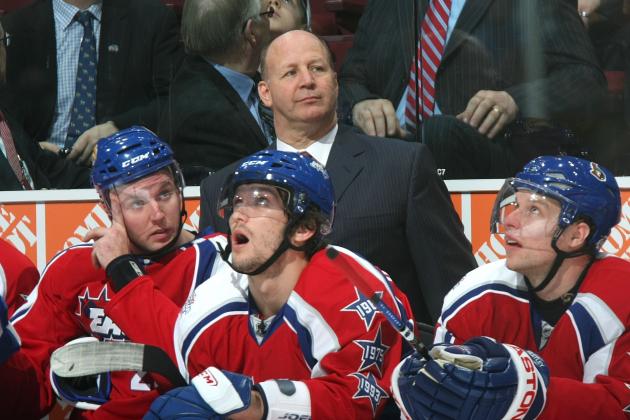 Dave Sandford/Getty Images

A Julien-led squad of Eastern Conference All-Stars vanquished their Western rivals at Montreal's Bell Centre, 12-11.
Marc Savard pitched in a playmaker hat trick in regulation and Thomas outdueled Roberto Luongo in the shootout, stopping both Shane Doan and Rick Nash while Alexei Kovalev and Alexander Ovechkin connected at the other end.
In the year between the two titles, the old Boston Garden hosted the NHL's midseason showcase for the only time in its 67-year run.
As such, the local crowd had a unique opportunity to see Orr, Esposito and four other Bruins team up with the likes of Gordie Howe, Brad Park, Frank Mahovlich and Peter Mahovlich.
The inaugural All-Star game, pitting the host Toronto Maple Leafs against a conglomeration of players from the NHL's eight other teams, was inspired to raise funds for the recovery of wounded Leafs forward Ace Bailey.
Only 10 weeks earlier, Bailey had sustained a career-ending and life-threatening skull fracture at the hands of Bruins defenseman Eddie Shore. Shore incurred a 16-game suspension that expired two weeks before the exhibition, which he was permitted to play in.
Amidst the pregame festivities, Shore and Bailey put all mounting controversy to rest upon meeting at the Leafs bench and exchanging a handshake for all the Maple Leaf Gardens masses to see.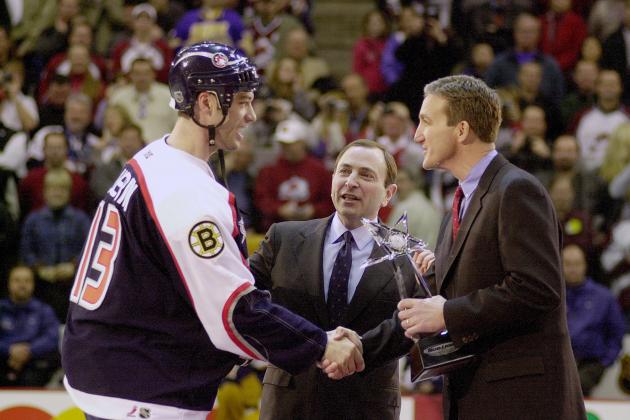 Elsa/Getty Images

Though no longer a Bruin, Bourque was selected for his NHL-record 19th All-Star appearance, and for the eighth time in 11 tries, won the accuracy shooting portion of the skills competition.
In addition, then-Bruin Bill Guerin was the weekend's fastest skater and the game's MVP, as his hat trick and two assists piloted North America to a 14-12 victory at the Pepsi Center.
Chara's 105.4 mile-per-hour slapper clinched him a three-peat as the skills competition's hardest shot champion, and squeaked past Al Iafrate's 16-year-old record of 105.2 miles per hour.
At the next All-Star weekend in 2011, Chara would successfully defend his title and revise his own record, with a blistering biscuit clocking in at 105.9 miles per hour.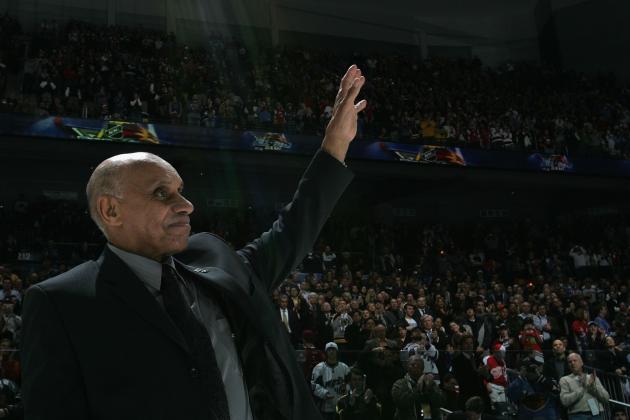 Bruce Bennett/Getty Images

Willie O'Ree was honored for the 50th anniversary of his barrier-busting NHL debut. Chara won his second consecutive hardest-shot contest.
Savard broke a 7-7 tie with 21 seconds remaining in regulation, and Thomas backstopped his first of three consecutive All-Star game victories in the Eastern Conference's 8-7 triumph at Atlanta's Philips Arena.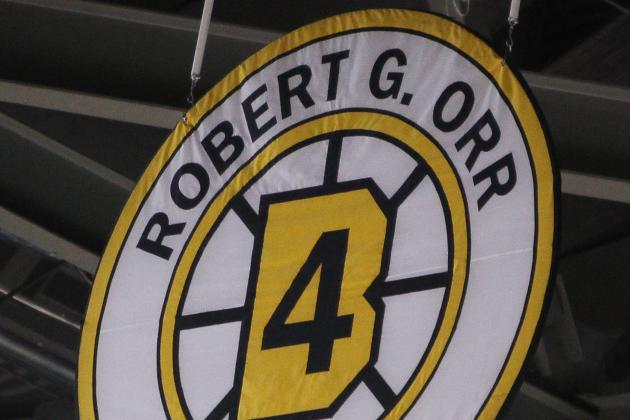 Elsa/Getty Images

With 44 seconds remaining in regulation, Orr and Dallas Smith set up their teammate Esposito's tiebreaker to cement a 3-2 victory for the East Division at the Met Center in Bloomington, Minn.
As one of the final highlights at the peak of his career, Orr was the first Bruin to be named the All-Star game's MVP in the award's 10 years of existence.
Amidst the inaugural season of what was then dubbed the FleetCenter, hometown ambassadors Cam Neely and Bourque each had a hand in the Eastern Conference victory.
Neely assisted on Brendan Shanahan's strike that put the East ahead 4-1 in the second period, though the visitors soon deleted that deficit.
But in the final minute of regulation, none other than Bourque went out of his way to converge with a loose puck and beat an unprepared Felix Potvin for the deciding goal en route to a 5-4 win.
He was subsequently bestowed the game's MVP accolade.