NHL Trade Rumors: Sharks Must Stick to Their Guns and Keep Ryane Clowe
January 18, 2012

Bruce Bennett/Getty Images
If the Sharks are going to win the Stanley Cup this season, Ryane Clowe will have to be a member of the team. More than any one player, he is the the heart of the Sharks. Therefore, the thought of his name being tossed around in a trade is ridiculous. 
So, the Sharks and their fans must be enthused with San Jose Mercury News Sharks' beat reporter David Pollak's tweet, saying that Clowe will not be going anywhere.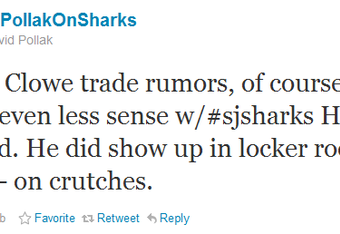 It is easy to understand what teams would see in Clowe, which would surely bring plenty of talent to the Sharks. At 6'2" 225 lbs, Clowe has the size to fit the prototypical "power forward" mold. He's a reliable 20-goal scorer that can keep goalies and other team's top defenders occupied when on the ice. 
When he's not scoring goals, Clowe has the size, strength and edge to be a de facto enforcer on the ice. He can keep the other team's tough guys away from some of the smaller, skill guys.
Those are the kind of values that teams look for. They are also the kind of values that the Sharks need to embrace if they are ever going to get to the Stanley Cup Finals, and win. 
The Sharks are rarely the lesser talented team when taking the ice. They are loaded with offensive and defensive talent, but lose in the playoffs because they don't embrace their edge. Their tough guys are not allowed to be tough. That needs to change this year. 
Trading Ryane Clowe would mean not only dealing one of the edgiest players on the team, but also one who can put the puck in the back of the net. That would be a terrible mistake, one that would surely lead to another early exit in the Stanley Cup Playoffs. 
It is good news for Sharks fans the team is debunking any rumors that would ship Clowe out of town. Keeping him is one thing, embracing his strengths and piggybacking off of them is the next step.