25 Biggest Hits of the First Half of the NHL Season (video)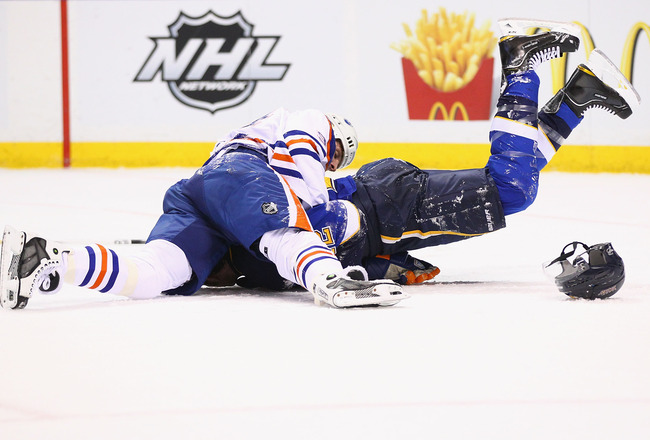 Dilip Vishwanat/Getty Images
We're headed to the second half of the season, and there have been some enormous hits—both legal and illegal—this season.
While many of the big shots have required the attention of Mr. Shanahan, and come with a courtesy power point presentation, some have been both clean and huge.
Let's take a look back at 25 of the biggest hits from the first half of the 2011-12 NHL regular season.
Jamie Benn
Jamie Benn decided Chicago's Niklas Hjalmarsson looked tired and offered him a seat in the first row.
Corey Perry
Corey Perry doesn't get a lot of credit for being a physical forward, but he introduces himself here pretty well. And, once again, it's Chicago's Hjalmarsson on the receiving end.
Niklas Hjalmarsson
After playing the role of the nail in the first hit of the series, Hjalmarsson returns to perform the function of hammer here.
Niklas Kronwall
If you haven't heard, this is what it looks like when someone gets "Kronwall'd."
PK Subban
PK Subban with the unconventional leaves-his-feet-to-deliver hipcheck.
Anton Stralman
For those asking, Anton Stralman displays the more conventional hipcheck here.
Paul Gaustad
Paul Gaustad almost knocked the Michael out of John-Michael Liles here.
Good, clean hit.
Kevin Bieksa
Kevin Bieksa rarely avoids a big hit, and finishes the check here against Detroit.
Theo Peckham
This is a great example of why skaters need to keep their heads up.
Johnny Boychuk
This defines the highlight package cliche, "How many times do we show a guy make a big hit in the defensive end and then score a goal on the other end?"
Kudos to Boychuk for doing it all on one shift.
Jason Demers
Just look at how far away Eric Cole's stick ends up from his body on this hit from Jason Demers. Wow.
McQuaid/Frattin
Two players skating at full speed and neither took the time to look up and see where they were going. They were lucky neither got hurt.
Beauchemin/Frattin
Francois Beauchemin may have initiated the contact, but Matt Frattin was the one who finished.
Blake Comeau
I'm always amazed when you see replays on a play like this that the skater can look around to find an official when wanting a penalty, but can't be aware of a freight train coming towards him.
Again, keep your head up.
Tom Gilbert
Once again, a player with very little ice awareness falls victim (pun intended) to a big hit.
Arron Asham
Arron Asham obviously thought there didn't need to be glass between the action and the paying public, so he removed it.
Chris Stewart
Lots of big hitting in this clip from Chris Stewart, who has been really good for the Blues since he was acquired last season.
Derek Morris
"Go back to the gym, have a seat" is appropriate here, as Morris simply stands his ground and plants a forward that could probably work on his lower body strength a little this coming offseason.
Dion Phaneuf
Whenever Toronto and Boston play, there's big hitting all day. In this clip, Toronto's captain gets all of Chris Kelly.
Dion Phaneuf II
A (sloppy) second appearance from Phaneuf? This time it's against Ottawa that he levels someone.
Clayton Stoner
One would hope that with a name like Clayton Stoner he would know how to punish the boards, and here he does against the Pens.
Bryan Bickell
Bryan Bickell gets every bit of his target in this clip. Unfortunately for the Hawks (and his job security), he hasn't hit anyone like this for a couple months.
Mike Blunden
A well-timed line change coupled with a forward staring at the puck leads to a guy on his backside.
Patrik Berglund
Patrik Berglund provides a wonderful case study for why forwards should keep their heads up. Not only does he play the puck, but he lays the wood as well.
David Backes
And then there's big, bad David Backes. He is supposed to be on the receiving end of this hit, but he winds up with the puck while his Ranger counterpart is trying to get back on his feet.
Huge hit!
Keep Reading