NHL's 25 Best Fights from the First Half of the Season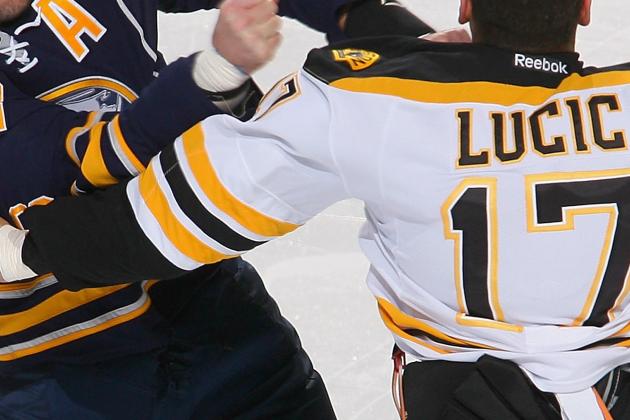 Rick Stewart/Getty Images

Few things get hockey fans more excited at NHL games than a good, hard-fought bout between two heavyweights.
The 2011-12 NHL season has had many memorable fights, even some that people will be talking about for years.
Let's take a look at the top 25 fights of the season through mid-January.
Which one is your favorite?
Begin Slideshow

»
George Parros of the Anaheim Ducks is a big dude and a good fighter, but Brian McGrattan of the Nashville Predators gets the best of him here.
Tanner Glass of the Winnipeg Jets can really fight (he'll be on this list again), but he was outclassed in this bout by the Minnesota Wild's Clayton Stoner.
Be careful when you cheap-shot a Boston bruins player, because someone will come after you.
Unfortunately for Raffi Torres, the Bruins' best fighter, Adam McQuaid, came at him and destroyed him.
Torres probably had nightmares of McQuaid for days.
Kyle Clifford and Jay Rosehill had a tremendous bout here, and I'll let you be the judge of who wins—it was a pretty close fight throughout.
Exciting stuff though.
Steve Downie's a tough guy, but Philadelphia Flyers defenseman Braydon Coburn is a bigger player and a better fighter.
Milan Lucic of the Boston Bruins is one guy you don't want to fight, but Matt Carkner puts up a good effort.
I think Lucic took this one, however.
When Boston Bruins forward Milan Lucic did not get suspended for running over Buffalo Sabres goalie Ryan Miller, it was clear that the Sabres were going to challenge Lucic in the next game.
Paul Gaustad stepped up for his team, but in the end, he was pummeled by Lucic.
New York Rangers tough guy Brandon Prust takes on Philadelphia Flyers forward Wayne Simmonds in this bout.
It was actually Prust's second fight of the game, and I think he was the clear winner.
John Erskine takes on Aaron Asham of the Pittsburgh Penguins, who is a tremendous fighter, but Erskine gets the better of him here.
This was a really good fight, but I would give the slight advantage to Matt Martin over Zack Kassian.
Really exciting fight with a ton of punches thrown. Good stuff all around.
This is what an exciting fight looks like, oh my!
Zac Rinaldo and Corey Tropp get locked into an intense bought here, and Tropp looks like he won it.
Great fight nonetheless.
Sheldon Brookbank and Derek Dorsett square off in a really good fight that I would call as a draw, with maybe a slight advantage to Brookbank.
This was one of the more exciting fights of the season, with neither player looking to play much defense.
Nashville Predators forward Brian McGrattan earns a decisive victory in this fight over Jared Boll.
McGrattan has really given the Predators some more toughness this season.
Zenon Konopka and Mike Brown had a solid fight right here, and I would give the edge to Konopka.
It was a good bout between Ontario rivals.
If you didn't see the Bruins and Canucks play on January 7, go find a replay, you'll be glad you did.
Nathan Horton and Dale Weise squared off in the first period in a lengthy bout that was pretty close, but I would give the edge to Horton.
Krys Barch of the Florida Panthers gets the best of Cam Janssen of the New Jersey Devils.
These two always make for entertaining bouts.
Arron Asham destroys Jay Beagle of the Washington Capitals, but I don't like his gestures afterwards; that garbage has no place in hockey.
Ryan Reaves of the St. Louis Blues earns a clear victory over Brad Staubitz of the Minnesota Wild.
Reaves just dominated with some excellent, massive right hands. What a bout!
This was a fantastic bout between Bruins forward Gregory Campbell and Joe Vitale of the Penguins.
I'd give Campbell a very slight advantage. It was yet another case of the Bruins sticking up for their teammates.
Sidenote: How awesome is Jack Edwards' commentary of this fight?
I would have to give Cam Janssen the decision in this fight, but Michael Healy of the New York Islanders puts up a solid effort.
This was an awesome fight.
Chris Neil of the Ottawa Senators earns a clear victory over Eric Boulton of the New Jersey Devils in a tremendous bout.
Winnipeg Jets forward Tanner Glass gets beaten by Cody McCormick of the Buffalo Sabres in what many would call the fight of the year.
The intensity and spirit of this bout was simply amazing. One of the best fights in recent years.
Cam Janssen and Brian McGrattan earn another mention on this list, and this was one of the best fights of the season. I think McGrattan certainly got the best of him here, though.
If you love quick fights with amazing offense and big punches, this is your bout. What a tremendous effort by Mike Brown and Kris Newbury.
The clear edge I would say goes to Mike Brown, but an awesome fight regardless.
Brian McGrattan pummels Jay Rosehill of the Toronto Maple Leafs in arguably the fight of the season.
I couldn't even determine how many punches McGrattan threw at the beginning; what a display of offense.