NHL Trophy Watch: 6 Players Who Have Good Shot at Winning Rocket Richard Trophy
January 6, 2012
Bruce Bennett/Getty Images
The midpoint of the NHL season has arrived, so its a great time to start talking about trophies. The Maurice Rocket Richard Trophy is an award given out each year to the NHL's top goal scorer. To win the award, a player must excel at scoring goals. Players who have goal-scoring abilities are all prone to prolonged slumps and droughts, but truly the best of the best often win the Rocket Richard trophy.
There are currently a few players who have a good chance of winning the Rocket Richard Trophy. Here are the top-six contenders for the award based on current totals, projected totals and past goal-scoring stats.
6. Claude Giroux 
Career High: 25 Goals
Claude Giroux has really climbed the depth charts for goal scorers in the NHL. Giroux is a natural goal scorer whose nimble hands are greatly completed by his lightning speed. One of his breakout moments came in the 2009-10 season when he scored a heart-breaking shootout goal against the New York Rangers on the last day of the season.
Giroux tallied 25 goals and 51 assists for 76 points last season. Up to this point he has scored 18 goals. He is on pace to finish the 2011-12 campaign with 41 goals. If Giroux can heat up, there is a chance he could contend for the Rocket Richard Trophy.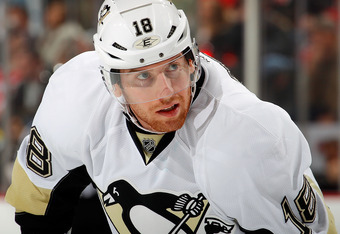 Paul Bereswill/Getty Images
5. James Neal
Career High: 27 Goals
James Neal has embraced his new home in Pittsburgh beautifully. He has really stepped up to the plate in the absence of Sidney Crosby. It is a bit ironic because he was acquired to eventually become Crosby's linemate. Up to this point, Neal has scored 21 goals. Last season he scored 22 goals, so it is obvious that he will surpass his total from last season.
Neal is projected to finish the season with 45 goals. However, will the burden of carrying a team catch up with Neal? He is a true talent, but he has never scored 30 goals let alone 40 or more in a single season. 
4. Phil Kessel
Career High: 36 Goals
Phil Kessel is off to a blistering start for the Toronto Maple Leafs. He is racking up goals and points left and right and has averaged a point per game over his last 21 games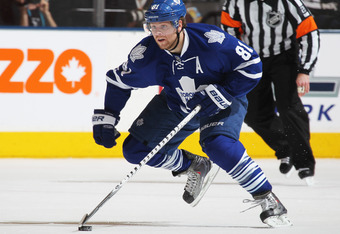 Claus Andersen/Getty Images
Kessel is on pace to score 47 goals but it is likely he will come back down to earth at some point this season. Odds are that Kessel will hit the 40-goal mark and will end up with around 43 or 44 goals.
3. Jonathan Toews
Career High: 34 Goals
Chicago Blackhawks captain Jonathan Toews is off to the best start in his young NHL career. He has scored 22 goals through 40 games when he scored 32 during the entire 2010-11 season. Toews is a great leader and it really explains why the Blackhawks are one of the hottest teams in the West.
Toews is on pace to score 45 goals and given his play as of late, it is a real possibility that he ends up exceeding that total.
Career High: 42 Goals
Marian Gaborik is a really talented hockey player. He has amazing speed, great vision and a potent wrist shot. He is a natural goal scorer when he is "in the zone." Gaborik has been in the zone this season.
Gaborik has been a catalyst for offense on the New York Rangers this season as he has scored 23 goals so far. Gaborik is on pace to score 51 goals by this season's end. Will he hit 50? Chances are Gaborik ends up on the back end of the 40 goal plateau. However, if he gets hot down the stretch he could give the No. 1 contender a run for his money.
1. Steven Stamkos
Career High: 51 Goals
Steven Stamkos is one of the league's most explosive scorers. He has speed, finesse, a deadly wrist shot and lethal one-timer. If you give him the puck and a sliver of open ice, he will make you pay a big price. 
Stamkos has started to emerge as an elite goal scorer over the past few seasons. Up to this point his 27 goals leads the league and he is on pace to score 59 goals. If Stamkos could score 59 goals or more it would be amazing. However, odds are that Stamkos scores in the lower 50s. Right now he is the No. 1 contender.
These players are snipers in the truest meaning of the word. Each player is a game changer and can breakout at a moment's notice. It is for this reason that they are so valuable to their teams and why they have a good opportunity to win the Rocket Richard Trophy.
Tom Urtz Jr. is an NHL Featured Columnist.
For more NHL free agent news, updates and alerts about players: