NHL Winter Classic 2012: Rangers Risk Season by Not Resting Marc Staal
January 2, 2012
Christopher Pasatieri/Getty Images
The New York Rangers are letting defenseman Marc Staal play in his first game of the season today, but it's a huge risk for the best team in the Eastern Conference.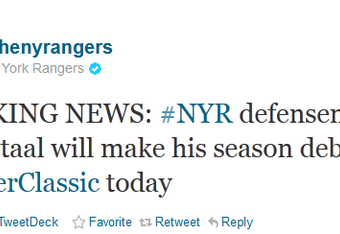 Staal has missed all 36 games this season while recovering from lingering effects of a concussion. The injury was sustained when he was leveled by his older brother Eric last season.
As recently as yesterday, Staal wasn't expected to play. But after addressing the rest of the team at dinner last night, Rangers coach John Tortorella decided he was ready to go.
"I got a yes from my trainer, a yes from my doctor and more importantly I got a yes from the player. He's going to play. I don't care if we're playing in the creek somewhere, he's going to play," Tortorella said.
I'm sure it was an inspiring announcement for the team, but it's an unnecessary risk.
New York is currently sitting atop the Eastern Conference with 23 wins, nine losses and four overtime losses. Only Chicago has more points (52) than the Rangers (50) this season.
Even without Staal, the Rangers have one of the best defenses in hockey. They are allowing just 2.1 goals per game (second in NHL) and are killing 86 percent of penalties (sixth in NHL).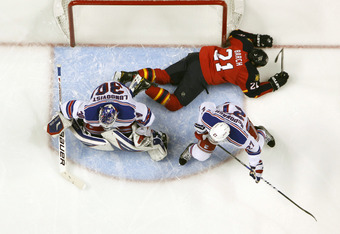 Joel Auerbach/Getty Images
Simply put, the Rangers don't need Staal this early in the season. It's pointless to risk his health right now, especially considering their situation today.
They are playing their vicious rivals, the Philadelphia Flyers. It would be an understatement to say that there's been bad blood between these two teams. The Flyers will have no problem with crushing Staal, ethics be damned.
It's also not smart for New York to have Staal play outdoors in his comeback game. The outdoors have been known to mess with the depth perceptions of players, which adds another element to this already dicey situation.
The Rangers had to play him at some point, but they should have waited for a less dangerous game.
New York will need Staal in the playoffs. If he gets seriously hurt again, they can kiss their Stanley Cup chances goodbye.