A-Rod and Torrie Wilson: Everything You Need to Know About His New Lady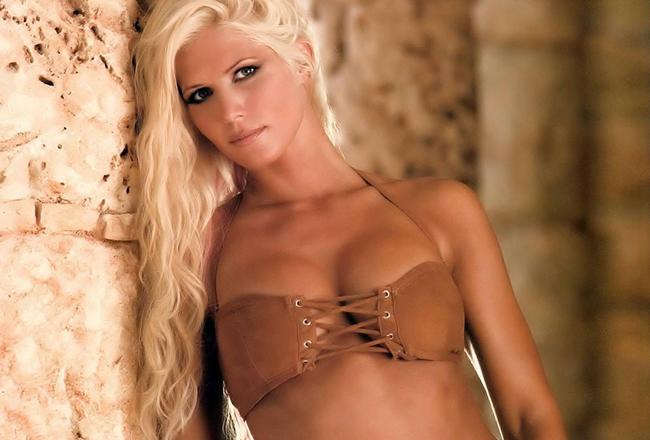 Photo courtesy go4celebrity.com

Now that New York Yankees third baseman Alex Rodriguez has been removed from the clutches of former girlfriend and movie star Cameron Diaz, he has moved on to bigger and better things...so to speak.
USA Today reported on Friday morning that the Yankees slugger is now an item with former WWE Diva Torrie Wilson, and that the two have been seen together vacationing in Cabo San Lucas and Miami.
Wilson, who won the Miss Galaxy competition in 1998 before moving on to bigger and better things herself, retired from the ring in 2008 and was married to former WWE wrestler Peter Gruner, aka Billy Kidman, for five years.
So, just who is Torrie Wilson and why has she gained the affection of A-Rod? Let's take a look.
Torrie Wilson: Fitness Freak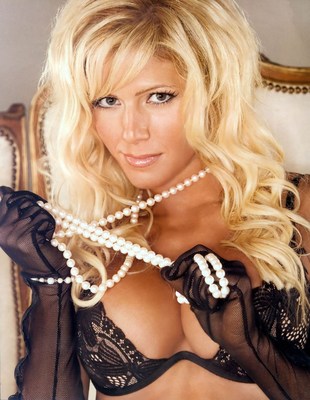 Photo courtesy hollywoodtuna.com
Early in Torrie Wilson's life while growing up in Idaho, she had dreams of becoming a model. After being told that she would need to lose weight in order to pursue her dreams, Wilson developed anorexia nervosa and then bulimia in the process of trying to lose weight—afflictions that dogged her throughout her teenage years.
During her recovery from the disorders, Wilson became heavily involved in fitness, culminating in winning the Miss Galaxy crown in 1998.
Torrie Wilson: Her Introduction to Professional Wrestling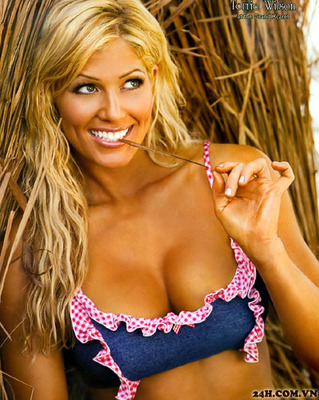 Photo courtesy movies.kngine.com
Shortly after winning the Miss Galaxy competition in 1998, Torrie Wilson decided to take her act to Hollywood in hopes of developing a career in acting.
Wilson did in essence develop an acting career, but in the world of professional wrestling. Introduced to the sport by her then-boyfriend, Wilson joined World Championship Wrestling (WCW), where she originally developed the persona "Samantha" before wrestling under her own name shortly thereafter.
It was in the WCW that Wilson originally met her future husband, Billy Kidman.
Torrie Wilson: Her WWE Debut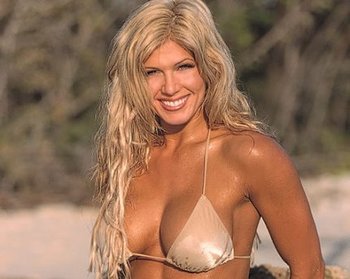 Photo courtesy yesmoringafarms.com
Torrie Wilson was let go from her WCW contract in September 2000, and shortly thereafter, she joined WWE and started regularly appearing on SmackDown!, oftentimes being paired with fellow WWE star Stacy Kiebler.
Kiebler and Wilson often partnered together in the famous Bra and Panties matches, delighting WWE fans and doing wonders for pay-per-view revenues.
Torrie Wilson: A Playboy Cover and National "Exposure"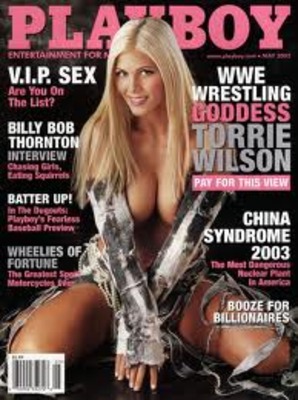 Photo courtesy magazine-covers.lucywho.com
In May 2003, Torrie Wilson was selected by Playboy magazine to be their cover, along with a photo spread. The cover was widely marketed by WWE and resulted in a "feud" between Wilson and former WWE diva and Playboy covergirl Sable.
Eventually, Wilson and Sable engaged in a bikini contest, won by Wilson.
Torrie Wilson: Wilson's Move to WWE Raw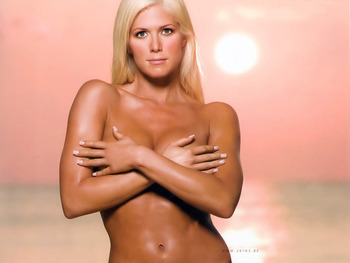 Photo courtesy yesmoringafarms.com
In August 2005, WWE announced that Torrie Wilson was moving from SmackDown! to Raw, and new storylines were created and Wilson became a villain, developing a feud with Ashley Massaro.
Wilson also made an appearance on WrestleMania 22, during which she defeated rising WWE star and current Playboy covergirl Candice in a Playboy Pillow Fight.
Torrie Wilson: Wilson's "Relationship" with Carlito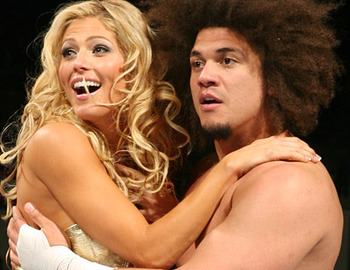 In late 2006, Torrie Wilson developed a "relationship" with WWE wrestler and pretty boy Carlito. The two would make numerous appearances together in 2006 and 2007.
The relationship between the two eventually fizzled when Carlito and his mentor, Ric Flair, parted ways and Carlito became a heel and dumped Wilson as well.
What a fool...
Torrie Wilson: Wilson's Departure from WWE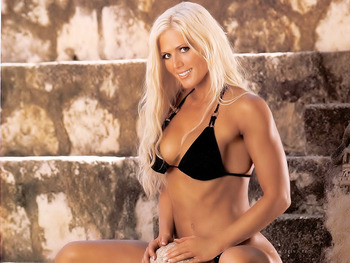 Photo courtesy wallpaper.skins.be
In 2007, Torrie Wilson returned to SmackDown! as part of the WWE Draft between the two brands, and she made limited appearances due to an ongoing back injury sustained earlier in her career.
Wilson made her final appearance on SmackDown! in October 2007 and was released from her WWE contract seven months later.
Torrie Wilson: Wilson's Return to WWE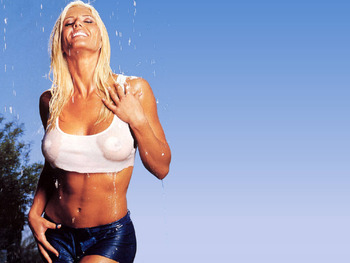 Photo courtesy celebritysection.com
After being out of the ring for over a year, Torrie Wilson returned to the WWE in April 2009, with her appearance in WrestleMania XXV.
Wilson's return was part of the 25 Diva Battle Royale, which featured many former WWE stars from the past.
Torrie Wilson: Wilson's Reality TV Debut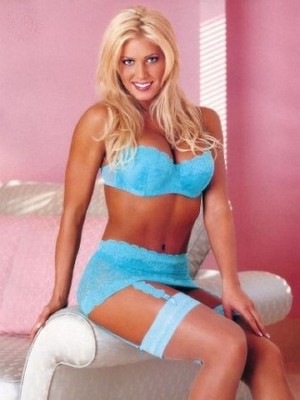 Photo courtesy makefive.com
In 2009, Torrie Wilson was selected to appear in the NBC reality show I'm a Celebrity…Get Me out of Here!, with the show debuting in June that same year.
Each celebrity on the show represented a charity they were competing for, and Wilson chose Disabled American Veterans Charitable Service Trust as her charity.
Wilson placed runner-up on the show to eventual winner Lou Diamond Phillips.

Torrie Wilson: Her Relationship with New York Yankees Slugger Alex Rodriguez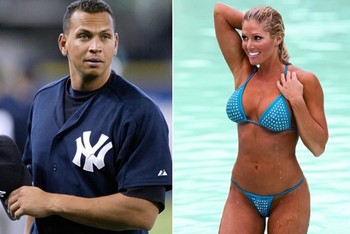 Photo courtesy larrybrownsports.com
After several news outlets, including USA Today, reported on Friday that former WWE Diva Torrie Wilson has been seen cavorting with New York Yankees slugger Alex Rodriguez, one question comes to mind.
Is their bathtub filled with jello or mud?
Doug Mead is a featured columnist with Bleacher Report. His work has been featured on the Seattle Post-Intelligencer, SF Gate, CBS Sports, the Los Angeles Times and the Houston Chronicle. Follow Doug on Twitter, @Sports_A_Holic.
Keep Reading