2012 NFL Mock Draft: Houston Texans' Full 7-Round Predictions
December 9, 2011
Chris Trotman/Getty Images
With it being about a month since my last Texans mock draft, I was surprised to see how many things have changed in such a short period. But that's expected around this time of year. The stock of NFL prospects fluctuates out of control as we head into bowl season in the NCAA, and it continues to be all over the place until the combine, pro days, the Senior Bowl and team workouts are completed. 
Some of my prior picks stayed the same, but there are some big changes up front. The main reason for this is twofold: First, I no longer believe the Texans need to draft a quarterback of the future because I believe he is already on the roster now; second, my hope for an elite wide receiver in the first round is probably way off the board by the time Houston picks.
So it's time to change things up. Let's get started.
Round 1: Dont'a Hightower, LB, Alabama
Don't let the fact that Houston has maintained the top, or near the top ranking in total defense all season fool you. With Wade Phillips in the war room, if a guy like Hightower is still on the board when they draft, he's likely to be standing on a table demanding that he is the pick.
Hightower is having a stellar season for the Crimson Tide that has seen him become a spectacular defender in the box as well as a good blitzer. He's athletic, has good instincts and can play any linebacker position in a 3-4 defense. With the possibility that the Texans could let Mario Williams walk at the end of the season, that tells me that they'll be looking for a play-making linebacker in the first round if one of the elite wide receivers doesn't miraculously slip to them near the end of the first day of the draft.
Previous pick: Michael Floyd, WR, Notre Dame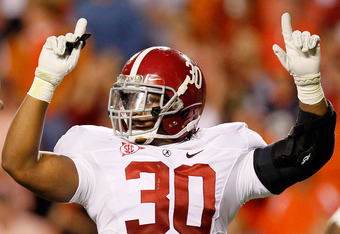 Kevin C. Cox/Getty Images
Round 2: Juron Criner, WR, Arizona
By now, most agree that the Texans need to start looking for an heir to Andre Johnson, who can officially be dubbed as injury prone at this point. Is Criner that guy? Not likely, but he might be the best Houston can get at this point in the draft.
Criner is an excellent guy at going up and getting jump balls, and he has good size at 6'4" and 210 pounds. When you have a quarterback that consistently under throws guys, this is an excellent attribute to have on the receiving end. He is a weapon in the red zone and has the strength to out-muscle defenders.
The Texans would like to add a guy like Michael Floyd or even Dwight Jones, but it would likely need a trade up for Floyd or a reach in the first for Jones to do so.
Previous Pick: Josh Chapman , NT, Alabama
Round 3: Ryan Miller, G, Colorado
With Eric Winston starting to look like the weak link on the Texans stout offensive line, don't be surprised to see them try to pick his successor to groom here.
Miller is having quite a season season for Colorado. He's got a terrific burst to get out of his stance and into position, where he is an excellent run blocker. This, combined with his athleticism, is everything that you look for in the zone-blocking scheme that Houston has perfected.
High draft picks for the offensive line aren't exactly sexy picks, but remember that when you see Arian Foster and Ben Tate ripping off 15-yard plus runs all the time. The game is won in the trenches, and that requires some early draft consideration sometimes.
Previous Pick: Ryan Tannehill, QB, Texas A&M
Round 4: T.J. Barnes, NT, Georgia Tech
Texans fans' long overdue prayers are finally answered when they draft a nose tackle over 300 pounds in the person of Barnes out of Georgia Tech.
At a massive 6'7" and 340 pounds, Barnes is the kind of run stopper that plugs the lanes and demands double teams. As well as Shaun Cody has played for the Texans this season, I'm sure Wade has bigger plans for the position than him.
Previous Pick: Jerry Franklin, LB, Arkansas
Round 5: Jacquies Smith, DE/OLB, Missouri 
One thing that is for sure about a Wade Phillips defense is that you can never have enough linebackers and pass-rushers. Smith can be both at either the outside linebacker or defensive end position.
Previous Pick: Rokevious Watkins, OG, South Carolina
Round 6: Jonathan Massaquoi, DE, Troy
Just like linebackers, another thing that a Wade Phillips defense likes is a vast number of pass-rushers.
In Massaquoi, he would add a guy who is probably more of a tweener, and most scouts would translate him to a linebacker in the NFL. He is good at dropping into coverage, and he is quick enough off the ball to bring quarterback pressure.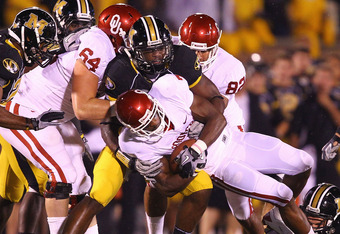 Dilip Vishwanat/Getty Images
Remember what Wade Phillips did the last time he got his hands on a pass-rusher out of Troy?
Previous Pick: Jonathan Massaquoi, DE, Troy
Round 7: Greg McCoy, CB, TCU
You didn't really think the Texans would make it through a draft without adding another depth cornerback, did you?
What can you really say about a seventh-round pick out of TCU? The Texans may not even get this pick if Derrick Mason catches fire in the second half of the season, as this is the conditional pick in question.
But adding more cornerback depth is never going to be criticized, no matter what team you're a part of. In McCoy, they would get a guy with 4.4 speed who is above average in coverage with kick returning ability—something that could be remedied in all areas.
Previous Pick: Greg McCoy, CB, TCU
Just like I said in the first mock, this draft should be all about depth for the Texans. This is something they do a really good job at, as evidenced by their ability to have suffered so many injuries this season and still managing to be a top tier team in the AFC.
Not having to draft another quarterback as the guy for the future completely changes the face of this draft. The only three wide receivers in this draft that I would even consider in the first round will be long gone by the time Houston hits the clock, and that played into it, too. But if Houston feels that they're close to being able to go for it next year, they could always trade up or address it in free agency next year.
If Mario Williams does end up walking in free agency, the team will have a bundle of cash to spend on a wide receiver. For example, Andre Johnson's buddy from the U will be available. A tandem of Reggie Wayne and Andre Johnson could be fun. But I'm getting ahead of myself.
Expect another updated mock in a month or after the playoffs.
Mike Kerns is a featured columnist for the Houston Texans at Bleacher Report. Feel free to follow him on Twitter and catch his latest Texans podcast at State of The Texans.