Chicago Blackhawks: Another Year, Another Goalie Controversy
December 9, 2011
Jonathan Daniel/Getty Images
This is starting to really become a yearly thing.
First it was Nikolai Khabibulin and Cristobel Huet. Then it was Huet and Antti Niemi. Last season it was Marty Turco and Corey Crawford.
Now this year it is Crawford and Ray Emery.
What is it about Chicago and everyone always liking the backup?
For years now the running joke is the most popular Chicago Bear is whoever the backup quarterback is. Now this seems to be moving over to the Blackhawks and the backup goalie position.
The masses are calling for Ray Emery to become the starter, but do they not remember the seven goals he allowed against the Oilers on November 19?
Sure, Corey Crawford has struggled since the calendar flipped from October to November and onto December, but let's not overreact. Crawford, who will turn 27 at the end of the month, is only in his first year as being the full-time starter. Last season, even though he started the majority of the games, he wasn't the man entering camp.
This year he was, and maybe he is going through something similar to what Niemi went through last season. After the first three months of the season, Niemi had a record of 8-9-2 but went on to finish the year with a record of 35-18-6.
There is a slight difference since Niemi switched teams, but the point is still valid. This may very well be just a bit of a sophomore slump.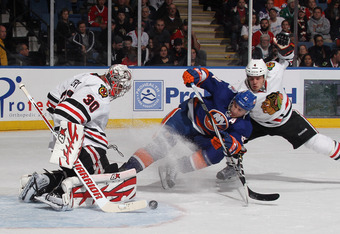 Bruce Bennett/Getty Images
Unlike in years past, the backup is not overwhelmingly better then the starter.
Look at Emery's numbers and compare them to Crawford's. Emery's save percentage is just .002 better then Crawford. While Crawford's goals allowed average not sits at three and Emery's is at 2.80, that is not a gigantic difference. Those numbers don't show a bad turnover or a defenseman being in the wrong spot.
It is very easy to look at the three goals Crawford gave up to the Coyotes in his last start and put all the blame on him, but it would be wrong.
On the first goal, Steve Montador slipped, turning over the puck and Sean O'Donnell didn't do much to stop the pass and help Crawford.
The second goal could be blamed on Crawford a bit because every now and then a goalie has to bail out a bad defense. However, the third goal he could have never seen because the defensemen allowed a guy to park right in front of him.
For all those clamoring for Emery, remember: there was a reason he was out on the street available. There was a reason he wasn't a free-agent signing but rather a training camp invitee. He might be good for now, but how long will that last?
With all that being said, you should always ride the hot hand and therefore Joel Queneville should stay with Emery and let him start Sunday. 
A rest could be good for Crawford and allow him to re-focus, because if the Hawks have any hope of hoisting that cup again it begins and ends with Crawford in that net.