Sneak Peek at 2012 Crimson Tide Defense
December 7, 2011
Greg McWilliams/Getty Images
With time to kill until before Jan. 9, I thought a look forward to the 2012 Alabama team might be in order.
Alabama's 2011 defense might be one of the best ever put on the field. The 2012 version won't be bad, but there is virtually no way to duplicate the performance of the current squad.  
While many will compare them to 2010's defense, there are notable differences.
The biggest difference between 2010 and 2012 is that Alabama will return four experienced senior defensive lineman—Jessie Williams, Quinton Dial, Undra Billingsley and Damion Square.  
Alabama's 2010 defensive line produced some of the lowest sack numbers in Div. I football.   Jessie Williams alone would be an improvement over that squad, and together with Dial and Square and with Billingsley coming off the bench, Alabama should have a solid pass rush. 
Nose guard could be another matter. Alabama is graduating the only two players with experience at that position.
The only returning pure nose tackle is Brandon Ivory. Ivory only played significantly in one game, against Georgia Southern. In that game, Alabama tried defensive end Undra Billingsley at nose with disastrous results.  
Ivory came in and was able to hold the line and help Alabama control Southern's rushing game.  That was hardly an SEC offensive line, though. Ivory is an unknown quantity at this point.
He was a project recruit who most expected to take time to mature. He appears to be improving, so hopefully he will be ready. As of this writing, Alabama has no one else.
And when I say no one, I mean literally no one.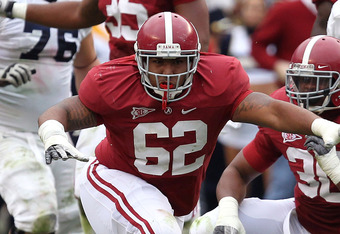 Mike Zarrilli/Getty Images
Look for Alabama to push hard to land a junior college nose man who can come in and rotate with Ivory immediately.
Jessie Williams or Quinton Dial could both play inside, but both are doing well at end. This would only work if another end stepped up from the scout team.
At linebacker, Alabama will have a drop-off in size but will again have an extremely active and physical linebacking corps.
In the middle, you will see a combination of Nico Johnson, CJ Mosley and most likely true sophomore Trey DePriest.  
Nico Johnson seemed to disappear while splitting reps with CJ Mosley in 2010 but caught fire late in that season, which carried that forward for a spectacular 2011.
Jack Adrian Hubbard should take over for Courtney Upshaw. He has been playing regularly and with added reps this spring, I expect him to improve dramatically. At 6' 7" and 255 pounds, he has a tremendous frame to build on this winter. 
He will have a tough time duplicating Upshaw's pressure, however, which resulted in 16 tackles for loss and 7.5 sacks.
Behind him will likely be true sophomore Xzavier Dickson, who came out of nowhere to avoid the redshirt as a freshman. I saw Dickson in high school all-star games. He is a strong physical player who will likely thrive in the offseason weight program.  
He reminds me very much of Courtney Upshaw when he arrived at Alabama.
The other outside spot is a mystery. Senior Jarrell Harris finally arrived as a player and performed masterfully in 2011. His primary backup, Alex Watkins, also graduated.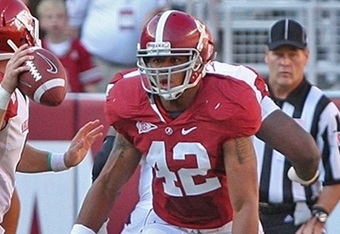 Their most likely replacements come from a pair of juniors, Jonathan Atchinson and Tana Patrick. It's possible a freshman could play here, but it seems unlikely.  
Even though the Sam linebacker isn't on the field for every snap, the position requires a very versatile player who knows the defense. 
In the past, Nick Saban has opted for experience over athletic ability when filling this position.  Atchinson and Patrick will get their chances to take the job.
Alabama's bigger question mark will be the secondary, where some new players will be on the field.
Mark Barron was one of the best safeties I've ever seen, and he dominated this defense for three seasons. When he was injured against Auburn, true freshman Vinnie Sunseri stepped in to play. 
Sunseri tackled solidly in that game, but Auburn didn't exactly test the freshman.
Sunseri is a gifted tackler, but it remains to be seen how he will do in full-time coverage duties.  He will compete with a host of other players.
Haseasn Clinton-Dix, Nick Perry and Jarrick Williams will all vie for the spot as well as 2012 signee Eddie Williams, if he does in fact sign with the Tide. 
Williams is a 5-star recruit from Panama City, Florida.
Robert Lester should also return for his senior season. He has been a ball-hawking athletic safety who has been solid for two seasons. 
Alabama's fate in 2012 could hinge greatly on Dre Kirkpatrick. Dre is a top corner and is eligible for the draft. If he chooses to go, that will leave Alabama in a bit of a pinch at cornerback. 
If he stays, that will fill two of the corner spots. Alabama generally plays three, but having two experienced guys makes it a lot easier on the nickle.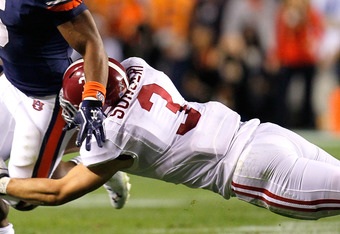 Kevin C. Cox/Getty Images
DeMarcus Milliner will be starting his third season and should be solid at one spot. Milliner has always been a good tackler but improved his ball skills this past year. 
Here is where we get to the really big question marks.
Junior-to-be John Fulton has played sparingly. Freshman Jabriel Washington redshirted last season.
Then there are a bunch of walk-ons, like Caleb Casteel and Taylor Morton. 
Alabama may need to sign someone this February who can play now. Needless to say, recruiting at corner is a top priority.
Alabama has a verbal commitment from Geno Smith, who is one of the top high school corners.   Alabama is hot and heavy in the junior college ranks, going after the top rated corner at that level in Travell Dickson.   
There are likely others on Saban's radar that I've never heard of.
Two seasons ago, I had never heard of DeQuan Menzie until we signed him after another recruit bailed. A few days ago, he was named to the College Football All-America Team. 
Nick Saban is a superior defensive backs coach. He has started freshmen in his secondary repeatedly at Alabama and gotten great mileage out of them. 
While the 2012 secondary may look a bit like the 2010 version, the front seven should be better and more consistent. 
In 2010, everyone knew Alabama needed pressure to help its young defensive backs and didn't get it. Hopefully, that will not be the case again.