Sergio Santos to the Blue Jays Is a Sign of Impending Rebuilding in Chicago
December 7, 2011
Ed Zurga/Getty Images
Chicago is in rebuilding mode. 
No, not the Chicago Cubs, who always seem to be in rebuilding mode.
"It is the start of a rebuilding," Williams said. "You guys know I have not used that word in 12 years. It's the start of a rebuilding now". That's Kenny Williams, White Sox general manager confirming what most observers already knew. 
The Chicago White Sox. The same White Sox that won the World Series in 2005. The same White Sox that seem to be a constant presence in late July trade rumors as "buyers" not "sellers," prepping for a stretch playoff push. 
That might not be the case this coming July though. It's looking more and more likely that the rebuilding process in Chicago has begun.
Put simply, the White Sox are out of credit. It's like in the mobster movie classic Goodfellas. When the credit is exhausted, you light a match and burn it up. The White Sox aren't going up in smoke, but the era of annual playoff runs anchored by names like Mark Buehrle, Paul Konerko and Ozzie Guillen is about to end. 
Guillen is already gone, fired following one of the worst seasons since 2007. Then the White Sox had young pitchers and young hitters coming up through the minors, and the team practiced patience.
Now things are different. Now the White Sox have a very shallow minor league system, made more shallow thanks to numerous mid-season trades by general manager Kenny Williams over the past few seasons.
Worse still, the team is weighed down by the presence of a number of very large and as of now very overpriced contracts. Adam Dunn has three more seasons at $14 million a year left on his contract. Last year Dunn was epically bad, with a .159 average with only 11 home runs and 42 RBIs in nearly 500 plate appearances. Dunn also struck out 177 times. The strikeouts are annually part of Dunn's game—but the 11 home runs and .159 average are not.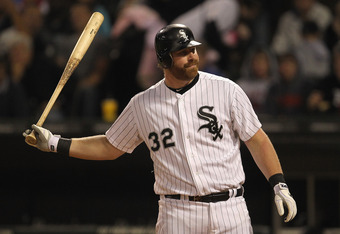 Jonathan Daniel/Getty Images
Alex Rios has four years left on a contract that will pay him nearly $10 million annually. Rios, like Dunn, was amazingly bad in 2011, turning in a .227 average with only 13 home runs and 44 RBIs.
Then there's the big contract that the White Sox lavished on first baseman Paul Konerko last offseason. Konerko's production hasn't dropped off and he's still the centerpiece of the White Sox, but the organization has to hope that the 35-year-old Konerko doesn't begin to have his statistical decline over the course of the next two seasons in which Chicago will pay him over $12 million annually.
The rotation that the White Sox had last season could be almost totally different by the conclusion of the 2012 season. Mark Buehrle, a staple of the White Sox for almost 10 years, is poised to depart via free agency, and two solid starters, John Danks and Gavin Floyd, are being shopped as trade bait currently.
All of this led up to the trade of young and promising closer Sergio Santos to the Toronto Blue Jays in exchange for even younger AA-prospect Nestor Molina. Molina is a promising, young starting pitcher known for having raw electric stuff.
Santos was that type of player as well, but White Sox GM Kenny Williams realizes something that far too few general managers in baseball seem to notice: Finding guys who can close isn't easy, but finding quality starters is downright tough. It's also more important.
Trading Santos for Molina signals that Williams knows he's stuck with some cumbersome contracts in his lineup that he can't escape, but it also signals he's not going to let those deals defeat him.
The White Sox could be an interesting team in 2012. Guys like Floyd and Danks—assuming they're still on the team (at the very least one of them will likely remain)—will be playing with free agency looming. Rios and Dunn simply can't have seasons as terrible as 2011.
If promising young players like Gordon Beckham, Dayan Viciedo, and Brent Morel all have breakout seasons, then the White Sox could be one of 2012's nice stories. If not, then they appear headed into a brief but difficult rebuilding process.