Pro Wrestling: Gabe Sapolsky Talks Dragon Gate USA/EVOLVE Union
December 1, 2011
Black Friday is typically a day when people focus on separating their money from their wallets, but for Gabe Sapolsky, VP of Dragon Gate USA and co-founder of EVOLVE, it was a day to bring the two wrestling promotions together.
Sapolsky announced that the two promotions would be uniting. Events that happen on EVOLVE shows will affect what happens in Dragon Gate USA and vice-versa.
"First and foremost, it's going to be a lot more rewarding for the fans to follow," Sapolsky said.  "We're going to be able to keep the continuity going and everything won't die off."
Sapolsky viewed the EVOLVE shows as being able to "bridge the gap" between the Dragon Gate USA shows that are only held 4-5 weekends a year due to the high cost of flying in Japanese talent. Due to the long periods between shows, storylines and character development in Dragon Gate USA would stagnate.
However, Sapolsky said that this would not be the case now with the union of the two promotions.  Since EVOLVE shows can be run more often than the Dragon Gate USA shows, story-lines can be continued at those shows.
"It's something we couldn't do a year ago," Sapolsky said,  "but Dragon Gate USA shows are a lot more than just the Japanese talent now.  The American talent has come such a long way."
Sapolsky pointed out the development of American talent that is used in both promotions: the Ronin trio of the new Dragon Gate USA, Open the Freedom Gate champion Johnny Gargano, Chuck Taylor, Rich Swann, Blood Warriors members Brodie Lee and Ricochet, the D.U.F. combo of Sami Callihan and Arik Cannon, high-flyer A.R. Fox, Jon Davis and others.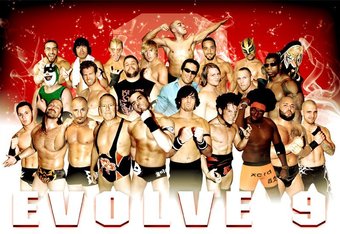 Since the Dragon Gate USA storylines and character development are so concentrated on the various stables, Sapolsky said there are plenty of opportunities to have the EVOLVE shows help continue both.
"For example, we could have a feud between Sami Callihan and Masaaki Mochizuki. We could then have Callihan cut a promo on Mochizuki at an EVOLVE show to lead to a match at the next Dragon Gate USA show," Sapolsky said.  
"We also have Pac from Junction Three who could have a match with Ricochet or Brodie Lee from Blood Warriors. We could have a tag match at a DGUSA show with other members of the stable."
The union will also result in an expansion of the markets that hold EVOLVE shows, Sapolsky said.  While Dragon Gate USA has expanded to markets like Indianapolis and North Carolina in 2011, adding shows in Los Angeles and Miami in 2012, EVOLVE has kept mainly to the East Coast.
Sapolsky said that EVOLVE shows can open in a new market and a successful show could result in a Dragon Gate USA show being held in the same market down the line.
"We get a lot of requests for Detroit for example," he said.  "Now we can have an EVOLVE show there and, if we get a good reaction, we can come back with a DGUSA.  It opens a lot of possibilities."
EVOLVE allows Sapolsky to take a few more risks.
"It's a matter of economics," he said. "We can gamble more with EVOLVE whereas DGUSA shows are more costly. We can hold as many EVOLVE shows as we like. We've held them on Tuesdays, Fridays and Saturdays."
Sapolsky pointed out that, with the Los Angeles shows for WrestleReunion weekend and the Miami shows for WrestleMania weekend, they're already down to only two or three weekends left for Dragon Gate shows in 2012. EVOLVE will fill in the gaps and also reach the markets Dragon Gate USA won't.
However, Sapolsky doesn't expect a large increase in the number of shows run in 2012.  There were around 15 shows run last year between Dragon Gate USA and EVOLVE; Sapolsky expects the total to rise only slightly to around 20.
The union will also present a chance to develop some new American talent.
"I think this is going to greatly benefit more talents as we will book more talent and be giving guys more chances to tour Japan (with the main Dragon Gate promotion)," Sapolsky said.
Sapolsky said he is looking forward to being able to do more character development as well as speed it up at times.  He used Davis as an example as Davis worked his way up in both EVOLVE and Dragon Gate USA at the same time. Now a talent like him can be built up in EVOLVE and then hit the ground running in Dragon Gate USA.
Johnny Gargano's rise to becoming the Open the Freedom Gate Champion would also probably have happened faster had this union been possible earlier, Sapolsky said.
EVOLVE, which has no championship titles and is based on win/loss records, could also see some tweaking with the union of the promotions.  Some ideas floated about have included top winning records in EVOLVE leading to title matches in Dragon Gate USA.
"We're still in the developmental stage there," Sapolsky said.  "For the win/loss concept to really mean anything, we really need to run every month or at least 8-10 shows a year.
One thing Sapolsky wanted to make clear is that, while EVOLVE shows are going to help build the Dragon Gate USA shows and make those shows seem even more important, it is not going to become a placeholder promotion for Dragon Gate USA.
"The EVOLVE shows will be very important in themselves," he said.  "The union between the two companies is going to be a chance to do more intricate storytelling and character development.  I think people that are watching the EVOLVE product are going to see it live up to its namesake and evolve—which is the purpose."
For more information on everything related to Dragon Gate USA and EVOLVE, go to www.dgusa.tv where there is a major holiday sale going on.  To find out more about or order the Internet pay-per-views that both promotions show, go to www.wwnlive.com where there is also a special on any of those shows on demand.
Darryn Simmons is a Featured Columnist for Bleacher Report. Unless otherwise noted, all quotes and were obtained first-hand.