Nebraska Cornhuskers Suffer Another Loss to an Unranked Team
November 6, 2011
Eric Francis/Getty Images
Did someone forget to tell Nebraska that there was a game on Saturday?
A week after dismantling Michigan State, Nebraska looked totally unprepared to play against Northwestern. The Cornhuskers lost 28-25 to the Wildcats.
Should fans have been surprised by this? I do not think so.
If there were ever a trap game, this game against Northwestern was it. Nebraska was coming off their most important win of the season, and had another important game next week against No. 16 Penn State.
Nebraska matched up well against Northwestern. The Wildcats' weakness was stopping the run. They were ranked No. 95 in the country against the run, while Nebraska was ranked No. 9 in the country in rushing offense. The Cornhuskers would have no problem running the ball against Northwestern, right? It would be easy for Nebraska to overlook Northwestern.
The numbers looked reversed on Saturday. Nebraska looked like a team that had the No. 95 rushing offense and Northwestern looked like a team that had the No. 9 rushing defense. Nebraska could not move the ball on the ground against the Wildcats.
It should have come to no surprise that Nebraska would overlook Northwestern. The Cornhuskers have overlooked teams every year since Bo Pelini has been the head coach at Nebraska.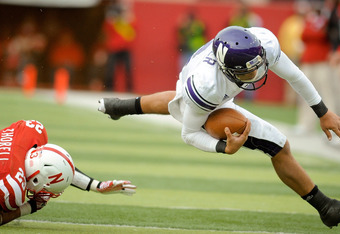 Eric Francis/Getty Images
In 2009, Nebraska lost at home to an unranked Iowa State team 9-7. In 2010, Nebraska lost at home to an unranked Texas team, 20-13. The loss on Saturday to the unranked Northwestern Wildcats may be the worst loss in Pelini's career at Nebraska.
The Cornhuskers were statistically better than Northwestern in every aspect of the game. This game should not have been close, but like each year under Pelini, Nebraska came into the game flat. Before they knew what hit them, Northwestern was walking out of Memorial Stadium with a victory.
As long as Nebraska fails to show up to every game on their schedule, Pelini will fail to meet his expectations of winning a championship.
Nebraska controlled their own destiny in the Legends division of the Big Ten Conference. With Iowa's win over Michigan earlier in the afternoon, Nebraska's road to Indianapolis became mush easier. With a win over Northwestern, Nebraska would have been a game up on Michigan and hold the tiebreaker over Michigan State. All the Cornhuskers had to do was to beat a poor Northwestern team. They could not do it!
Nebraska's season is not over. Cornhuskers fans must cheer on their rivals from Iowa next Saturday. If the Hawkeyes can beat Michigan State in Iowa City and Nebraska can win their remaining games, the Cornhuskers still have a chance at winning the Legends Division.
Nebraska's schedule does not get any easier. The Cornhuskers must travel to Penn State and Michigan before coming home to host Iowa in the inaugural Heroes Game.
One thing will be for sure: Nebraska will not be overlooking any more teams on their schedule.