Juventus Stand Victorious in Derby d'Italia, Rivals Inter Milan Downed
October 30, 2011
Marco Luzzani/Getty Images
Starting with Juventus' return to Serie A after Calciopoli, the Derby d'Italia has been the most important match for the Juventus fans.
Inter Milan, the team that seemingly framed Juventus—yes, framed—while doing all the things that Juventus would later be relegated for and then took two of the Turin side's biggest stars in Patrick Vieira and Zlatan Ibrahimovic (though 'ol Zlatty just goes wherever the money is), have easily become the biggest antagonist in Serie A for Juventus.
The combination of the usual talent of the post-Calciopoli Inter teams, the passion in the match (from both sides), and the importance of the match for Juventus has led to some memorable moments and games over the past few years.
I, having come late to this great sport we call "the beautiful game," still have some fond memories of previous derbies.
Almost two years ago, in 2009, then-coach Ciro Ferrera (my physical doppelganger) doubted his team's chances of defeating Inter at the pregame press conference. He most likely did this to challenge his players, but nonetheless Juventus won a very close game in the rain.
I vividly remember Marchisio's game-winning goal, one that he just managed to sneak in. I also remember Felipe Melo elbowing Mario Balotelli in the chest, and then Balotelli going down clutching his head. There was some of that in the most recent edition of the derby, but I will get to that later.
This year, Juventus and Inter entered the game in two very different contexts. Juventus have of course been phenomenal this season, yet to win a game and having earned victories over teams like Milan and Fiorentina.
Inter, on the other hand, recently fired Gian Pero Gasperini and replaced him with former Roma, Chelsea and Juventus coach Claudio Ranieri. Under Gasperini, whose tactics did not work at all for the Milan side, Inter struggled and were one of the worst sides in the league. Ranieri has improved the team, and they have begun to win games.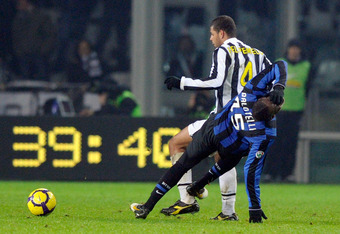 Claudio Villa/Getty Images
Ranieri has stressed that the game against Juventus would not decide the season, and technically he is correct.
However, in his attempt to provide himself cover in case of a loss, he has overlooked the effect on momentum. There is no doubt that a victory in a big rivalry game like this will gave a team some spirit stimulus.
For a team that has struggled, such as this year's Inter squad, that sort of boost would be welcome.
In a bit of a twist, former Inter coach and current Real Madrid boss Jose Mourinho very publicly called out Ranieri for his lack of titles two years ago, when the Ranieri-led Roma side were in a title race with Mourinho's Inter (the same team that Juventus defeated in December).
I always think of this when I think about Ranieri, so I was a bit amused when he took over Inter. But I guess that's just the nature of calcio, it often results in strange bedfellows.
Ranieri's opponent in this match, Juventus skipper Antonio Conte, has certainly made an impact in the Serie A this season with his leadership and tactical ability. Conte understands what it means to be a Juventus coach.
So far, his tactics have been very successful, with his recent shift to a 4-3-3 (although one that is sort of similar in practice to his 4-1-4-1) bearing much fruit, Juventus came into the game looking strong.
Juventus may have came into the game looking strong, but Inter started the game in total control.
Wesley Sneijder and the Inter midfield took control of the possession for the beginning of the match. Indeed, in the first five minutes they created many chances (not many good ones, except for Esteban Cambiasso's semi-close effort, but they were getting a large amount in a short time) for goals.
Juventus weren't being pushovers—they were still making Inter fight for those chances—but they were not keeping possession.
In terms of possession, there were some straight-up sloppy plays by some of the Juventus players in the first few minutes. One of the first movements Juventus tried to create was ended when Arturo Vidal slipped while passing the ball and his pass was intercepted.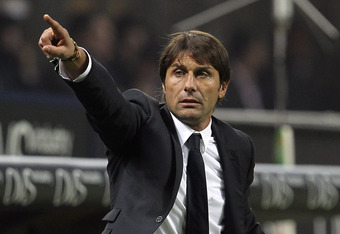 Marco Luzzani/Getty Images
Juventus' first attacking movement—with the exception of one in the first few minutes—came at the six-minute mark. Mirko Vucinic made a nice pass to the team supermodel Alessando Matri, but it was not to be. Still, it was a nice creation by the Juventus side.
To Juve's credit, the Inter midfield was playing well and working very hard. They didn't stop working hard, but the Inter midfield was eventually topped by the Juventus midfield of Claudio Marchisio, Arturo Vidal and Andrea Pirlo. These three have been aptly named "M-V-P" by Aaron Giambattista over at Juventiknows.com.
The Inter wings, though, contrasted with the Inter midfield. While Maicon and Yuto Nagtomo made a big impact for their team in the game offensively, they didn't do much to stop Stephan Lichtsteiner's attacking advances. Even Giorgio Chiellini, who has been improving at left-back, was able to experiment offensively much more than opposing teams had allowed him to in previous games.
Due to Inter's weak defense on the flanks, the first goal of the game originated off of a Lichtsteiner cross.
Lichtsteiner crossed it to Matri, but Luca Castellazzi saved it, and then Mirko Vucinic scored off the rebound. It was a nice moment for the new Juve player Vucinic, and hopefully it will inspire more scoring in the future.
After that, Juventus began to assert more control over the game. Inter still played well and put up a strong fight, but in the meantime Juventus did have control.
Matri almost scored again almost immediately after Vucinic's goal. Matri had the right amount of power needed on his shot, but he was just barely right of the goal. I honestly thought that it was going in until the camera panned out and showed it rolling out.
Later on, Inter leveled the game off of a Maicon goal. While Juventus may have dominated stretches of the match, Inter never stopped challenging Juventus and creating chances. Maicon had a cracking effort, and for the moment it was a tied game.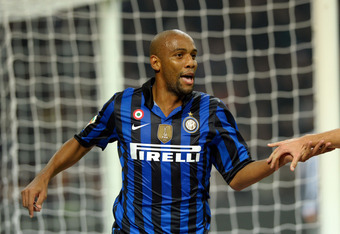 Claudio Villa/Getty Images
Juventus quickly answered Inter's goal with another, though.
Claudio Marchisio brought the ball into the box, where he played a one-two pass to Matri, then Marchisio sent the return pass from Matri into Inter's goal. Just as he did two years earlier, Claudio Marchisio gave Juventus the lead in the Derby d'Italia.
Both teams had chances throughout the game, in Inter's case to tie the game, and in Juve's case to ice the game. However, Inter did falter in the second half.
Alessandro Del Piero, Marcelo Estigarribia and Mirko Vucinic all missed chances to give Juventus a two-goal lead.
The second half turned out to be a more Juventus-centered affair, as Inter began to tire. After the sixtieth minute, many players began to try out some anti-football tactics. Certainly, Inter grew frustrated.
Wesley Sneijder, who worked hard for his team, began to grow frustrated at the team's inability to create a second goal. He had the ball a ways out of the penalty box and with chances to pass to teammates, but instead chose to take the shot himself.
It was a decent effort, but it was not the best choice he could have made.
Sneijder was on the receiving end of a tackle for which Andrea Pirlo received a yellow card. Yet it was not a tackle. It was more like an incidental bump that Sneijder went down easy for.
Just before, Arturo Vidal had been elbowed (not purposely, but nonetheless he was elbowed), and yet no one was disciplined.
Perhaps it was Juve's ability to play the game and not devolve into childish distraction tactics that brought them the win.
Certainly their central defense deserves some credit. While Inter had many chances, many of them were quashed or damaged by Andrea Barzagli and Leonardo Bonucci. Bonucci made a number of stops, blocking powerful shots that may have become goals without him.
Inter's central defense was a different story, as Lucio struggled to stay in position.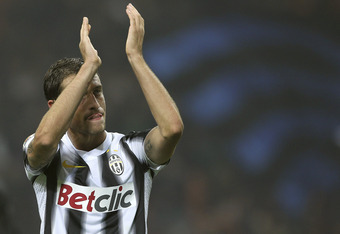 Marco Luzzani/Getty Images
On the flanks, Chiellini and Lichtsteiner were generally solid, but a few lapses (mostly by Chiellini, who is still relearning how to be a left-back) led to some dangerous efforts by Maicon. Maicon's goal came off a corner, so it is not totally the left flank's fault, but he caused many other problems for Chiellini.
The Juventus midfield, earning a reputation as one of the best in Italy, worked very efficiently after a few complications. At first, they could not keep possession, but they eventually took control and made smart, effective passes.
Simone Pepe, as always, worked very hard for his side. He reacted well to a dubious yellow card and flourished on the right wing. Though Milos Krasic's recent troubles—especially the tragedy in his family—have been a dark light in an otherwise bright season, Pepe's coming-out party in the right wing gives Juventus fans some solace.
Claudio Marchisio, the man who has been perhaps the most important player for Juventus this season, was a big difference-maker in the game. He made many smart finesse passes, and of course he scored the game-winning goal.
One has to wonder if Marchisio may be in line to become the vice captain next season, when Buffon inherits the captain title from the retiring Alessandro Del Piero. It has to be either Marchisio or Chiellini—both men are deserving of the title.
The victory over Inter provides further momentum for Juvenus. This team has now recorded victories over both Milan clubs, though there are return games for both teams and no one knows what will happen in those. Another tough game is ahead next week—away at Napoli.
Games against Palermo and Lazio are after that, and all three teams will not be pushovers. Juventus and her fans are all very happy with this victory, but equally difficult challenges lie ahead.
Of course, if Juventus keeps in this form, they will be more than up to the challenge posed by those teams.