Miami Dolphins Rumors: Could "Suck for Luck" Be a Futile Effort?
October 24, 2011
Ezra Shaw/Getty Images
The Miami Dolphins are 0-6, and due to that some fans are in favor of the Dolphins going 0-16 in order to secure the No. 1 pick in the draft to be used on Stanford quarterback Andrew Luck. 
But even that might not be enough to land Luck, not just because of the possibility that he could return to Stanford for his redshirt senior season, but also because if Luck does choose to leave early, he might not want to play for the team that has the worst record in the NFL. 
Earlier this week, NFL.com's Albert Breer posted a story about a potential situation that could arise if Luck chooses to enter the draft after this season. 
In the piece Breer stated:
Think all your team has to do is finish 1-15 to get Andrew Luck? It might not be that easy. The presence of Luck's father, Oliver, is something league executives will be watching closely as we get closer to April. This well could be Eli Manning in 2004, or John Elway in 1983, if the Luck camp doesn't like the situation the highest picking team presents.
Breer then quoted a college scout's take on this possible mess:

"Absolutely. I've heard that for the last two years, there's no question that it could be a Manning thing all over again."
Meanwhile, FoxSports.com's senior writer Alex Marvez came right out and stated it like it was inevitable when he was on the Joe Rose Radio Show on 560 WQAM last week:
"There's no guarantees that Andrew Luck would even come to the Dolphins, anyway. And, I'm being serious when I say that.  He controls his fate.  If the Miami Dolphins have the first pick, and he's not happy with what the administration is here, if he's not going to be happy with who his head coach is, or what direction this franchise is headed, I can see this guy, really easily doing a Peyton Manning, an Eli Manning, trying to go ahead and control his fate in the draft."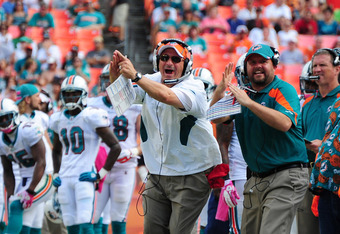 Scott Cunningham/Getty Images
Obviously for the Suck for Luck-ers, this isn't the most welcome news.
However there are a couple of lights at the end of the tunnel for Miami if such a thing happens.
This story from the San Jose Mercury News' Tim Kawakami tells us that Andrew Luck isn't the type of person to orchestrate an Eli Manning or John Elway-esqe power play, stating:
What makes Luck different is that, while he realizes how valuable he is and what lies in front of him, he is the last guy who'd want to enter the NFL–or any situation–as a figure of controversy.
Now, just because Andrew (and his father, West Virginia athletic director Oliver) Luck might choose not to go to the Dolphins if he doesn't like the situation, doesn't necessarily make them bad people. If that's the choice they make, from a human standpoint I won't blame them nor will I hate them. Neither should Dolphins fans, for if we did, that would make us no better than Cleveland Cavaliers fans and I still say we have more class than they do.
Plus, if Ireland, Sparano or both are still in charge of the Dolphins, could you really blame the guy? 
But, if the Dolphins have the No. 1 pick, I don't see that happening.
If that's the case, the Dolphins will have no choice but to clean house. No more Ireland, no more Sparano. 
Instead they'd have to bring in good football people, people ready to place their stamp on the organization (if it wasn't a violation of NCAA rules, I'd actually ask the Lucks what it would take to get them to Miami). 
Mitchell Layton/Getty Images
If somehow Bill Cowher or Jeff Fisher is in charge, I doubt the Lucks say no to that. If Carl Petersen winds up in charge of the team's football operations, I doubt the Lucks say no to that.
If the Dolphins succeed in their pursuit of Bill Cowher, would the Lucks say no to playing for him? That too is highly doubtful.  
In fact, I don't even think the Lucks would be opposed to a situation I'll write about later: putting Don Shula in a Bill Parcells-type role and naming Mike Shula the head coach. 
Plus, Luck will automatically become the face of a premier franchise with a good fanbase. I know it's hard to believe right now, but if the Dolphins draft Andrew Luck he passes LeBron and instantly becomes No. 2 to Dwyane Wade as the current most popular Miami athlete. 
Miami is also a storied franchise in a big media market with a great climate. 
These are all reasons why I don't think the Lucks will pull a power play if the Dolphins get the No. 1 pick (or if any other team gets it, we could easily see the Lucks pull a power play to go to Miami). 
I didn't even add him what would make it the best situation for him: He'll have talent around him on offense. 
Brandon Marshall will be his go-to receiver, with Bess and Hartline as his No. 2 and No. 3. Jake Long is already there to protect his blind side, with Mike Pouncey in as his center. Does the line need help? Of course it does, but it could be fixed since next season the 'Phins likely won't just grab the players cut by the Cowboys. 
Luck would also have Daniel Thomas to hand the ball off too. A running back who runs for an average of 4.5 yards per carry is a very good friend to any quarterback. I still contend that if Marino had someone like that, he has at least one Super Bowl ring. And Luck would get that in his first year with the 'Phins if he's drafted by them. 
So to answer the question I imposed myself, it's not 100 percent futile. The situation for Luck in Miami is likely the best situation he could ask for. In St. Louis or Indianapolis he'd be in a QB controversy, while in Denver there's a good chance that Tebow-mania could last well into next season.
Of course, this is all contingent on whether Ireland and Sparano come back next season. Based off of comments Sparano made to the referee against Denver on Sunday, Sparano isn't likely to return.
But while we've heard Ross' opinions on Sparano, we haven't heard him say anything about Ireland. This part is scary because odds are neither Andrew Luck, nor his father Oliver, would want to go to the Miami Dolphins if Ireland is still involved.
Of course, knowing what we know about Jeff Ireland, would you blame them at all?
Thomas Galicia is a Miami Dolphins Featured Columnist on Bleacher Report. For more of his archives about the Dolphins and other sports and entertainment subjects, visit www.thomasgalicia.com. Follow him on Twitter, @thomasgalicia and like him on Facebook.