Yankees Need More Bold Lineup Changes: Rodriguez to 3-Slot, Posada to Bench
October 3, 2011
David Banks/Getty Images
Heading into Game 1 of the ALDS series with Detroit, Yankees' manager Joe Girardi made the decision to move Mark Teixeira from his customary position as the three-hitter to fifth in the order. This opened the way for Robinson Cano, typically fifth in the order for the past two seasons, to move into Teixeira's slot in the three spot with Alex Rodriguez behind him for protection.
The move, among other reasons, was in response to Girardi not wanting critical situations in games to come down to Nick Swisher, who typically hit sixth in the regular season behind Cano, as most teams had begun avoiding Cano to take their chances with Swisher.
While Swisher had rebounded from a very slow start to put up very respectable numbers for the year, the reality is that he does not have a history of performing well in the postseason and, in addition, there was no reason to give opponents the opportunity to take the bat out of Cano's hands.
The move made a lot of sense and, had it not been for Rodriguez' string of injuries in the second half of the season, it may have happened much sooner. While Cano has been the best hitter in the Yankees lineup for essentially the past three seasons, part of managing players with big salaries and, on occasion, even bigger egos, is facing the reality that changes to the norm take time to implement.
With Game 3 in the Yankees-Tigers ALDS looming, though, time is not a friend of the Yankees. They face the best pitcher in baseball this year in Justin Verlander for Game 3, and it's a must win for the Yankees more so than for Detroit.
The Yankees, you see, will be relying on the eminently unreliable A.J. Burnett in Game 4. If it turns out that Game 4  an elimination game for the Yankees, odds are they will be in fact be eliminated.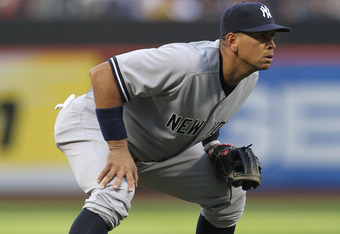 Nick Laham/Getty Images
So, in blunt terms, the time for another big change is now. The biggest change the Yankees can make, bar none, would be to insert Alex Rodriguez into the three-spot with Cano moving to clean-up. Though it seems counterintuitive to move your best hitter out of the third slot, the reality is that Rodriguez has made it clear by his performance through the first two games of this series that he requires far more protection than does Cano at this juncture.
Rodriguez, still bothered by a right knee that required surgery in mid-season and hampered by a left-thumb that was injured upon his return in August, is not the hitter he was earlier in the season prior to being felled by these two injuries.
That Rodriguez was hitting .295 with decent power and very strong RBI numbers, and that Rodriguez was still the anchor of the Yankees' lineup despite Curtis Granderson and Cano putting up MVP-worthy numbers before and after him in the lineup.
The Rodriguez of today, as the result of his multiple injuries, cannot dependably drive the ball or hit with enough consistency when teams have the ability to attack his deficiencies. In other words, whereas Cano has the ability to do extreme damage with just one mistake-pitch per at-bat, Rodriguez simply needs more opportunities.
With Teixeira behind him in Games 1 and 2 of the ALDS, those opportunities haven't exactly been abundant. Verlander's super-human cheese and multiple pitch repertoire should limit A-Rod's opportunities once again tonight.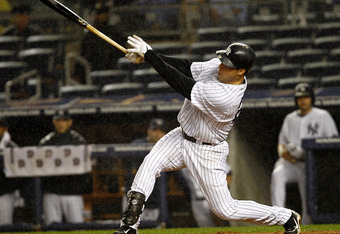 Jeff Zelevansky/Getty Images
Teixeira, with his .224 season average as a left-handed hitter, is simply not the hitter he once was from the left side of the plate. The result is that Detroit, as much of the league has been apt to do for much of the past two seasons, can go after Teixeira aggressively and continue to avoid Rodriguez.
They know full well that Teixeira has become much less of a threat. Add to the equation Teixeira's three year long postseason slump and the urgency for change is amped up even higher.
Further hampering the Yankees is Joe Girardi's insistence of handing the DH duties to Jorge Posada, and this is despite Posada being significantly less capable than he has been historically. Though Posada has performed well through the first two games of the series, his bat hasn't shown itself to be quick enough to handle the kind of top-end heat featured by Verlander.
Had Girardi instead opted to use either Eric Chavez or rookie Jesus Montero as his DH, there would be more protection for Teixeira in the five-spot, where he currently resides. The result would be a lengthened lineup that would force teams to attack Teixeira more readily.
Moving Teixeira to the five-spot was necessary, but all it has accomplished is the reduction of potency of the overall lineup. Detroit can simply choose to do to Teixeira what every other team has done all year; throw him garbage down and away that he will either swing over completely or tap harmlessly to the right side.
Additionally, Swisher and his lack of postseason production is not the answer behind Teixeira, nor is Posada if Girardi chooses to swap them in the lineup for tonight's game. Both Chavez and Montero would have caused Detroit to think twice about pitching solely to Teixeira's weaknesses from the left-side, and Teixeira has not declined from the left-side to the point where he wont crush a mistake.
While dusting off Chavez or Montero would be welcome, this is the iceberg-like Yankees we're talking about and Posada will likely continue to get the nod. It's unfortunate, really, and it could be a primary contributor to the demise of a very promising season.
All in all, the Yankees need their offense to shine for the remainder of this series, and that's regardless of whether or not they are able to overcome Verlander in tonight's matchup.
If nothing else, Girardi, at the very least, needs to give Rodriguez more looks at pitches he can handle than he has seen so far. Putting him ahead of Cano will accomplish that immediately, and it needs to be done.