MLB and NHL: Justin Morneau, Logan Couture and 2 Others Discuss Hockey, Baseball
October 3, 2011
Hannah Foslien/Getty Images
I love this time of year. It is a rare span of time when my two favorite sports are being played simultaneously.
The MLB postseason is in full swing and the NHL regular season is starting up soon.
I love baseball and hockey even though, in many ways, they are opposites:
Hockey is instant gratification (big hits, big slap shots, big fights). Baseball demands patience (especially when the Yankees and Red Sox are playing).
Baseball is American. Hockey is Canada's gift to the US.
Hockey players come from the Czech Republic, Russia and Sweden. Baseball players come from the Dominican Republic, Venezuela and Japan.
Baseball is the national pastime. Hockey has a close-knit following.
For me, they are complementary:
One satisfies my lust for chaotic back-and-forth action and pugilistic bedlam, the other allows me to enjoy the pacifying effect of the summer sun without sacrificing the insidious competitive nature of sport that draws me back to a venue day after day (even when the beer costs and arm and a leg).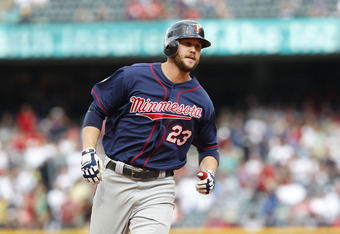 David Maxwell/Getty Images
I'm not alone in my love for both baseball and hockey. Many professional athletes in baseball have a passion for hockey and vice versa.
"I'm a big Canucks fan," Rene Tosoni, a Twins outfielder from Vancouver, told me this summer when I was covering the team.
"I definitely try to make an appearance every once and a while when I'm home for the offseason."
His teammate, first baseman Justin Morneau, often wears a cap with the giant blue 'V' in the locker room after games.
"It's the biggest game in town," says Morneau. "They've had good teams the last couple of years and they sell out every game.
"It's just a lot of fun to go to the games."
Two players that I have covered with on the Sharks beat, forwards Logan Couture and Jamie McGinn, hail from Southern Ontario and often don Blue Jays gear when they're not in skates.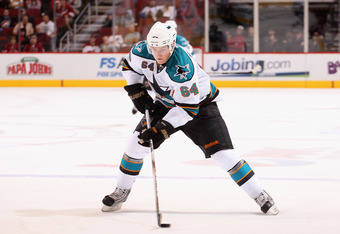 Christian Petersen/Getty Images
"Logan's the biggest Blue Jays fan on this team, he knows more about them," McGinn told me, "but I try to follow them as much as I can and make sure I go to a couple games each summer."
"It's just relaxing to watch," says Couture. "I just enjoy sitting down, spending three hours watching the ballgame."
Couture's knowledge of the team is impressive.
Former Blue Jay Zach Stewart, currently a member of the White Sox, was tearing through the Twins lineup on a Sept. 5 game I covered. As I watching the game, I saw a Tweet from Couture:
"Thank you Zach Stewart for making my Monday night exciting! I take credit if I jinx him.... #whitesox #perfectgame"
Sure enough, Twins third basemen Danny Valencia broke up Stewart's no-hitter in the bottom of the eighth.
Shortly after, Couture Tweeted:
"Knew the Jays traded him for a reason. Can't even finish off the perfect game...Kidding of course. What a game from Stewart! #greatfuture"
"It's good (to see him play well)," Couture told me at practice this year. "The Jays, right now, have so much pitching position so they made that move.
"They got Colby Rasmus out of that who is going to be a cornerstone center fielder…but in order to get something good you have to give up something good. Stewart's going to be a good pitcher."
Couture says that he watches just about every game on TV, but does not make the 1:45 trip from London, Ontario to the Rogers Center in Toronto.
"I don't like the indoor-type," he said of the Blue Jays' stadium, which was considered state-of-the-art when it was built in 1989. "I'm used to the outdoor ballpark."
Whenever the Blue Jays are playing the Tigers, he visits Comerica Park, an outdoor stadium located in Detroit, 2:30 away from London.
 "Great park," says Couture, "beautiful to watch a game in, every seat is a good seat."
Couture says he has been to six games in Detroit, but likes AT&T Park in San Francisco better.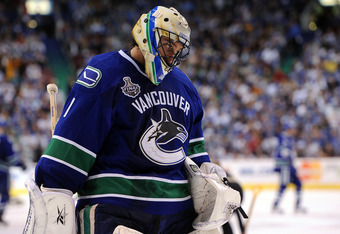 Harry How/Getty Images
"That's an unbelievable ballpark," he said of the Giants' facility. "I was just there a couple days ago, and seeing a game there is awesome."
Both Morneau and Tosoni had plenty to say about their hockey team.
"Last year was the year that everything kinda stacked up and they were supposed to win," Morneau says of his Canucks, "but now they've been through…that grind and they know what it's going to take to win now."
Tosoni believe his team's fortunes rest on the goaltender.
"Luongo [is] kinda up-and-down," he says. "He can either stand on his head or he can let some bad goals in."
A few professional athletes have played both baseball and hockey in their lifetime. Sidney Crosby hit a home run at PNC Park in Pittsburgh. Nyjer Morgan, a San Jose native, played for the Regina Pats of the Western Hockey League.
Couture played baseball until he was 14. "I know how tough it is to hit a ball," he says. "I appreciate the skill that those guys have."
Tosoni gave up baseball at age 15. "I've always loved both sports," he said, "but growing up I had a brother that was a few years older than me, and financially it gets tough.
"We both picked baseball—I don't even know why. I just loved baseball so much, so that's why I stuck with it."
Morneau played in an exhibition game for the Portland Winter Hawks of the WHL, but chose baseball because he felt it offered him more opportunity.
"I was just better at baseball," he said.
Both players felt like few skills translate from the baseball diamond to the hockey rink.
"It's one of those things where there's athletes and there's baseball players and there's hockey players," said Morneau. "I wouldn't say there's a whole lot of similarities."
"I wouldn't compare hockey and baseball," said Tosoni. "Hockey's pretty rough, they get banged up a lot, baseball you play every day—it's hard on the body."
Ultimately, for me, hockey and baseball complement each other well.
It is their dichotomous nature that makes them a joy to cover.
Tom Schreier is a Featured Columnist at Bleacher Report. All interviews were obtained first hand.
He can be followed on Twitter @tschreier3.