Patriots vs. Raiders: Tom Brady Gets Grounded, Stevan Ridley Gets Going
October 2, 2011
Jim Rogash/Getty Images
First off, let's provide a quick (and incomplete) list of issues from the Patriots' loss at Buffalo last week:
Will Tom Brady throw the ball to anyone besides Wes Welker and Rob Gronkowski?
The wide receiver and tight end have clearly emerged as Brady's favorite 1-2 punch with a combined 23 receptions for 326 yards and four touchdowns, which equals 77% of Brady's completions and 84% of his yardage. Somebody should do some research to see if that's the highest percentage of an offense ever by two receivers.
Will we see more Stevan Ridley?
The rookie running back looked sharp in limited action (six rushes, 42 yards), and was a stark contrast to the three yards and a cloud of dust that is BenJarvus Green-Ellis.
Can the Patriots run the ball or are they saving that dimension of their offense for later in the year, after defenses shift to guard against the passing game?
 Can the Patriots play defense?  
They enter the Raiders game down two cornerbacks, and former rookie phenom Devin McCourty appears to be a shell of his former self thus far.
Will Brady return to form and stop throwing the ball off defensive linemen's helmets and hands for interceptions?  
Will Brady also avoid his previous Randy Moss lock-in syndrome that he seems to be regressing toward with Gronkowski?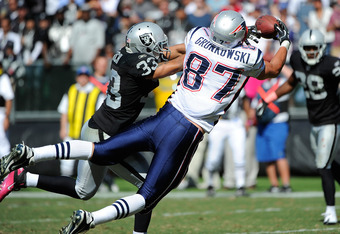 Thearon W. Henderson/Getty Images
Ok, here we go, Patriots versus Raiders; a matchup of franchises that have a long and heated history. Here are my somewhat Patriots-biased thoughts and reactions as I watch the game:
The Patriots defense looked shaky on the first series, but holding the Raiders to three points is a victory for this team right now, as is containing Darren McFadden and that impressive Oakland run game.
Oakland 3 New England 0
Big surprise: Brady went deep down-field to Gronkowski on the first play. Brady was hurried and inaccurate on the pass
Julian Edelman made a catch—odd. I forgot he was a wide receiver, since all we ever see him do anymore is return kicks and the occasional ineffective run play, despite a promising showing filling in for Welker at the end of the 2009 season.
Watching former Patriots defensive leader Richard Seymour throw Tom Brady to the ground was a little bit surreal. The 15-yard penalty was costly, as the Pats would have been faced with a 3rd and long due to a delay of game penalty.
The Raiders  kept shooting themselves in the foot with penalties to start the game, much like the Bills did last week.
Ridley looked fast and instinctive.  I have not seen that out of Patriots running back in a while, aside from the occasional remarkable Danny Woodhead run.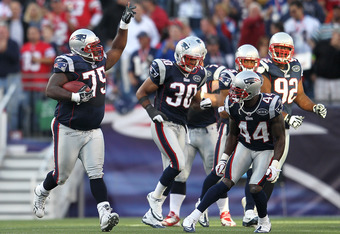 Jim Rogash/Getty Images
Chad Ochocinco ran the slant on the pick route that freed up Welker for the Patriots' first touchdown of the game.
With that score Tom Brady tied Joe Montana for ninth all-time, with 273 career touchdowns. I am surprised Montana was only ninth on that list.
New England 7 Oakland 3
The Raiders offense seems to be picking up where the defense left off, with another penalty for 12 men in the huddle. Amazing that this team is 2-1 while leading the league in penalties.
The Pats went with no down linemen on 3rd and 10, and Jason Campbell picked apart the zone for a first down.
If somebody teaches this Tom Brady guy to throw the deep ball, he might actually be pretty good someday.
CBS, aka Can't Broadcast Sports, nearly missed showing us Darren McFadden's 41-yard romp through the Pats' defense, but I will give them a break, because they had to show us 10 shots of guys wearing pink on the sideline.
The Raiders' first touchdown drive looked very easy, with lots of runs and one big pass to Kevin Boss. The Pats defense continues to struggle.  There is no pass rush to be found, but that may be part of the scheme to stop the heavy-running Raiders. Time for a tactical shift.
Oakland 10 New England 7
Six penalties for 65 yards against the Raiders, not even half-way through the second quarter, and they are winning. Wow.
Beautiful back-shoulder throw and catch by Brady and Welker. Unstoppable.
BenJarvus Green-Ellis looked solid on that touchdown drive. I'm a motivator, what can I say?
New England 14 Oakland 10
Middle linebacker Jerod Mayo is helped off the field with what appears to be a knee injury.  Lots of injuries early in the season here for the defense.  Pats offense might have to score 40 points a game, or incorporate some ball control.
Horrible play by Pats safety Sergio Brown on long pass to Darius Heyward-Bey; he completely whiffed on the hit and probably could have made a play on the ball. I'm very unimpressed with his tackling ability and instincts so far.
Shaun Ellis misses a tackle in the backfield on Jacoby Ford, and no other Pats are around to make a play. Lots of areas of concern for this defense, including a complete lack of ability to tackle.
Pats defense bailed out by a ridiculously bad interception by Campbell; he just threw it right to Pat Chung in the end zone.  Chung showed very poor awareness in not immediately taking a knee. A lot of teaching moments in this game going forward. 
First Woodhead sighting does not come until late in the first half, and he quickly leaves with some sort of leg injury.  We are entering the nightmare zone with all these injuries.
Ochocinco catching some balls. That's new.
Green-Ellis is slow. I'm sticking with it. He has pretty good hands though.
Wow, Brady cannot hit a deep ball for his life. What the hell happened to his hot start?  The loss of Aaron Hernandez is likely a big factor.
Still no Deion Branch sightings.  Did they release him and not tell anyone?
Ah, speak of the devil, there is Branch, and Brady misses him with a high and outside laser. Brady looks to be throwing the ball harder than ever this year. I like that he cut his hair; it reminds me of the Super Bowl-winning Brady of yesteryear.  Those were the days...
A Stephen Gostkowski field goal makes it...
New England 17 Oakland 10 - Halftime
For the second half, I will take a more concise, summarizing approach to save this from becoming a novel.
It is hard not to wonder what the score would be if the Raiders did not commit numerous penalties. How does this franchise always seem to lead in that statistic?  It must be a side effect of playing in a black hole.
The Patriots open the second half with their version of the ball control offense, using a variety of screens and short passes.  
Stevan Ridley's first career touchdown is further evidence that he should be the back that gets the bulk of the carries; he gashed the Raiders defense for a 33-yard off-tackle touchdown run. The blocking by Gronkowski and rookie tackle Nate Solder was perfect. There's that running game we have been waiting for—as I suspected, Belichick has been holding out on us. 
New England 24 Oakland 10
The Patriots defense holds the Raiders to a field goal with the help of an overturned pass interference call on Kyle Arrington. Ford was the intended receiver, and did appear to fall down due to incidental tangling of legs, but Arrington did make contact after the five-yard mark. A tough call either way.
New England 24 Oakland 13
Welker and Brady get the Pats down the field, and Deion Branch reappears with a touchdown reception. The Pariots, with the help of a settled Brady and some nice runs by Green-Ellis, are pulling away.
Brady tied Peyton Manning's record (I actually miss that country bumpkin—the league is so much better with him playing) with that touchdown of 13 consecutive games with at least two touchdowns.
New England 31 Oakland 13
As bad as the Pats defense had been today, they have been close to sacking Campbell several times and just cannot close the deal. Campbell's running ability has been a factor.
The Patriots' run defense is tightening up here in the fourth quarter.
I cannot believe that I just saw Vince Wilfork intercept another pass. He has a nice pair of hands and some running ability. Don't be surprised if Belichick starts incorporating him on some goal-line plays.
This is the first game this season that the Patriots have made any effort to run out the clock. 
Brady targeted Gronkowski a number of times today, but only one catch for the massive second-year tight end.
Raiders' Denarius Moore broke three consecutive tackles on a fourth quarter punt return, but punter Zoltan Mesko saved the touchdown when he pushed Moore out of bounds (there was also a penalty on the play).
I hope we do not have to see Sergio Brown play for the Patriots much longer. He showed a lack of effort on a garbage time bomb to Heyward-Bey. The Pats defense lacks killer instinct or possibly any instincts at all.
New England 31 Oakland 19 - Final
The story of this game is turnovers and penalties by the Raiders. Despite the score, I would not be surprised if these two teams meet again in the postseason.
For Patriots podcasts and drinking advice check out DrunkenSportsmen.com