Texas Football: Is Another QB Controversy the Best Thing for the Longhorns?
September 13, 2011
As of Saturday, September 10th, 2011, the Garrett Gilbert era may finally be over at the University of Texas.
It's sad, really. It couldn't have happened to a nicer kid. He's always had the intangibles and measurables, but for whatever reason, the light just never went on for the young QB.
After a miserable 2010 campaign, Gilbert won the oh-so-secretive quarterback derby this summer (how?), only to relinquish control of the starting job after an awful half of football against BYU on Saturday.
Mack Brown's Longhorns, down 13-3 at halftime, were facing a very familiar situation. Just last year, they faced the same deficit against a subpar UCLA team in Austin.  
We all know how that turned out.
Ever since Gilbert's five interception beauty against Kansas State last season, fans have been clamoring to see Colt junior (Case) get a shot. They finally got an up-close look at the youngster when Texas was on the ropes this weekend.
He didn't disappoint.
With the defense digging in and the running game showing some much needed fire, McCoy was able to guide Texas back into the game with some key throws to Jordan Shipley's little brother, Jaxon (can I just say that along with about 500,000 other people, I was tickled to see the second coming of the dynamic duo?).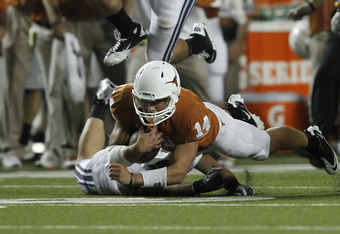 Erich Schlegel/Getty Images
He finished 7-of-10 for 57 yards. Modest numbers, yes, but it was his gutsiness and leadership in the huddle that got the dormant Longhorns going.
There's just one tiny problem: McCoy wasn't the only young quarterback who aided his team to victory.
True freshman David Ash had a similar impact on the game, but with a completely different set of skills.
While McCoy took care of the clutch passing, a special package was designed to utilize Ash's surprising mobility. Whether it was a zone-read, QB draw or an option, Ash was able to find holes in the stingy BYU defense and was able to convert a few key first downs with his legs.
Then there was the Bryan Harsin, Boise-esque magic that iced the game. Jaxon Shipley received a toss on a reverse, then proceeded to hit a sprinting Ash downfield in the waning seconds of the game.
Needless to say, that got the massive Texas fanbase talking.
So, there's that. Texas has two very young, very inexperienced quarterbacks who both seem to have a ton of upside.
It's quite clear that both are better options than the incumbent starter, but is there room in the huddle for both of them?
Quite simply: yes.  
For now anyway.
There was a point during Saturday's game when the two quarterbacks were literally switching off every other play.
I don't recommend that approach next week when they go to UCLA, but I see no reason why they both can't see meaningful snaps in the next few weeks.
Many of you longtime Longhorns will immediately think back to the horror that was the Simms-Applewhite controversy at the start of the decade.
This is different.
While Mack Brown and company failed to identify when and when not to use the two signal-callers back in the day, I think they handled the McCoy-Ash tandem perfectly on Saturday.
McCoy clearly has a nice rapport with Shipley, while Ash provides gritty, tough running. The beauty of it all is that both can throw and run. McCoy has his brother's accuracy and Ash has one cannon of an arm.
By showing BYU's defense two different quarterbacks with a multitude of skills, they spent the entire second half back on their heels not knowing what to expect.
While the youngsters' roles were clear, and perhaps even a bit predictable at times, the defense could never fully adjust because of the knowledge (or fear) of McCoy's sneaky athleticism and Ash's big arm.
I would expect UCLA to be a bit more prepared for the tandem when Texas comes a-calling, but the misdirection I just mentioned could prove to be a game-changer.
Whenever McCoy is in the game to presumably throw, let him roll out and run a bit. When Ash is in for short, third-down runs, let him throw off of play-action.
However, Texas needs a clear-cut starter by the time they head to Dallas to play a top-ranked Oklahoma.
Coach Brown stated that McCoy would start next Saturday, but that Ash would see meaningful time as well. Until Texas gets better offensive consistency, I say let the two quarterbacks work together. For this young team, the "controversy" works. What's more is that the two really seem to play off each other nicely—with tempered egos no less.
This isn't the Chis Leak-Tim Tebow combo, but it'll do for now.
After all, both young men understand the most important, yet simple task for this team: Just win.
Side note: I'm pleased to return to Bleacher Report after what seems like a life time. It's a wonderful feeling coming back to the biggest, most knowledgeable sports family on the web.