Iowa Football: 5 Burning Questions and Predictions for Hawkeyes' Final 10 Games
September 16, 2011
David Purdy/Getty Images
For Iowa Football fans, Saturday's 44-41 overtime loss at the hands of in-state rival Iowa State Saturday shouldn't have been a huge surprise.
Cowardly coaching decisions, sloppy tackling and the inability to exploit matchups doomed Kirk Ferentz's squad Saturday.
And things aren't going to get any easier when Iowa begins Big Ten play in two weeks.
The Hawkeyes are dealing with constant flux on the defensive side of the ball for the first time in several seasons, placing a premium on scoring points.
First-year starting quarterback James Vandenburg has shown flashes of brilliance, but for the Hawkeyes to finish in the top tier of the Legends Division, he will need to play at an All-Big Ten level.
Vandenberg's consistency is far from the only uncertainty facing the Hawks in 2011.  Here's a look at five burning questions that will be answered throughout this season, starting Saturday when the Pittsburgh Panthers invade Kinnick Stadium.
Will Marcus Coker Stop Dancing and Stay Fresh?
Despite his impressive yardage totals Saturday in the loss to Iowa State, Coker still hasn't shown the dedication to hitting the hole he displayed as a freshman last season.  At 230 pounds, he needs to run inside the tackles and avoid stringing plays to the outside.
With promising RB Mika'il McCall out for the season, Ken O'Keefe must find a reliable backup behind Coker.  The sophomore logged 37 touches against Iowa State and rarely left the field.  Redshirt freshman De'Andre Johnson is the best candidate to emerge as a decent No. 2 option.
Will Micah Hyde Finish the Season at Safety?
Micah Hyde is one of the most athletic players on the Hawkeyes, but if the first two games are any indication, he lacks the instincts needed to play safety.
Meanwhile, first-year starter Greg Castillo struggled against the bigger Iowa State receivers.  If Castillo doesn't show immediate improvement, the Hawkeyes will be forced to shift Hyde back to his natural position and deal with inexperience at safety.
Will Mike Daniels Have an All-Big Ten Season in 2011?
Along with linebacker Christian Kirksey, Daniels was one of Iowa's few bright spots on the defensive side of the ball Saturday.
The senior defensive tackle was all over the field, pursuing the ball well and showing the aggressiveness that has him on the radar for all-conference honors.  
But with inexperience around him, Daniels will have to overcome constant double-teams to penetrate the backfield.  Unless LeBron Daniel or Dominic Alvis improve, Daniels isn't likely to have the same type of impact he did in 2010.
Will Iowa Take Chances Downfield With Marvin McNutt and Keenan Davis?
McNutt and Davis give the Hawkeyes one of the most lethal wide receiver duos in the Big Ten.  Staying competitive against Big Ten power depends on the willingness of offensive coordinator Ken O'Keefe to call plays aggressively.
Even when blessed with weapons on the outside, O'Keefe's pro-style offense has rarely taken shots downfield.  Three yards and a cloud of dust won't win games for this particular Iowa team.
Will Kirk Ferentz Again Face Pressure To Change His Coaching Staff?
Consistency is a perfect way to describe Ferentz's tenure in Iowa City.  With almost no turnover on his staff, the Hawkeyes have enjoyed a continuity that is unique to today's ever-changing college football landscape.
That isn't necessarily a good thing.
Between O'Keefe and defensive coordinator Norm Parker, Iowa employs simple schemes that are highly predictable.  
As the 2010 season showed all too well, coaching, not talent, often presents the biggest obstacle between mediocrity and a BCS berth.
Ferentz should be commended for his loyalty, but his stubborn personality might eventually be his downfall in Iowa City.
Change isn't always a bad thing.
Breaking Down the Iowa Hawkeyes' Final 10 Games
Iowa looks to rebound against the young Pitt Panthers Saturday in what promises to be an interesting non-conference battle.  A loss would be absolutely devastating to Iowa's 2011 season.
Here's a look at how the Hawks will fare Saturday and beyond.
Pittsburgh vs. Iowa (1-1), Saturday September 17
Pitt brings a potent running game led by the underrated Ray Graham to Kinnick Stadium.  Iowa State's 44 points were the most yielded by an Iowa team since 2004, and the Panthers figure to attack the edges of the Hawkeye defense with Graham leading the way.
Both offenses are have major advantages in this game, and some good old-fashioned home support should be enough to lift Iowa to victory.
Prediction: Iowa 34, Pittsburgh 27
University of Louisiana-Monroe vs. Iowa (2-1), Saturday September 24
It should be an easy win for the Hawkeyes against a non-conference cupcake.  However, the Warhawks employ a spread style led by dual-threat QB Kolton Browning that could present some problems for Norm Parker's defensive scheme.
Marcus Coker runs wild against an undersized defense to lead Iowa to an easy win.
Prediction: Iowa 37, ULM 14
Iowa (3-1) at Penn State, Saturday October 8
Penn State still doesn't have a quarterback and probably won't settle on Rob Bolden or Matt McGloin by the time Iowa comes to town in early October.
The Hawkeyes have owned Penn State in recent years, finding ways to manufacture wins in what have been ugly, but competitive, contests.
Iowa moves the ball early but settles for field goals, and Penn State pulls away late for a much-needed win.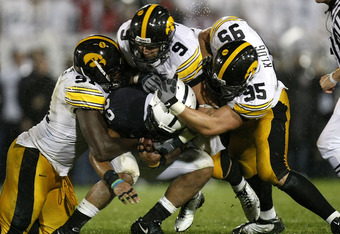 Gregory Shamus/Getty Images
Prediction: Penn State 27, Iowa 16
Northwestern vs. Iowa (3-2), Saturday October 15
Regardless of the sport, Northwestern always seems to find success against Iowa.  Especially in football, where the Wildcats' spread attack has befuddled and exhausted Iowa defenses throughout the Pat Fitzgerald era.
Dan Persa is still recovering from an Achilles injury sustained in last year's win over Iowa, but he will be back in the lineup by October.
Iowa's offense will need a perfect game to ensure victory.  James Vanderberg exploits a woeful Wildcat secondary for four touchdowns in a thrilling game.
Prediction: Iowa 41, Northwestern 37
Indiana vs. Iowa (4-2), Saturday October 22
In recent years, Indiana could score points against almost anyone.  It was stopping opponents that gave the Hoosiers fits.  This year, however, an improved defense is about all Indiana can hang its hat on.
Iowa isn't likely to have success against an experienced front seven, but a weak secondary means a big day for Marvin McNutt.  The senior does his best James Hardy impression and grabs three touchdowns to lead the Hawkeyes.
Prediction: Iowa 34, Indiana 17
Iowa (5-2) at Minnesota, Saturday October 29
It's losing games like this that have kept Iowa from additional BCS appearances during Kirk Ferentz's reign in Iowa City.
History is about to repeat itself.
The Hawkeyes fail to stop a powerful spread running attack as athletic QB MarQueis Gray accounts for four total touchdowns.
Prediction: Minnesota 31, Iowa 20
Michigan vs. Iowa (5-3), Saturday November 5
After suffering a devastating loss to the Golden Gophers, Iowa faces a pivotal matchup with the Michigan Wolverines with both teams jockeying for bowl positions.
The first time Denard Robinson graced the Kinnick Stadium turf in 2009, he created problems with his legs before a late interception sealed a Hawkeye victory.
This year, Shoelace simply won't be stopped.
Robinson runs for three scores and adds another through the air to fuel a huge road win.
Prediction: Michigan 37, Iowa 24
Michigan State vs. Iowa (5-4), Saturday November 12
From top to bottom, Sparty is arguably the most balanced and experienced team in the Big Ten.  So a win over a deflated Hawkeye club should be no problem, right?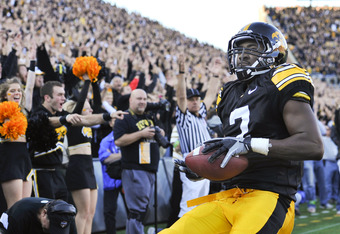 David Purdy/Getty Images
Behold the uncertainty that makes college football so much fun.
With nothing to lose, Marcus Coker sparks a rebirth by the Iowa offense and a shocking home win.
Prediction: Iowa 30, Michigan State 28
Iowa (6-4) at Purdue, Saturday November 19
 Danny Hope's Purdue club looks like a mess, and by late November, the Boilermakers aren't going to have much to play for.
It won't be pretty, but another solid day from Coker fuels a close road win for the Hawks.
Prediction: Iowa 19, Purdue 17
Iowa (7-4) at Nebraska, Friday November 25
The first addition of the Big Ten's newest rivalry will be a nationally televised affair and a chance for Taylor Martinez to run his way up the Heisman list.
Martinez is the kind of quarterback Iowa's base 4-3 scheme simply cannot contain, and assuming he is still healthy at the end of a grueling Big Ten campaign, he should have no problem dominating an overmatched defense.
In addition to lacking experience, Iowa's defense lacks the speed and athleticism it has enjoyed in recent years, especially in the front seven.
Five touchdowns from Martinez will be plenty to help the Huskers coast.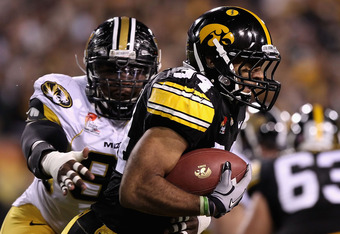 Christian Petersen/Getty Images
Prediction: Nebraska 45, Iowa 21
Let's Go Bowling
Finishing the year at 7-5 is actually a victory for the Hawkeyes and should yield a decent bowl bid.  Ultimately, the loss to Minnesota will again keep Iowa out of the New Years Day picture.
Enjoy Arizona last year, Hawkeye fans?  Well, you're in for a return trip to the Insight Bowl.
Despite having the easiest schedule in recent memory, the Hawkeyes simply don't have enough talent to expect more than seven wins.
Get ready for another long, grueling season of yelling at the television, baffling defensive schemes and bizarre game-management decisions.
And get ready for another bowl victory against a Big 12 opponent.