Manchester City Will Not Win the Premier League Until They Achieve Stability
September 12, 2011
Alex Livesey/Getty Images
Throughout the last several years, Manchester City have been the one of the most talked about clubs in football.
Ever since they were bought by the Abu Dhabi United Group, Manchester City have spent loads of cash on players from all over the world.
So far, City have achieved mixed results in the transfer market. Originally, players such as Kaka and Gianluigi Buffon didn't sign with the Blues because City were, at the time, only a mid-table side even with their money.
But in the last two years, City have been able to achieve success with their billions. They were able to qualify for the Europa League and the Champions League in consecutive seasons, and they ended a 35 year trophy drought with their FA Cup title last season.
Now Manchester City's success certainly has been impressive, but City have a massive mountain to climb to claim the Premier League title from Manchester United.
This starts with making smart transfers instead of just buying players because they have the money. So instead of buying players such as Emmanuel Adebayor, Rogue Santa Cruz and Robinho, City should invest in cheaper transfers due in large part to UEFA Fair Play.
But even if UEFA Fair Play was not going to come into existence, it is utterly ridiculous that a team could spend such an exorbitant price for a player who is worth nowhere near that amount of money. This ultimately harms the transfer market and makes City look foolish when they make a horrible signing.
Regardless of their signings, City have other issues that no other top club should ever have to deal with.
This starts with their recently departed chief executive Gary Cook after an insulting email that was sent out to several parties.
Now Cook obviously made the right move in resigning from the club, but still no other top club should have such an unprofessional moment ever happen to them.
For starters, having a player such as Carlos Tevez is not going to help the club in the long run. Despite the fact that Tevez is a fantastic player, his constant complaining about wanting a transfer away from City and his weight and depression issues continue to hurt the club.
In the case of someone such as Tevez, Manchester City should decide to transfer him for a reasonable price so they don't continue to get bogged down. Keeping him will prevent City from achieving their top goals.
And then there is Mario Balotelli. There is no doubt that Balotelli is a fantastic talent, but he is a player that needs to mature.
He has already shown immaturity this season by failing to finish a goal against the Los Angeles Galaxy in a friendly, and has now been questioned as to his connections to the mafia.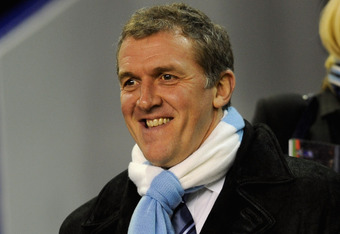 Michael Regan/Getty Images
After another strong performance against Sergio Aguero over Wigan last weekend, Man City are in second place in the Premier League and are dangerous.
However, they will never overcome United until they stop these shenanigans and act like a big club, not an immature baby.
They should stop trying to copy their crosstown neighbors and instead just focus on themselves.
And their players should avoid these problems off the pitch and try to make Man City into a place that no player dislikes.
Follow me on Twitter! Andrew_Jordan