Exclusive Interview With Boxing Legend Micky "Irish" Ward
August 11, 2011
Frazer Harrison/Getty Images
Calm, humble, optimistic, respectful and genuine are the attributes that Micky "Irish" Ward (38-13-0) showed when I had the pleasure of interviewing him over the phone on Aug. 9, 2011. 
For boxing enthusiasts as well as casual boxing fans, this fighter rarely needs a formal introduction, as his trilogy with Arturo Gatti (40-9-0) showed Ward's unparalleled heart and dedication to the sport.
Their battles took boxing to a whole new level and provided the fans with three thrilling unforgettable nights. 
Last year, a major multiple award winning motion picture The Fighter had been released about Ward's early career. The movie starred Mark Wahlberg, Christian Bale and Any Adams.
The sequel, which will include the Gatti vs. Ward trilogy, has been officially confirmed and will begin filming soon. 
Please enjoy this interview with Micky Ward below. 
VS: What are your thoughts regarding the second film about yourself, featuring the Gatti trilogy?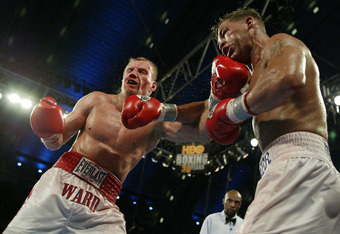 Al Bello/Getty Images
MW: I think it's great because most people know and recognize me by the Gatti bouts. And I think that it's great that they will show the Gatti fights. 
Are you aware that there was an investigation going on concerning Gatti's death and that the people involved have concluded and will reveal their findings in Aug. 30th? 
Yes I have heard something about that. I just hope the truth comes out because I personally don't think that he did it himself. 
Do you think that The Fighter generated any extra interest in the sport of boxing?  
 I think it did. I don't know how much, but I do think a little bit. The thing is that in the movie, boxing was more like a backdrop; the movie was more about the family dynamics.
So really, it wasn't a boxing movie. I think that the second one might be more of a boxing movie. There was a lot of drama in the first one, had to show all the craziness.   
Who was the hardest hitter that you have faced in your entire career?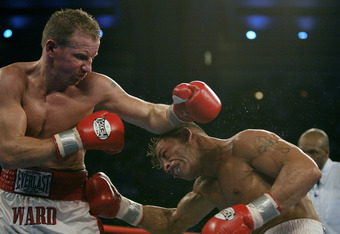 Al Bello/Getty Images
 I couldn't really think of just one person, there were a lot of them. Alfonzo Sanchez, he was a really hard puncher.   
Are you still having vision problems that you were experiencing before? 
 Yea a little bit, I might have to go back in. It's not as bad as it was before, but I might have to go get surgery done, not too sure yet. 
What is your secret, or maybe you could give some advice on how you planted that amazing left hook to the liver? How did you set it up? It must be one of the best ones in boxing history… 
 There isn't really one specific way to get it done. The thing about that punch is you have to take some punches to get in there and let it go.
What I would do is try to get my left foot outside of my opponent's feet, and I would tap upstairs just to make them bring their arms up.
Sometimes it didn't work, so you have to go back to it. But with me, I am a righty, but I punch harder with my left, so that screwed them up too.    
In the second movie, will you also be a part of the team? Will you be participating just like in the first one? 
 Yea I'll be helping. I'll be working with them.
Do you still ever wish that you could go through just one more fight, or is boxing well past you?
 It's past me. I don't really miss it. I do miss the conditioning. I trained as hard as I could, I ran as much as I could, I sparred hard, I did everything right. I did everything I could possibly do at the age when I could fight.
You have to be realistic, you can't say "Oh I am smarter now, older and I can punch harder." You think you can, but you can't.   
Still, what do you miss the most about boxing?
 I miss the preparations and also the condition I was in. I miss the nerves and getting ready for a fight.
What are you doing nowadays?
I am in the boxing gym a lot, I own a boxing gym. Also I own an outside hockey rink. I am also a Teamster Local 25.
Mayweather vs. Ortiz, your pick?
 I think Ortiz is a great young fighter, but Mayweather Jr. is not the average or normal guy, he is a different breed.  
\
Pacquiao or JMM in November, who do you pick to win in that fight?
 I like Manny. I think he is fighting better, and he is punching hard. Yea I'll go with Manny.
A while back, Mayweather Jr. fought JMM and easily beat him. What if when fighting him in November, Pacquiao struggles with JMM, does that mean he will look similar to JMM if and when he fights Mayweather Jr.?
 No I don't necessarily think so. I think that styles make fights. Everyone fights differently in every fight. I don't believe that if Pacquiao struggles with Marquez, that it's guaranteed he would lose against Mayweather Jr. I just want to see the fight. Those are the two best fighters in the sport.
Many people say that if they ever fought, it would be a boxing savior; do you think that there is such a thing as a boxing saving fight? Does boxing really need saving?
  I don't really think that boxing needs saving, but it would bring back a lot of people to the sport. I think it would bring a lot of interest back to boxing. I don't think that boxing will ever go anywhere because it's the oldest sport there is.
But there are a lot of people going to the MMA side. You know what we need? We need the best fighters to fight the best fighters, and that way boxing would go back to where it was in the '70s.
Look at Bernard Hopkins. He will fight anyone in the world. He is the exception to the age rule. He is incredible.
A lot of people are saying that many boxing fans are switching their interest and attention to MMA, your thoughts?
 I kind of believe it. I see it actually happening. There are more fights and more action. That's why you have to have the best fighting the best. It's all money, money and money. It's positioning.
When you were actively fighting, was money the most important thing to you, or were you more focused and interested in the fights and the titles?
  When I first started fighting as a pro in the '80s, it wasn't about money but about getting a title. It was all about winning, and making the money along that. As I got older toward the end of my career, it was all about making money.
Obviously you want the title, because being the world champion will make you be remembered for the rest of your life. But that's not going to pay your bills and live.
You need to make the money to have a good life and support your family. You have to be able to spend and have money in the bank.
Well Mayweather Jr. always says that the only thing belts do is collect dust. And that it's all about money.
  Well he is right in a way. Money is the name of the game. Do you know how many homeless world champions there are right now? Because they won the world title and then blew the money and now are homeless.
You have to get the money and save it, put it away. And then you have to be able to work, work, and work. Work and make even more money, to get your benefits, your insurance. And then when you are older and retiring, then take your money out and start spending it.
What advice would you give to the young boxers out there trying to make it?
 If you do it, do it 110 percent. Don't cut corners. You only get out of it what you put into it. It's a very tough sport.
If you don't do it the right way, don't do it at all. You can get hurt and never make it.