St. Louis Cardinals: Tony La Russa Creating a Culture of Complaining
August 4, 2011
Joe Robbins/Getty Images
Remember the movie Wedding Crashers? Vince Vaughn, Owen Wilson…heck John McCain had a cameo. Remember rule number 76 of crashing?
"No Excuses. Play Like a Champion."
Cardinals manager Tony La Russa has very clearly never heard of that rule. This is odd, because La Russa is himself a five-time pennant winner and two-time world champion with the Oakland Athletics and St. Louis Cardinals.
August 2, 2011 epitomized what Tony La Russa is all about: making excuses.
After losing 6-2 to the Milwaukee Brewers, La Russa decided that his team hadn't been beat fair and square (though they did get hosed on a double-play ball). No, something is up. Chris Carpenter is a young, spry 26 year old who has been lights-out all season long. So Tony La Russa decided to file a complaint against the NL Central Division leaders for tinkering with the scoreboards and stealing signs. Naturally, there's no evidence of this whatsoever. After La Russa alerted umpire chief Gary Darling (meaning that the umpiring crew was onto the alleged cheating) as well as changing up the signs, the Brewers offense continued to roll, scoring 17 runs on 29 hits over the next two games against Cardinal pitching.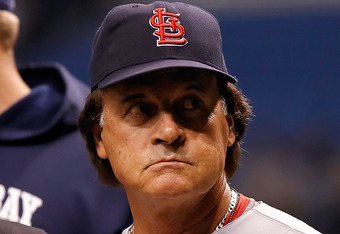 J. Meric/Getty Images
This, of course, isn't the first time La Russa has complained about nothing. In September, 2009, La Russa threw a hissy fit about the bullpen mounds at Coors Field being so different from the field mounds. The next season, he lashed out at the Cincinnati Reds for allegedly using slippery balls at Great American Ballpark. Naturally, no other Major League manager has raised these complaints. And, may I add, it's especially rich for La Russa to call other teams out for cheating, given the former first baseman he employs as his hitting coach.
Conspiracy or not, there was baseball to be played on Tuesday night, and the Brewers and Cardinals engaged in a fierce affair with the two sides exchanging blows throughout the first five innings. In the top of the seventh, with the Brewers up 7-6, Albert Pujols came up to bat with two on and nobody out and was hit by a pitch by Brewers reliever Takashi Saito. There are approximately 78 million reasons to believe that this was not intentional. Here are three:
1)      Albert Pujols is probably the best right-handed hitter ever, and there's no way to beat him without pitching inside.  
2)      There were already two runners on base with nobody out.
3)      Two of the top-10 batters in the National League were due up next in Matt Holliday and Lance Berkman.
Regardless, Tony La Russa decided to "send a message" and throw at Ryan Braun in the bottom half of the seventh. When pitcher Jason Motte's first pitch missed its target, La Russa had him send another message, and actually hit him. What was he trying to accomplish? Did he actually think that the Brewers were deliberately trying to hit a batter to load the bases for Matt Holliday with zero outs?! Naturally, this was just La Russa's way of complaining, as if to say "how dare you pitch my superstar in such a way that he occasionally looks human!" La Russa wants different rules for his players than for others.
The shootout continued into extra innings. In the top of the tenth, Cardinals catcher Yadier Molina struck out on a pitch that was pretty clearly inside. What happened next was an example of La Russa's terrible, it-can't-be-us attitude spreading through the clubhouse like a cancer. Yadier Molina – widely regarded as the best defensive catcher in baseball – went on an absolute tirade, bumping home plate umpire Rob Drake and spitting in his face like a seven-year-old. Oh, and he certainly wasn't alone; La Russa rushed out in a hurry, and not just to pull Molina away from Drake.
The result will likely be a 5-10 game suspension of the Gold Glove backstop. That means five to ten games of Gerald Laird instead of Molina, widely regarded as the best defensive backstop in the game for both eliminating the running game and managing pitchers. Oh, and he's hitting .293 this season too. The Cardinals prevailed in 11 innings, but took a much bigger hit in losing Molina who, likely focused on the ramifications of his actions, made a throwing error and allowed a passed ball the next day, resulting in two additional Brewer runs.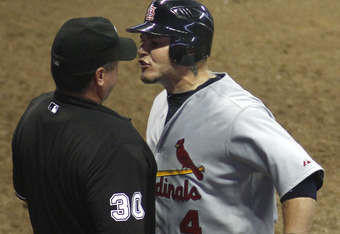 Darren Hauck/Getty Images
All because of a bad call. In baseball. A game umpired by humans who aren't perfect. Bad calls happen to every single team, but Molina felt they were unique to him, even though Drake's strike zone was everywhere that night for both teams (which, as a catcher, Molina should have aware of).
Given the tendencies of his manager, this is hardly surprising. La Russa has insisted on blaming everyone and everything in the world for his teams not going 162-0 every year. La Russa does not help his team with this attitude. We all know that guy, whether at work, school, life, whatever. Nothing is his fault. This amoral leader, when put in charge of others, often becomes a toxic leader, who refuses to take responsibility for his or the group's failings. The result is a failure to recognize shortcomings—like a 36-year-old pitcher that leaves pitches up and makes Yuniesky Betancourt look like Willie Mays. If you don't recognize shortcomings, you can't address them. And if you don't address them, they won't go away.
Own up, Tony. Your team won't win this divisional race by pointing fingers.