LeBron James Just Needs to Learn Some History: We All Know the Story
July 25, 2011
Gregory Shamus/Getty Images
It's prime fund-raising season for non-profits like the Boys' and Girls' Clubs, but n'ary a LeBron James sighting.  His way of saying "Oops," you suppose?
Listen while Abacus channels his inner Aesop. 
All the LeBron Hate of the past 13 months calls to mind a similarly highly-anticipated media-driven Decision that likewise seemed to elicit a wide range of scorn and criticism.  This incident, though, happened about three decades ago, and three of the four "villains" survived the fallout quite nicely, thank you.  (As for the fourth, a somewhat shady character even back then, more controversy / scandal lay in his future.)
The recruitment of this star athlete (the next Bill Russell) had been (micro?) managed by his high school coach and would culminate with an announcement at the restaurant owned and operated by a popular and classy local sports celebrity, Satch Something-or-Other. 
I don't recall if the coach of the successful school was present at the event...I do know there's no way he could have sneaked in. 
One of the controversial aspects of the negotiations for these particular basketball talents was scholastic...seriously! 
The kid's likely need for remediation and support was acknowledged up front; indeed concessions such as untimed testing would be necessary to acquire all those rebounds and blocked shots. 
(So, obviously it would come down to Harvard or Stanford.  Everyone knows the Crimson coddle those scholarship athletes, right, Ivy breath?)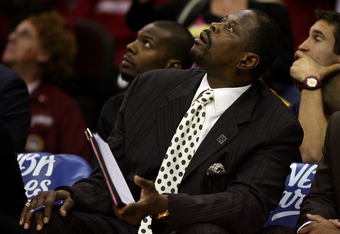 Elsa/Getty Images
The wild card in all this was the even-then high profile coach who may or may not have been in attendance, a teammate of the restaurateur and back-up to the He after whom the young player's game was patterned. 
Coach Methuselah had taken the reins of a program that was little more than a club sport and built it into a cornerstone of the conference that would soon send three teams to the Final Four...in the same year, and before the league had about 35 teams.
This was all accomplished in about a decade or so, and at a school that can stand shoulder-to-shoulder with the Harvards and Stanfords.  Physically imposing if not downright intimidating, Coach never had and pretty much still never has been reluctant to express an opinion or display a social conscience.
Oh, and let's not forget to mention that, back then, just about the only other coaches of color who got to participate in March Madness worked at an HBCU and were back on campus planning for next season quicker than an Irish bar runs out of green beer.
Often featuring a roster full of "who ya's", depth and wear-you-down persistence were this program's calling cards from day one, along with a fearless, "spit-in-your-eye" confidence, all in the image and likeness of the coach. 
They were a very polarizing bunch, viewed either as a group of industrious over-achievers (with some rather quaint background stories, like the over-aged ex-Postman postman) or as a gang of border-line hoodlums (even before Michael Graham joined the club), with very little middle ground.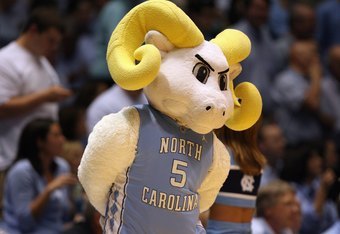 Streeter Lecka/Getty Images
And again, let's not forget, all this at one of those "hard-to-get-into" places, just down I-95 in DC.  Not quite so close as Chestnut Hill nor quite so far as Chapel Hill, in juxtaposition with Greater Boston, anyway, from whence this fable hails.  But by now, as the WWE's Alberto Del Rio likes to say, you already know that.
Well, D-Day arrived and in front of the bright TV lights, assorted media, and merely curious, an impeccably dressed but understandably uncomfortable teenager told the world where he would matriculate in the fall...and then, to coin an old phrase, was seen but not heard until his sophomore year, Standard Operating Procedure with the kids on this coach's team. 
Volleys of Venom were immediately unleashed upon the coach from every which-a-way:  his race afforded him an unfair recruiting advantage; he'd sold out the school's integrity by inviting such an "academic project" to Good Ol' Prestigious U; he was callously exploiting this naive boy just to win a few more games. 
How Dare He! What a Heel! How did an outlaw program end up at a school like that? Oh Woe Is Us (or is it We?)!  Also vilified as equal parts ego-maniac and opportunist were the high school coach and the entrepreneur / host.  (Was it Satchel Paige?)
So, the Next Russell (along with two DC-area sidekicks in a highly-regarded freshman class) matriculated – don't you just love that word – while the naysayers anxiously braced for the inevitable car wreck that never happened. 
The team, under the dictatorial thumbs of the glowering, towering coach and his Chief Academic Adviser, Sister Perpetual Vigilance, competed in its typically aggressive fashion and won its share of games.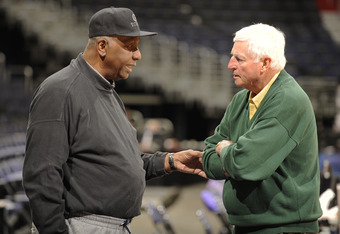 Mitchell Layton/Getty Images
There were some bumps along the road:  the aforementioned Mr. Graham, whose very admission to the school is evidence of the success our "academic project" was experiencing on and off the court; one of the sidekicks would later decide he wanted a guy named Tark as his coach; and of course Rollie Massimino's Villanova Miracle.
But four years later, our nattily attired but ill-at-ease high school senior is an NCAA and Olympic champion, the first pick in the NBA draft (a draft believed by many to this day to have been rigged to improve the title chances of a certain major market team), and, in the "I'll just show you" spirit of his team and coach, a certified graduate of Georgetown University.  Touché!
Nearly a decade later, TV once again revealed that good ol' human drama of athletic competition as one very classy athlete (playing in his adopted hometown, Abacus might point out) drank in the thrill of victory as another equally classy guy came as close as our Next Russell ever would / could.  The Hall of Fame proved less elusive.
Coach Methuselah currently has the unique pleasure of looking on as his son and namesake leads the program he'd built from scratch, while his Hall of Fame progeny toils as an NBA assistant coach / big man tutor.  Who knows...maybe he can fill the shoes of the late Pete Newell, huh?
Now, how's about this high school coach who would seem to have written the book on how to manage the recruitment of a stud athlete? 
As the Next Russell was moving on to pro ball, Coach Shady – he'd faced allegations of recruiting (a H.S. No-No) a player who would later go on to become the head coach of a Division I university at which Coach Shady had previously coached – was taking his coaching talents and ball-playing 6'9" son across the River Charles and up to the college level.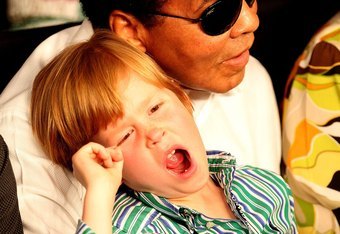 Jed Jacobsohn/Getty Images
Multiple NCAA appearances and a First Round Draft Pick (remember Yinka Dare?) later and what we have is a genuine hot property, and the Big Time came a' calling.  Early success at that level was soon overshadowed by scandal and shame, and while ultimately exonerated, career trajectory was altered and reputation further stained. 
(Poor Guy, had to make do with ESPN money before landing a job in one of those so-called "Mid-Major" conferences.  Doesn't the old Northeastern coach still owe you a favor or two, man?)
The world, particularly the media, has changed tremendously since the day Patrick Ewing announced he would attend (OK, he didn't say "matriculate," but to his credit he didn't mention playing ball either) Georgetown University.
However, all the outcry from the LeBron Sweepstakes is eerily familiar – disdain for both the decision and the allegedly audacious mode of presentation, coupled with shameless glee at every setback or stumbling block -- you know, the way folk were feeling a decade before when young Patrick was still in grade school and Our New Joe put that Draft Dodger in his place in the Fight of the Century.
Time lends perspective and even some compassion to a person's viewpoint, and most can now arrive at a more measured, informed, and dispassionate "take" on a Patrick Ewing, a John Thompson, or a Mike Jarvis (not to mention Ali, Frazier, Russell, Olajuwon, and even Miss Mary Fenlon).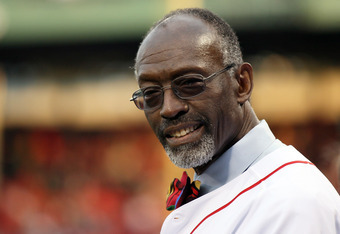 Elsa/Getty Images
As for the owner of Satch's Place, he'd followed up a steady though unspectacular playing career with coaching stints at Harvard (how do they keep getting into this thing?) and with the Celtics, even filled in as a TV broadcaster from time to time, though his always eloquent articulation and pre-Urkel bow tie didn't seem to fit the mold.
The restaurant gig lasted about as long as Ewing's college days, and in the mid-'80's Satch began a near 20-year stretch in the employ of the NBA office, working on, among other projects, the development of the league's orientation program for rookies. 
As 50-year anniversaries for the sundry accomplishments of the Celtics' dynasty pop up, I hope to see and hear more from Tom "Satch" Sanders.  (Are you listening, ESPN?  A few folks in Springfield apparently were.)
So what lesson can Abacus learn from all this cross-generational angst?  Maybe just that the Creator doubled up on our eyes and ears, but not our mouth, with good cause.
It seems that as kids strive to be "grown" at frighteningly younger ages, a disturbing consequence to this is the prolonging of adolescence. 
Now adolescents, for those who've not spent much time around them, are a subset of out species notorious for rebelliousness and other forms of stubborn illogic.
LeBron is neither the first nor the most nefarious fellow to be afflicted with this malady.
The remedy?  Heaping helpings of "If only I knew then..." and "What was I thinking?" usually does the trick.
Oh, and don't forget -- "Crow" is more palatable when eaten warm.