Pittsburgh Pirates: Why Numbers Don't Tell the Whole Story
July 6, 2011
Justin K. Aller/Getty Images
Jay Leno once quipped, "Today is March first and the start of Major League Baseball's Grapefruit Season in Florida. That also means the Pittsburgh Pirates have officially been eliminated from this year's pennant race." Over the course of 18 consecutive losing seasons, the Pirates became fodder for late night comedy routines from coast-to-coast.

This season, nobody's laughing anymore. As of this writing, the Pirates are three games above .500 during July for the first time since 1992—their last pennant-winning season. They are in second place in the NL Central and just a game away from the front running St. Louis Cardinals.
The city of Pittsburgh is alive with excitement and crackling with electricity in the summer time for the first time in a generation. On the July 4 holiday, they sold out all the seats, plus the SRO areas. The following night, they still pulled in 18,151 against the lowly Houston Astros. All this just after losing a deeply humiliating 105 games last season.
Wearing the Black and Gold

Sports call-in shows have been all too willing to color Pittsburgh as a "football-only" town, that the storied franchise of the Pittsburgh Pirates was old news and no longer mattered to anybody. All too often, it seemed as if the players on the field really believed that, too.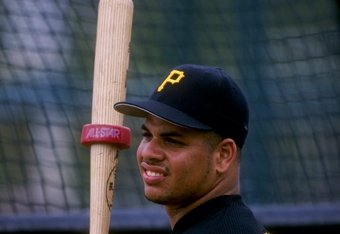 Rick Stewart/Getty Images
However, four straight home sell-outs and having Pirate merchandise flying off the shelves has told a different story. Clearly, Pittsburgh loves a winner—no matter what sport. They have been starved for a competitive team to watch in the summer. Now that it's here, fans aren't afraid to be seen in T-shirts, jerseys and hats sporting a Pirate logo.
Fans have been forced to endure a lot, like the selling off of major players such as Andy Van Slyke, Jay Bell, Aramis Ramirez, Jeff King, Jason Schmidt, Brian Giles, Jason Bay, Jason Kendall and Jeff Suppan. There were feeble attempts at respectability by bringing in stars well past their prime—Derek Bell, Jeromy Burnitz, Matt Morris, Ramon Martinez (brother of Pedro Martinez and who was once considered the better pitcher of the two) and Chan Ho Park. The guffaws only grew louder.
Changing the Attitude
It's been often said that a manager is worth only about a difference of four to eight games in a season. Clint Hurdle has turned that adage on its ear. He has been the genesis and the driving force of the metamorphosis that turned this club around. Hurdle's positive attitude and high expectations are what ignited the fuse. From the first day of spring training, Hurdle preached "championship-caliber execution" to his young charges.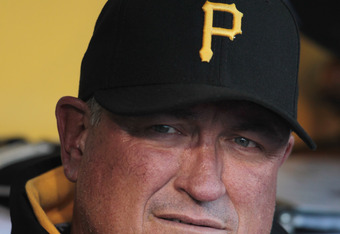 Scott Halleran/Getty Images
Pirates broadcaster Greg Brown recently said during the Astros series, "Hurdle says all the right things, pushes all the right buttons. When he talks, you just wanna go out and run through a brick wall for him. He's been the perfect man for the job of running this team."

While Brown isn't a player and isn't privy to every little thing that is said in the clubhouse, he does see the team and talks to the players on a daily basis.

Preparation and Motivation

Pitching coach Ray Searage told his staff early in the season, "You're going to be under the radar for awhile. Then, somebody will notice you and they'll come after you. That's when you've got to change and do something different." (taken from an interview broadcast on Root Sports-Pittsburgh, with Rob King)

Searage worked briefly with the nucleus of the staff last season after he replaced Joe Kerrigan. The starters are the same, with exception of Zach Duke (who was released and Kevin Correia was signed to take his place). What's different are the results. The debris was cleaned out of the bullpen and a few new faces were added. It's as sound as your grandfather's gold pocket watch.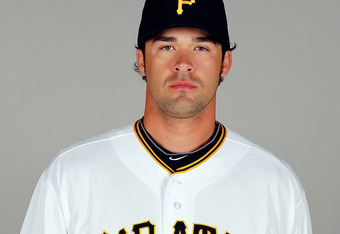 J. Meric/Getty Images
Hurdle has shown that he runs a tight ship. Errors of commission and omission simply won't do. Nor will any lack of hustle. Center fielder Andrew McCutchen and shortstop Ronny Cedeno were each benched by Hurdle, for different reasons. Each got the message, however, loud and clear. Garrett Jones played himself out of the lineup with a poor showing in April and May.
Hurdle told his young slugger that the effort would have to be stepped up. Hurdle's words stung. "You continued to play in the past, no matter what, because the team was so bad," Hurdle said. "That's over. There are no more automatics." Jones rode the pines, occasionally pinch-hitting, worked on his technique, and battled his way back into the lineup. 
Showing Some Depth
Hurdle has been snake-bit in terms of injuries. Players have been dropping like bowling pins this year. It began in Spring Training with a set back in the recovery of pitcher Kevin Hart (shoulder surgery) and continued after the season started when another starter, Ross Ohlendorf, went down in April.

Since then, "Olly" has been joined on the DL by catchers Ryan Doumit (broken ankle), Chris Snyder (back surgery), third baseman Pedro Alvarez (quad), pitcher Joe Beimel (elbow), Ronny Cedeno (concussion), last year's all-star Evan Meek (shoulder), infielder Steve Pearce (torn calf) and left fielder Jose Tabata (quad).
The Pirates have had to scramble to replace both catchers. However, it seems that for the others, there was already someone waiting in the wings for an opportunity. To a man, they've all come through in a big way, keeping the Pirates' hot streak going. Having the kind of depth they've shown this year is also something fans haven seen in many seasons.

The Pirates have also scored two nice additions through the Southern California waiver wire, picking up infielder Brandon Wood from the Angels and outfielder Xavier Paul from the Dodgers.
When Clint Hurdle gets his injured players back healthy again, some hard decisions will have to be made in quite a few areas. With a fresh batch of players, the Pirates will continue to chase the NL central flag, while competitors deal with late season injuries and inevitable fatigue.
Coming All the Way Back
The question on everyone's lips seems to be, "Can Hurdle pull off the impossible?" meaning winning the NL Central or even a Wild Card berth. Tampa Bay pulled off a "worst-to-first" turnaround just a few years ago, so it's not totally out of the question. If he accomplishes this, regardless of how he does in the postseason, Hurdle could run for mayor of Pittsburgh and win in a landslide. Here's wishing him the taste of champagne.