Monica Seles: Appreciating What Could Have Been
June 20, 2011
Ryan Pierse/Getty Images
Women's tennis has had dominant champions to an extent the men can only dream of. If you only know Margaret Court, Billie Jean King, Chris Evert and Martina Navratilova from the pre-Graf-Seles era, you can be forgiven, because those women very much won everything. 
Then came Steffi Graf. She emerged as the main contender to the Navratilova/Evert dominance in the mid 80s and two years later, in the summer of 1987, she shot to the world No. 1 for the first time, only two months after turning 18. 
Women's tennis has found a new queen. Fräulein Forehand had the best forehand in the game and a very safe, hard, effective and well-placed backhanded slice which she would use on almost all of the balls coming to her backhand.
Only when the opponent would venture to the net, would Graf go for a more offensive top-spun backhand passing shot. 
Graf won her first slam at the French Open in 1987, the only slam she won that year. Just a year later, she won everything, including the Olympics, and became the first and only man or woman to win the Golden slam. 
Things looked bright for the young German, who was dominating her rivals and went on to win another three Slams the year after. She beat the 15-year-old Monica Seles three straight times that year as the latter was climbing up the rankings. Their difference in age, four and a half years, is almost identical to Federer and Nadal.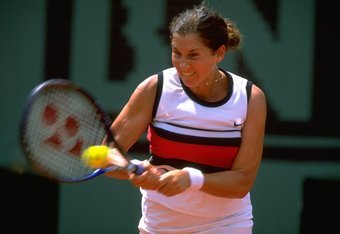 Stu Forster/Getty Images
1990 wouldn't be as easy. At 16, third-ranked Seles won her maiden Slam at the French Open beating Graf in straights in the final. She had also won the only other meeting the two of them played that year, also on clay, this time in Berlin and capping Graf's 66-match winning streak in the process (Novak, anyone?).
While Graf finished 1990 as No. 1 with Seles breathing down her neck at No. 2, 1991 would signify a changing of the guard. After 1988-89, Graf had been expected to continue reaping multiple Slams a year and a Grand Slam here and there. Alas, this was not to be. 
In Australia, the now 17-year-old Seles won her second Slam. She also won the French and the US Open, while Graf only could console herself with the Wimbledon trophy (Seles was out with injury) and by beating the new No. 1 the two times they meet.
Seles, meanwhile, had not even turned 18 yet and seemed posed to dominate women's tennis in the foreseeable future, just as Graf had been three-four years prior.
1992 proved another Seles year. Though she received a regular beating by Graf at Wimbledon, the only slam she never won, she won the other three yet again and beat Graf in a classic three-setter at the French, ending 10-8 in the third set.
She beat Graf much the same way Nadal beats Federer: by relentlessly attacking the opponents one-handed backhand.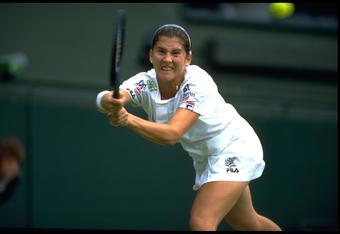 Bob Martin/Getty Images
The sky was the limit for Seles. Come 1993 and she defeated Graf in yet another Slam final at the Australian Open. She now led the Slam final counts 3-1 and their Slam meetings 3-2. Overall, their head-to-head was 6-4 in Graf's favour against Seles who had just turned 19.
More tellingly about Seles' two years dominance is the following. From January 1991 through February 1993, Seles won 22 titles and reached 33 finals out of the 34 tournaments she played.
She compiled a 159–12 win-loss record (92.9% winning percentage), including a 55–1 win-loss record in Grand Slam tournaments.
She had won seven of the last eight slams she had played and was a finalist in the one she didn't win.  
Now that is called dominance.
To be fair to Graf, she did struggle with some injuries for part of those years. Nevertheless, there was no doubt who was calling the shots in those years that, theoretically speaking, should have been part of Graf's prime (Graf turned 22 in June 1991, while Seles turned 18 in December 1991) 
Then came tragedy. A deranged German Steffi Graf fan stabbed Seles in the back at the tournament in Hamburg.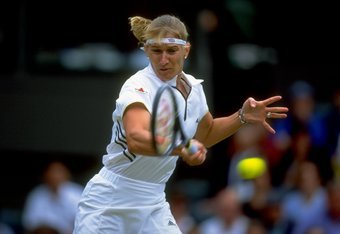 Gary M. Prior/Getty Images
It took Seles two and a half years to make a comeback. Still not 22, she should in principle have had plenty of time left to dominate. But Seles was no longer the same player. She won one more Australian Open and had three Slam runner-ups.
Part of the lacking consistency is attributed to personal problems as her father got cancer and eventually died in 1998. Against her old rival Graf, Seles managed but one win in their five post-stabbing matches.
While Seles was still a top-tenner capable of beating anyone until she retired at the end of 2002, the winning part of her career ended on that day in Hamburg.
Graf, on the other hand, returned to winning form. While she had won four slams in 88, three in 89, she only won one in 90, 91 and 92. After losing the 93 Australian Open final to Seles, she went on to sweep the rest of the Slams that year, while Seles was out.
In 1994, Graf won but one, partly due to injuries which also kept her out of the 1995 Australian Open. Then she went on another tear, winning three Slams in both 1995 and 1996, beating Seles in the US Open final both years.
As Seles was stabbed, Graf was at 11 Slams, while the four and a half years younger Seles had already reached 8 and barely turned 19. When they both retired, Graf had doubled hers and more than doubled her weeks at No. 1 to a commanding 377.
Graf was an amazing player and she would have been a force in the game no matter what; Seles or no Seles. But at the same time, Seles deserves praise as well.
We can't say where she would have ended among the legends of the game, but it sure seems certain that she would be in the double digits and have a better ranking than 13th of all time as Tennis magazine awarded her with.
Perhaps she would even have won that elusive Wimbledon...