One-on-One with Nate the Great: Talking Clutch Hits, Stellar Defense, and More
June 14, 2011
Christian Petersen/Getty Images
"I like feeling the bat in my hands."
That's the answer Nate Schierholtz gives when asked why he doesn't regularly wear batting gloves like most big league hitters tend to do when contending with a 95 mph tailing fastball being hurled at them from 60 feet, six inches away.
The San Francisco Giants' right fielder is old-school when it comes to his preference for handling the tool of his trade.
As to whether he grips the wood a little tighter when he comes up in the ninth with two outs and the tying-run at second, his remarks are simple and to the point: "I just think: don't strike out, put the ball in play, go back up the middle."
And that's exactly what Schierholtz did on June 1 against the St. Louis Cardinals at Busch Stadium.
On a night when much more was on the line for the defending world champions than a mid-season contest with the Red Birds, Schierholtz came to the plate to face St. Louis closer Fernando Salas with a runner on first base and two outs in the ninth.  His club was trailing, 5-4.
The Giants were less than one week removed from absorbing the shock of a devastating season-ending injury to their star catcher and cleanup hitter Buster Posey. 
The loss of Posey had the potential to shatter San Francisco's confidence. The reigning N.L. Rookie of the Year generated the spark in 2010 that led the club to its first World Series title since moving west from New York in 1958.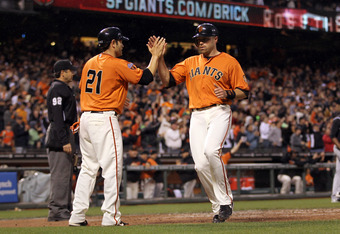 Ezra Shaw/Getty Images
The Giants were swept at home by the Marlins in the days following Posey's injury, and then went on the road for a seven-game trip.  They dropped two of three in Milwaukee, and after a win in the series opener with the Cardinals, lost a one-run heartbreaker in the second game.
A loss in Game 3 of the series would almost certainly allow doubt to creep into the San Francisco clubhouse about whether the team could really win without its unofficial captain.  It would also mean the Giants would enter the series finale at the risk of finishing 2-5 on the road trip, and then limping back to San Francisco to face division rival Colorado with a 2-6 Posey-less record.
Indeed, in many ways the Giants' fragile collective psyche—and therein the future of their season—hung in the balance, on the shoulders of the 27-year-old Schierholtz.
After falling behind in the count, 1-2, Schierholtz found himself in a position to tie the game, as pinch-runner Emmanuel Burriss stole second base.
Two pitches later, Schierholtz stroked a clutch single up the middle to tie the score at five.
And the Cardinals hadn't seen the last of Nate the Great just yet.
In the top of the 11th, with the game still tied 5-5, Schierholtz delivered another two-out single. This one was a line drive to right field that plated the go-ahead run for the Giants, who would close the game out in the bottom half, with a final score of 7-5.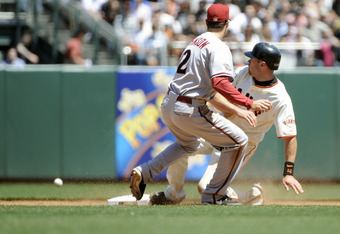 Thearon W. Henderson/Getty Images
The hero's explanation of that clutch, go-ahead single: "[Ryan Franklin] left a changeup up, and I wasn't going to wait around."
Not Waiting Around
Nate Schierholtz has plenty of experience in not waiting around for things to happen.  Drafted by San Francisco in the second round of the 2003 amateur draft, he played extremely well in the Giants' farm system, specifically in 2004, slugging 18 home runs and picking up 85 RBI in 121 games.
But despite his minor league success, Schierholtz would find his playing time extremely limited once he was promoted to the big leagues.
Even now, in his fifth major league season, Schierholtz's role is not as an everyday player.  With San Francisco's plethora of outfielders, including Andres Torres, Aaron Rowand, Cody Ross, Pat Burrell, and sometimes even rookie phenomenon Brandon Belt, Schierholtz has often been viewed as the odd man out on the roster.
But his determination has always remained steadfast.  "It's always been a crowded outfield situation since I've been here.  It's not ideal, but it keeps things competitive.  My goal is to play every day, but I've learned to stay positive.  There's no point in pouting."
Not only has he been positive, but, like he said about hitting Ryan Franklin's changeup, he wasn't going to wait around for good things to happen.  He was going to make them happen himself.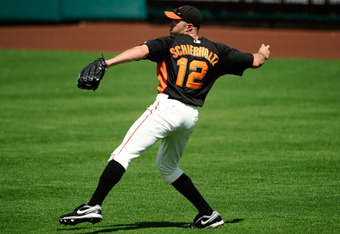 Kevork Djansezian/Getty Images
Schierholtz has made it a staple of his career to work harder than everyone else on the field, whether he plays in the game or not.  His work ethic is evident not only at the plate, but in the outfield.  One of Schierholtz's greatest strengths is his ability to play the quirky dimensions of AT&T Park's right field so well.
"Defense is so important, and I take pride in it.  I've had a lot of opportunities to shag flies over the years, and I shag more than most guys.  I know that I have to play good defense to stay in the mix, and I've worked my butt off to get better and better."
And my, how it shows.
On May 12 against Arizona, Gerardo Parra of the Diamondbacks ripped a line drive well over Schierholtz's head, hitting the base of one of AT&T Park's brick archways in right field.  Schierholtz played the carom perfectly and rifled a seed to second base, throwing out Parra and prompting replays all night on the various national sports networks.
Then, on May 19 at Dodger Stadium, with the Giants clinging to a 3-1 lead and the bases loaded for Los Angeles in the bottom of the ninth, Schierholtz made a diving catch to rob Jamey Carroll of what could have been a game-tying single. Instead it became the final out in another nail-biting Giants victory.
What was now becoming a daily highlight reel for Schierholtz didn't stop rolling there.  On May 20 in San Francisco, he threw another frozen rope from right field to nail Oakland's Josh Willingham, as he tried to advance from first to third on a single.  The throw was not only on line, but was perfectly placed for a tag at third base.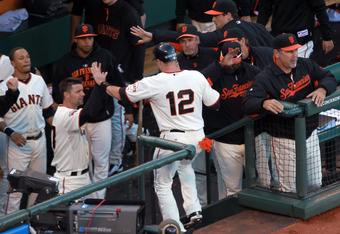 Ezra Shaw/Getty Images
San Francisco's Secret Weapon in the Clutch
While Schierholtz considers his defense to be of utmost importance to his game, his clutch performance at the plate against St. Louis on June 1 was just one of the many late-inning hitting heroics he has come through with this season.
On May 6 against the Colorado Rockies at AT&T Park, Schierholtz came to the plate with two outs in the bottom of the eighth. The Giants were trailing 3-1. With two runners aboard, he hit a line drive down the left field line for a game-tying double.  San Francisco would go on to win that game, 4-3.
On May 22 with the Giants trailing their cross-bay rival Oakland A's by two runs in the eighth inning, Schierholtz hit a pinch-hit two-run homer to tie the ballgame. San Francisco would eventually win, 5-4.
On June 6, with San Francisco trailing 4-3 in the bottom of the eighth, Schierholtz delivered in the clutch again, with another two-out single to drive in the tying run of the game. San Francisco would go on to win in 13 innings over the visiting Washington Nationals.
And most recently, on June 10, Schierholtz delivered a two-out, game-winning single in the ninth inning to send the Giants to their ninth walk-off victory of the season.
What accounts for this uncanny ability to come through in a pinch?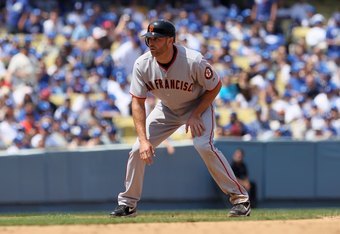 Jeff Gross/Getty Images
"Getting more consistent playing time," says Schierholtz.
"I'm more comfortable toward the end of the game after having been in for a while.  Last season I was more beat-up, and had some shoulder problems that caused me to lose some confidence at the plate.  And I've been through enough now that I don't live or die with every at-bat—it's the right mindset.  I just try not to press, and really just try to have fun and help the team."
If the key to getting this kind of production from a ballplayer is more consistent playing time, Giants manager Bruce Bochy might want to start penciling No. 12 into the lineup more regularly.
Bochy has apparently caught on to the Schierholtz secret, and has begun to give him more starts in right field.
He's Got the Right Stuff
Schierholtz, though so far having flown under the radar as a big leaguer, is an outfielder with speed (despite his 6'2", 215-pound frame), a strong, accurate arm, the ability to get clutch hits, and have we mentioned the ability to hit the long ball yet?
On April 18, when the Giants visited Coors Field for an early season two-game set with the Rockies, Schierholtz hit one of the longest home runs ever measured at that ballpark.
In the first inning he crushed a pitch from Rockies right-hander Esmil Rodgers that landed in the upper deck in right field, a 467-foot smash making Schierholtz the second Giant to ever reach that part of Coors (two guesses at the first, but you'll only need one: Barry Bonds).
The ball landed just a few rows away from Schierholtz's younger brother Vai, a cadet at the Air Force Academy in nearby Colorado Springs, who had come to watch his brother in action.  Vai, also a ballplayer himself with Air Force, says that his big brother "works his tail off [and has a] positive attitude" despite not getting the chance to be an everyday starter.
From Odd-Man-Out to Odd-Man-In
So what would Nate's numbers look like if he were to get 600 at-bats in a season?
If he continues to hit at the pace he's on now, he would finish with a .261 batting average, 17 home runs and 85 RBI.  Not bad, especially when you consider that Schierholtz performs better when he gets more consistent at-bats.
"I've always had confidence in myself," Schierholtz says.  "I know that I could put up some good numbers if I played more."
And play more he likely will if he continues to impress the way he has in the first two months of the season.
In fact, don't be surprised if "Schierholtz" becomes a household name even outside the Bay Area very soon, because No. 12 is suddenly the odd-man-in.