2011 NFL Draft: Why Andy Dalton Could Be the Most Successful Quarterback
March 28, 2011
Jeff Gross/Getty Images
In a murky offseason clouded by the possibility of a truncated regular season schedule, the NFL will anticipate a brief respite with its draft just one month away.
The April 28 event is guaranteed to be a spectacle, with 32 soon-to-be-professional athletes set to pose with jerseys in hand alongside NFL commissioner Roger Goodell and the owner who drafted him. Certain to make that walk are highly-touted quarterbacks Cam Newton and Blaine Gabbert, out of Auburn and Missouri, respectively.

What's shameful, however, is that you won't likely see the best quarterback of the 2011 draft class take that famed walk on the first day. I'm not talking about Jake Locker or Ryan Mallett, but the under-glorified Andy Dalton.

Dalton, a four-year starter at Texas Christian University, has only recently seen his stock rise despite a stellar collegiate career. While under center and in the shotgun, Dalton showed incredible poise, completing 61 percent of his passes, including a lofty 66.1 mark in his senior campaign. He made excellent decisions with the football, throwing 71 touchdowns to just 30 interceptions in his 48 games as a starter.

On paper, Gabbert and Newton have flashy statistics that seemingly dwarf Dalton's, but not after a closer look is taken. Each comes from spread offenses, which typically inflate passing statistics, and also have glaring accuracy concerns.
Gabbert did complete a respectable 63 percent of his attempts last season, but adds an asterisk to that number by connecting a dismal 30 percent of his attempts over 15 yards. Salivating professional defenses would load eight men in the box and dare Gabbert to go deep against more athletic secondaries.

Newton also impressed with a high completion percentage, but like Gabbert, his mark is also misleading. If his primary receiver was covered, Newton could beat defenses by scampering downfield rather than checking down to his secondary or tertiary options, an essential ability needed at the pro level. NFL defenses are too smart and fast for Newton to outrun.

During the NFL combine, Newton sailed passes so far over the heads of his receivers that Randy Moss sitting atop Larry Fitzgerald's shoulders would not have been able to reel them down. Newton completed just 11 of 21 passes that day in drills without defenders. Gabbert opted not to throw at the combine.

In contrast, Dalton looked Sam Bradford-esque during his pro day, completing 49 of 52 attempts, with two of his incomplete passes resulting from drops.

Granted, Dalton did not face formidable competition as frequently as Gabbert or Newton, but he didn't falter under the pressure of bigger stages either.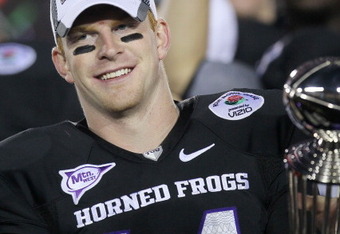 Stephen Dunn/Getty Images
Consider the stiff competition in 2010, where he faced Utah, San Diego State and third-ranked Wisconsin in the Rose Bowl. With the same consistency that he displayed against lesser opponents, Dalton led TCU to wins in all three games, throwing eight touchdowns and just one interception. Dalton boasted a career 7-3 record against top-25 teams.
So why is Dalton not as hyped?
The explanation may lie in terms of raw athleticism. Newton and Gabbert have cannons for arms and towering size that make scouts gush, while Dalton throws a modest deep ball and checks in with a smaller 6'2" frame.
But if physical tools were the best indicator of future success, then shouldn't the Oakland Raiders have won five Super Bowls in the past decade?
Sure, Dalton may not have the higher ceiling, but he certainly stands atop a sturdier foundation. Without the additional pressure that comes with being a first-round pick, Dalton could find himself in a situation to flourish for a wise team that decides to draft a true quarterback over a true athlete.