Jayson Tatum's 39 Lead Celtics to Clutch 2OT Win over Kawhi Leonard, Clippers
February 14, 2020
Ned Dishman/Getty Images
Jayson Tatum dropped 39 points on 14-of-23 shooting as the Boston Celtics won their 11th game in 13 tries after defeating the visiting Los Angeles Clippers 141-133 in double overtime on Thursday at TD Garden.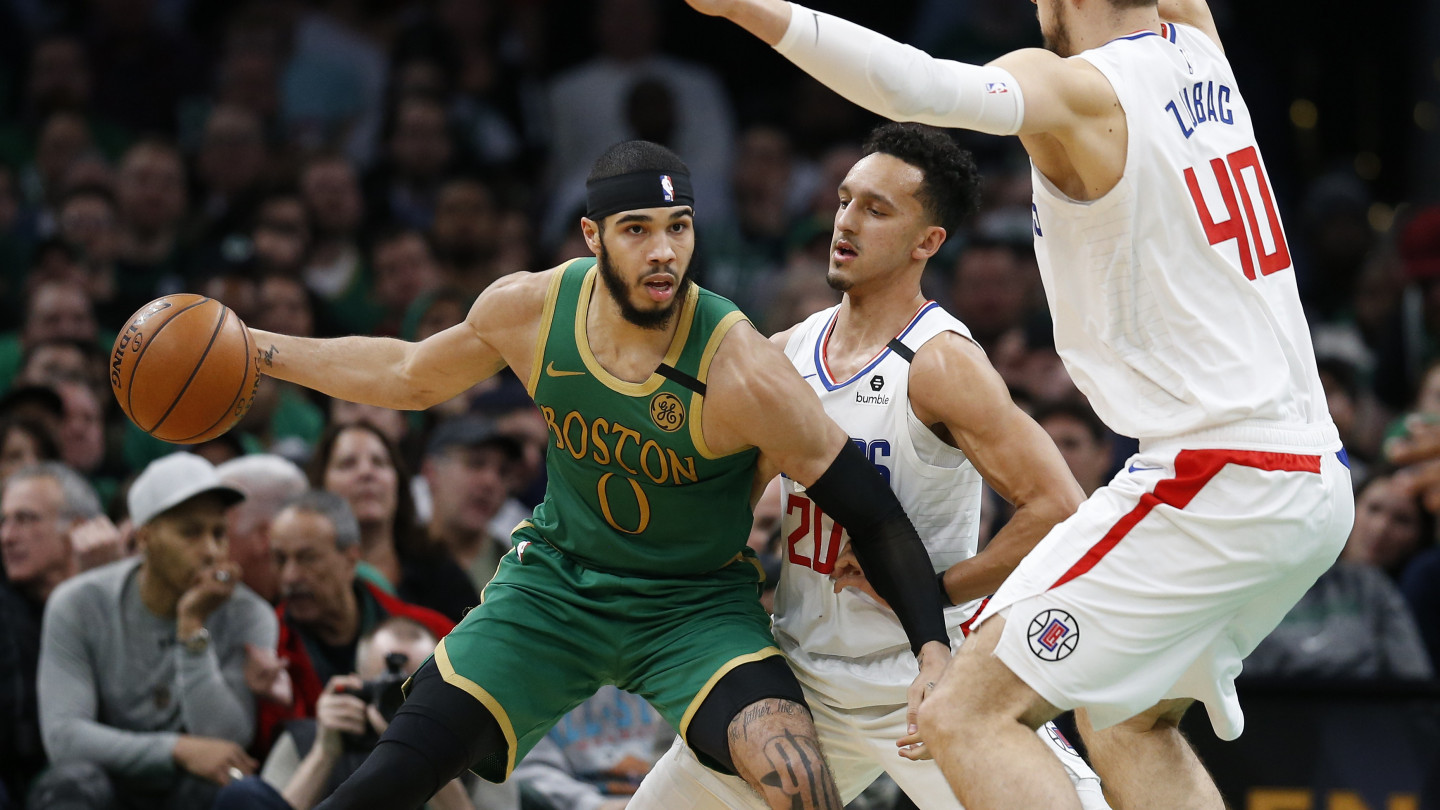 McCollum and the Blazers Snapped Postseason Losing Streak for "Jennifer"

Stars Invest in Plant-Based Food as Vegetarianism Sweeps NBA

The NBA Got Some Wild Techs This Season

Jarrett Allen Is One of the NBA's Hottest Rim Protectors

Wade's Jersey Swaps Created Epic Moments This Season

Westbrook Makes History While Honoring Nipsey Hussle

Devin Booker Makes History with Scoring Tear

29 Years Ago, Jordan Dropped Career-High 69 Points

Bosh Is Getting His Jersey Raised to the Rafters in Miami

Steph Returns to Houston for 1st Time Since His Moon Landing Troll

Lou Williams Is Coming for a Repeat of Sixth Man of the Year

Pat Beverley Has the Clippers Stealing the LA Shine

LeBron Keeps Shredding NBA Record Books

Young's Hot Streak Is Heating Up the ROY Race with Luka

LeBron and 2 Chainz Form a Superteam to Release a New Album

Wade's #OneLastDance Dominated February

Warriors Fans Go Wild After Unforgettable Moments with Steph

Eight Years Ago, the Nuggets Traded Melo to the Knicks

Two Years Ago, the Kings Shipped Boogie to the Pelicans

ASG Will Be Competitive Again If the NBA Raises the Stakes
Marcus Smart added 31 points for the 38-16 C's, who hold the third spot in the East and sit just 1.5 games behind the second-place Toronto Raptors. Gordon Hayward added a 21-point, 13-rebound double-double.
Lou Williams paced the Clips with 35 points off the bench, and fellow reserve Montrezl Harrell added 24. Kawhi Leonard had 28 points and 11 boards.
Boston led for nearly the entire second half before a late Clips comeback forced overtime.
The Celtics had chances to win at the end of regulation and OT, but shots from Kemba Walker and Tatum, respectively, did not fall. Boston controlled the second overtime, though, behind an 11-2 run.
The Celtics were without Jaylen Brown, who sat with a left calf injury.
The Clippers were shorthanded to start the game with point guard Patrick Beverly (groin injury) out, but they played the entire second half and overtime without Paul George, who suffered a left hamstring strain and did not return.
The 37-18 Clips will head into the All-Star break third in the Western Conference, five games behind the first-place Los Angeles Lakers at 41-12.
Notable Performances
Clippers F Kawhi Leonard: 28 PTS, 11 REB, 4 AST
Clippers F/C Montrezl Harrell: 24 PTS, 13 REB, 3 BLK
Clippers G Lou Williams: 35 PTS, 8 AST, 6 REB
Celtics F Jayson Tatum: 39 PTS, 9 REB, 1 STL
Celtics F Gordon Hayward: 21 PTS, 13 REB, 4 AST
Celtics G Marcus Smart: 31 PTS, 4 REB, 4 STL
Tatum Continues Superstar Ascension
ESPN's Zach Lowe and Keith Smith of Yahoo Sports and the Celtics Blog put it best near the end of Tatum's fantastic night:
The Celtics forward has been largely phenomenal of late. If you throw out a 5-of-15 off-night versus the Houston Rockets on Tuesday, Tatum has averaged 31.6 points on 52.4 percent shooting and 7.8 rebounds per game since Feb. 3.
All of those games have resulted in Celtic wins, which are crucial results as the team fights for second place in the Eastern Conference.
Tatum is one of the game's smoothest players, easily as capable of swiftly slicing through the lane for two as he is knocking down a clutch three-pointer.
He makes the game look effortless, an incredible feat considering he doesn't even turn 22 years old until March.
He's also making it a habit of coming through in the clutch.
The Clips led 122-118 near the end of the first overtime, but Boston went on a 9-2 run keyed by six Tatum points.
Landry Shamet ended up tying the game on a three-pointer, but the C's took over in the second overtime as they cruised to a win.
But the biggest takeaway from this game was Tatum, who is quickly making a case to becoming a member of an All-NBA team.
Rob Perez of Action Network noted Tatum's sky-high confidence:
And Jay King of The Athletic put it simply: 
The Celtics have an uphill battle to win the East given the 46-8 Bucks' strength and a tough top of the Eastern Conference that features six good to great teams, but Tatum gives Boston hope that it can return to the NBA Finals for the first time in 10 years.
Clippers Fight Until End Without George
The Clippers are used to playing without Kawhi Leonard, Paul George or both this year, with the two players missing 36 combined games.
But prospects still looked bleak after George didn't return to the court after halftime.
Already without Patrick Beverley, the Clips faced an uphill battle on the road against arguably one of the NBA's top five teams. Sure, they were only down two, but it'd be tough to come back.
Boston kept L.A. at bay for nearly the entire second half and led 105-99 with 5:56 remaining following a Tatum dunk. However, the Clippers tied the game at 107 following an 8-2 run capped by a Lou Williams three-pointer.
Neither team got up by more than one possession for the rest of regulation, but the C's had the ball up 114-111 late.
That's when the Clippers' resolve revealed itself, first via blocks from Montrezl Harrell and Kawhi Leonard and then via a three from Marcus Morris to tie the game:
L.A. had to come back once again in overtime.
The Clips jumped out to a 122-118 lead in OT following another Morris three, but the C's responded with a 9-2 run.
However, another hero emerged in Landry Shamet, who sent the game into a second overtime with a deep three to tie it.
The C's finally took over in the second overtime, but the fact that the Clips got that far was impressive enough considering they were missing two starters on the road.
L.A. can make a case for having the league's deepest lineup and perhaps its best. The regular season has been a rocky road at times, with blowout losses and defeats to inferior opponents occurring a bit too frequently for a team with championship aspirations.
But Thursday's game showed that this team can take a serious punch and get back up. Sure, it didn't result in a win, but the Clips' toughness shone brightly to close the first half of the NBA's regular season.
What's Next?
Both teams will be represented in this year's All-Star Game, which will take place in Chicago on Sunday.
Walker will be starting at guard for Milwaukee Bucks forward Giannis Antetokounmpo's team, and Leonard will start in the frontcourt for Los Angeles Lakers guard/forward LeBron James' squad.
Tatum will come off the bench for Team LeBron.