Carmelo Anthony Says He Doesn't 'Really Have Any Type of Feelings' About Rockets
January 16, 2020
Abbie Parr/Getty Images
Carmelo Anthony said he doesn't harbor any ill will toward the Houston Rockets ahead of the team's showdown with the Portland Trail Blazers on Wednesday night. 
"I honestly don't have any feelings about going back," he said Monday, per Jonathan Feigen of the Houston Chronicle. "I was only there a couple weeks. I don't really have any type of feelings going back."
The 35-year-old spent all of 10 games with the Rockets in the 2018-19 season, averaging 13.4 points and 5.4 rebounds while shooting 40.5 percent from the field and just 32.8 percent from three. He was an imperfect fit, and he and the Rockets indicated they planned to waive him before he was eventually traded to the Chicago Bulls. 
"My pride was hit," Anthony said of the situation. "My ego was hit. I had to really get past that."
He has gotten past it in Portland, where he's averaged 16.3 points and 6.1 rebounds per game while shooting 43.4 percent from the field and 39.4 percent from three. He has averaged 31.8 minutes while starting all 26 games for the Blazers after starting only two of 10 games for Houston and playing a career-low 29.4 minutes per game.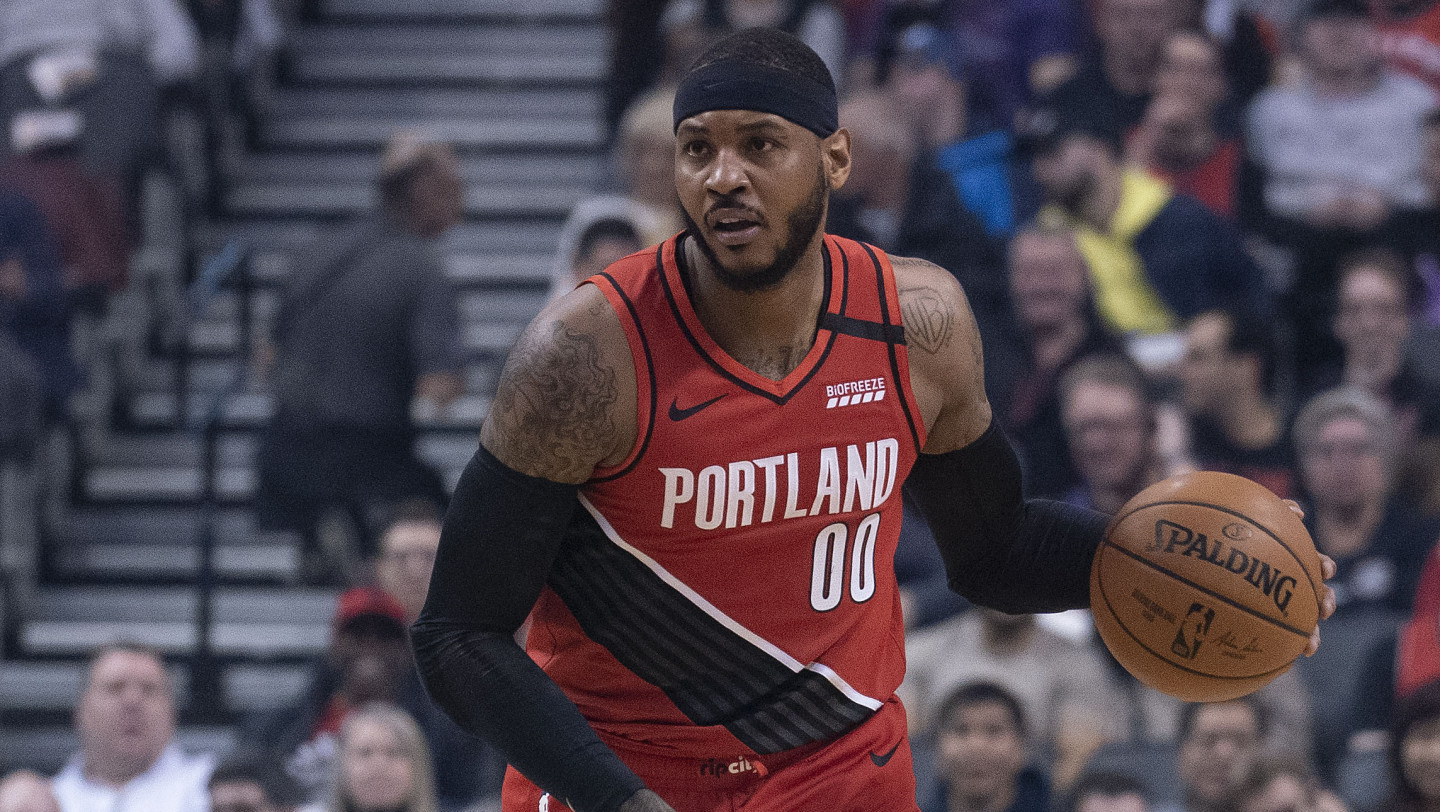 McCollum and the Blazers Snapped Postseason Losing Streak for "Jennifer"

Stars Invest in Plant-Based Food as Vegetarianism Sweeps NBA

The NBA Got Some Wild Techs This Season

Jarrett Allen Is One of the NBA's Hottest Rim Protectors

Wade's Jersey Swaps Created Epic Moments This Season

Westbrook Makes History While Honoring Nipsey Hussle

Devin Booker Makes History with Scoring Tear

29 Years Ago, Jordan Dropped Career-High 69 Points

Bosh Is Getting His Jersey Raised to the Rafters in Miami

Steph Returns to Houston for 1st Time Since His Moon Landing Troll

Lou Williams Is Coming for a Repeat of Sixth Man of the Year

Pat Beverley Has the Clippers Stealing the LA Shine

LeBron Keeps Shredding NBA Record Books

Young's Hot Streak Is Heating Up the ROY Race with Luka

LeBron and 2 Chainz Form a Superteam to Release a New Album

Wade's #OneLastDance Dominated February

Warriors Fans Go Wild After Unforgettable Moments with Steph

Eight Years Ago, the Nuggets Traded Melo to the Knicks

Two Years Ago, the Kings Shipped Boogie to the Pelicans

ASG Will Be Competitive Again If the NBA Raises the Stakes
That hasn't exactly translated to wins—the injury-depleted Blazers are 11-15 with Anthony in the lineup and 6-9 without him. 
It's been a disappointing year for the Blazers, although at 17-24 the team is still just two games behind the Memphis Grizzlies (19-22) for the eighth and final seed in the Western Conference playoffs. 
Anthony has been a big factor in the team treading water, and his resurgence after washing out in seasons prior with the Oklahoma City Thunder and Rockets has been one of the better storylines of the 2019-20 campaign.