Stephen Curry, Kevin Durant Dominant as Warriors Demolish Spurs
February 7, 2019
Noah Graham/Getty Images
The red-hot Golden State Warriors moved to 13-1 in their last 14 games with a commanding 141-102 victory over the San Antonio Spurs in a potential playoff preview on Wednesday at Oracle Arena.
San Antonio is now 0-2 on its current eight-game road trip after a five-game winning streak of its own.
The Warriors exploded for 49 points in the third quarter in a display of dominance that surely sent a message to the rest of the league. Klay Thompson (26 points and six assists on 4-of-5 from deep), Kevin Durant (23 points, nine assists, eight rebounds and three steals on 3-of-4 from deep) and Stephen Curry (19 points, seven assists and five boards on 3-of-5 from deep) led the onslaught.
Patty Mills (16 points and four assists) spearheaded the losing effort for the visitors, who were playing without DeMar DeRozan and LaMarcus Aldridge.
Full-Power Warriors Remain Completely Unstoppable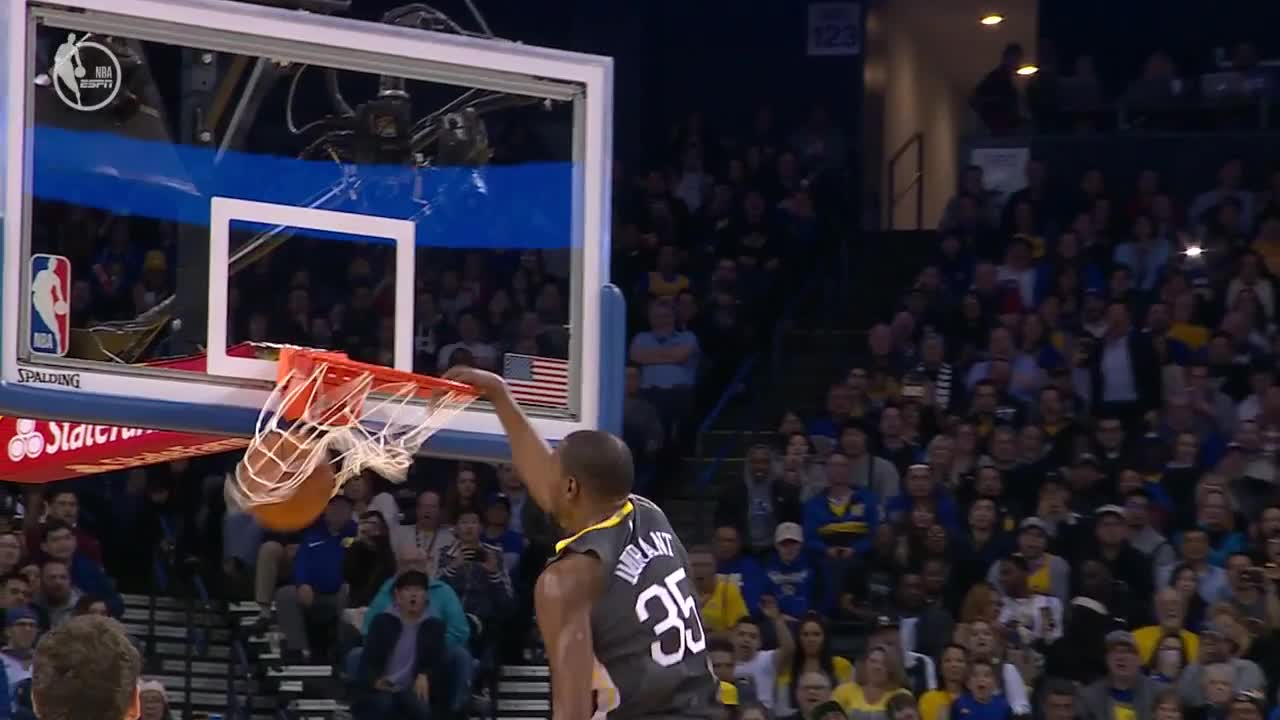 McCollum and the Blazers Snapped Postseason Losing Streak for "Jennifer"

Stars Invest in Plant-Based Food as Vegetarianism Sweeps NBA

The NBA Got Some Wild Techs This Season

Jarrett Allen Is One of the NBA's Hottest Rim Protectors

Wade's Jersey Swaps Created Epic Moments This Season

Westbrook Makes History While Honoring Nipsey Hussle

Devin Booker Makes History with Scoring Tear

29 Years Ago, Jordan Dropped Career-High 69 Points

Bosh Is Getting His Jersey Raised to the Rafters in Miami

Steph Returns to Houston for 1st Time Since His Moon Landing Troll

Lou Williams Is Coming for a Repeat of Sixth Man of the Year

Pat Beverley Has the Clippers Stealing the LA Shine

LeBron Keeps Shredding NBA Record Books

Young's Hot Streak Is Heating Up the ROY Race with Luka

LeBron and 2 Chainz Form a Superteam to Release a New Album

Wade's #OneLastDance Dominated February

Warriors Fans Go Wild After Unforgettable Moments with Steph

Eight Years Ago, the Nuggets Traded Melo to the Knicks

Two Years Ago, the Kings Shipped Boogie to the Pelicans

ASG Will Be Competitive Again If the NBA Raises the Stakes
Even casual basketball fans know the Warriors can be unfair at times, but they took things to another level Wednesday and missed one shot from the field during the entire third quarter until the last minute.
Durant was slashing into the lane and throwing down monster dunks, while Thompson and Curry were dropping silky-smooth shots that didn't dare hit the rim. Durant mixed in his own beautiful jumpers when the Spurs backed off him for fear he would take two long strides and be at the rim again.
ESPN Stats & Info

@ESPNStatsInfo

The Warriors went 17-22 in the 3rd quarter en route to 49 points, tied for the most allowed in a quarter in Spurs history. Golden State's 115 points are San Antonio's most allowed through 3 quarters since November 7, 1990 against the Nuggets. Catch the 4th quarter on ESPN.
It wasn't just the primary trio, as even Andre Iguodala turned to his own bench and celebrated while a three-pointer he shot was still in the air before inevitably falling. Quinn Cook and Jordan Bell connected on a rim-rattling alley-oop, and DeMarcus Cousins mixed in 15 points.
What made the showing all the more impressive was the fact that Golden State did it against an NBA institution.
Gregg Popovich is arguably the greatest coach in league history, and the franchise is in position for a 22nd consecutive trip to the postseason. While Aldridge and DeRozan didn't play, it wouldn't have made a difference if they had.
In fact, nothing can make a difference when the Warriors are playing at the height of their powers.
While Thursday's trade deadline will generate plenty of headlines about where Anthony Davis will end up and which teams made underrated moves to bolster their chances at a deep playoff run, the Warriors' showing was a reminder that this season has a feeling of inevitability to it. Nothing is going to stop them, barring injury, from winning a third straight title.
Golden State is trotting out an All-Star team of talent on a nightly basis with Curry, Durant, Thompson, Draymond Green and Cousins. Most teams cannot afford an off-night from their top two players, but the Warriors would be in a position where they still had three of the best players in the league leading the way.
While that reality leaves other fanbases with little hope, it is also the closest thing there is to art in the current sports world.
The Warriors are in constant motion, seemingly always making the right play and reading the defense. Curry dazzles with a split-second release on his shot, Thompson lights up the scoreboard without even dribbling and Durant can hit from anywhere while attacking the rim with a ferocity reserved for the all-time greats.
There are questions about the team's future, seeing how Durant has a player option for next season and Thompson will be an unrestricted free agent this summer. But for now, the rest of the league can do nothing but tip its collective hat.
What's Next?
The Spurs are at the Portland Trail Blazers on Thursday, while the Warriors are at the Phoenix Suns on Friday.