Feleipe Franks' Hail Mary to Tyrie Cleveland Gives Florida Win over Tennessee
September 16, 2017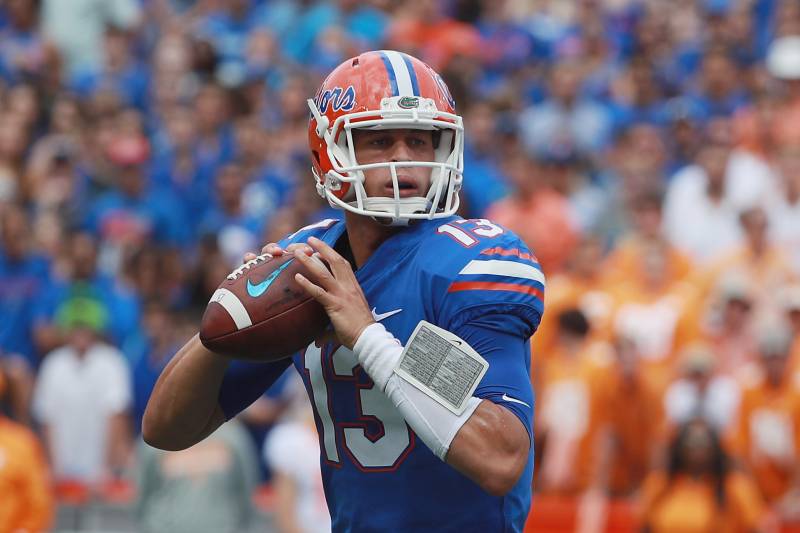 Scott Halleran/Getty Images
For three quarters, Florida vs. Tennessee was mundane. For the next 14 minutes and 51 seconds, it was pure mayhem. And in the game's final nine seconds, it was nothing short of magical.
On the final play of Saturday's contest, Florida quarterback Feleipe Franks bought time and heaved a 63-yard miracle throw down the field to Tyrie Cleveland, who slipped behind Tennessee's coverage and caught the game-winning touchdown. That sent the Gainesville, Florida, crowd into a frenzy and gave the No. 24 Gators a 26-20 victory over the No. 23 Volunteers at Ben Hill Griffin Stadium.
CBS Sports provided a look at the winning play:
As expected, shock and awe were plentiful after the game:
Florida's miracle heave will probably live forever in the history of the SEC East rivalry, but the Volunteers won't soon forget their squandered opportunities and mental errors.
Aaron Medley and Brent Cimaglia combined to miss three of Tennessee's five field-goal attempts. Quinten Dormady (21-of-39, 259 yards and a touchdown) threw three interceptions, including one in the red zone as Tennessee was driving and a pick-six to CJ Henderson. 
And John Kelly—who was brilliant, accumulating 237 yards from scrimmage and a score—was penalized in the fourth quarter for his mock Gator chomp after a touchdown, which gave Florida excellent field position on its ensuing drive and resulted in a Brandon Powell touchdown.
And, of course, there was the defensive breakdown that allowed Cleveland to inexplicably get behind the secondary, which Pat Forde of Yahoo Sports and Michael David Smith of Pro Football Talk discussed:
Former Auburn head coach and current SEC Network analyst Gene Chizik took his critique even further than that after the game.
"We've just got to get Butch [Jones] a nice tie for when he's sitting next to me up here on set next weekend," he said during the SEC Network postgame broadcast (h/t Will Lowery).
Of course, the ridiculous fourth quarter shouldn't soon be forgotten either. Florida took a 6-3 lead into the final frame after 45 minutes of a defensive struggle, and then a different game entirely seemed to break out.
There was Henderson's pick-six. A Medley missed field goal. Malik Davis fumbling at the 1-yard line after a 74-yard run, with the ball bouncing out of the back of the end zone, which resulted in a touchback and cost Florida six points. Kelly had a brilliant touchdown and then the penalty. Franks having his pass deflected and intercepted with 3:57 left on the clock, setting up Tennessee's game-tying field goal. Florida nearly botching the time management on its final drive despite having two timeouts and 50 seconds to work with.
And of course, there was that brilliant final throw from Franks that highlighted an otherwise unremarkable game from the quarterback (18-of-28, 212 yards, two touchdowns and an interception), as Steve Palazzolo of Pro Football Focus noted:
There were questions this past week if Gainesville would be fit to host a football game in the wake of Hurricane Irma. After talking to campus officials, the city and multiple staffing groups, the SEC determined there were enough resources and the stadium and surrounding area had avoided enough damage to play the game as scheduled. 
The win moved Florida to 1-1 on the season and gave the team an early edge in the SEC East, while Tennessee moved to 2-1 (0-1 in conference play).
Both teams will soon have to put the game's final pass behind them. Florida needs to move on from the high of the win to focus on its road contest against the Kentucky Wildcats next Saturday, while Tennessee has to recover from the devastating loss and prepare for next weekend's home game against the UMass Minutemen at Neyland Stadium.
However, neither program is likely to forget Saturday night's wild finish anytime soon.