Josh Allen Ruled Out vs. Fresno St. with Shoulder Injury
November 18, 2017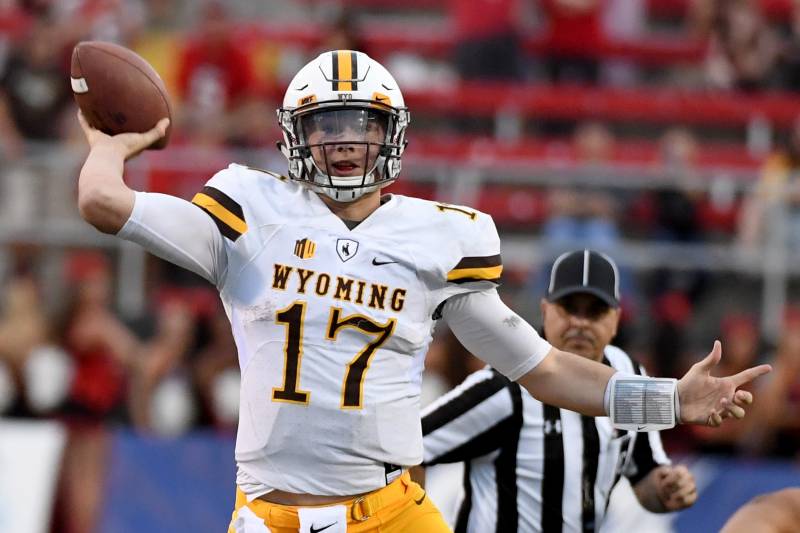 Ethan Miller/Getty Images
University of Wyoming quarterback Josh Allen missed Saturday's home game against Fresno State at War Memorial Stadium in Laramie because of a shoulder injury.
Brandon Foster of the Casper Star-Tribune provided the status update. Nick Smith moved into the starting lineup to fill the void.
Allen emerged as a potential top NFL draft prospect with a breakout 2016 season during which he threw for 3,203 yards with 28 touchdowns and 15 interceptions in 14 games. He's displayed all the physical tools necessary to develop into a high-end player at the sport's most important position.
In 10 games this season, his completion percentage is nearly identical to last season's (56.2) to go with 1,658 yards, 13 touchdowns and six interceptions.
On the injury front, the 21-year-old California native missed almost his entire freshman campaign in 2015 after suffering a broken right clavicle. It's since been reported he sought an insurance policy to protect himself against future health issues before making the jump to the pro ranks.
Smith appeared in five games as a freshman two years ago but completed just 27 of 60 throws with two touchdowns and one interception.
Ultimately, Allen sports an impressive skill set and has made steady progress since taking over the reins of the Wyoming offense last year. Any type of long-term absence would be a setback for the team's offense and also start to raise questions about his durability.