Ty Hilton, Andrew Luck Light Up Stat Sheet in Historic Comeback Win over Chiefs
January 5, 2014

Andy Lyons/Getty Images
In what was one of the most incredible comeback victories in playoff history, the Indianapolis Colts were able to beat the Kansas City Chiefs thanks to some incredible performances from Andrew Luck and T.Y. Hilton.
After halftime, the Chiefs were enjoying a 31-10 lead, then were able to move to a 38-10 lead after a 10-yard touchdown from Alex Smith to Knile Davis.  But the Colts refused to give up, scoring five touchdowns in the second half to pull off a miraculous comeback, winning 45-44.  According to ESPN Stats & Info, it was the second-largest comeback in NFL playoff history.
Luck got off to a nice start, but he had his struggles throughout the game, throwing three interceptions, including one to start the second half.  But he kept fighting, and ended up completing 29 of his 45 passes for 443 yards and four touchdowns.  He also had a touchdown on a fumble recovery near the end zone on a wild play that helped draw the Colts within just three points at 41-38.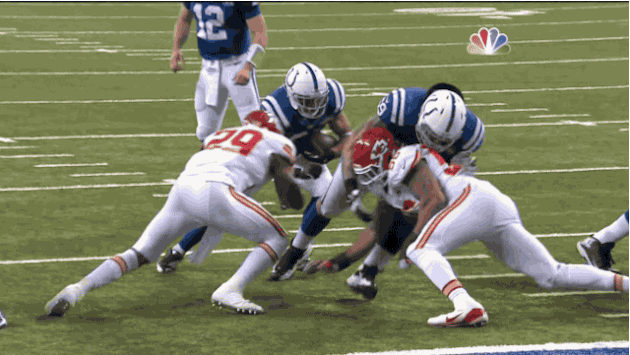 Bleacher Report
As if that wasn't enough, Hilton was the main target for Luck on the day and had a huge game too.  He finished with 13 receptions for 224 yards and two touchdowns, simply burning the Chiefs defense throughout the entire game.  He topped his day off with a game-winning 64-yard touchdown with around four-and-a-half minutes left in the game.
Gregg Doyel from CBS Sports tweeted that Hilton broke the team's postseason franchise records in both receptions and receiving yards, while ESPN Stats & Info tweeted that Hilton's 224 yards were the third-most in NFL playoff history.
Both Hilton and Luck had had big games together before, and they had a solid season overall, connecting 82 times for 1,083 yards and five touchdowns.  But this was easily their biggest game as a quarterback-wide receiver tandem, as the two second-year players found a way to lead their team back from down 28 points to pull off the epic comeback.

Andy Lyons/Getty Images
But the Colts can't be satisfied yet.  They went 11-5 during the regular season and now have their first playoff victory under head coach Chuck Pagano, but they still have at least one more game left to play.
Depending on who wins on January 5, the Colts will be playing either the Denver Broncos or New England Patriots in the divisional round.  That means that Colts defense that gave 44 points to Alex Smith and the Chiefs will be playing against either Tom Brady or Peyton Manning, which means that the offense for the Colts will have to find a way to keep up.
If the Colts want to find a way to make a run at the Super Bowl, then both Luck and Hilton are likely going to have to keep putting up huge numbers.