College Football 2012: ACC vs. Pac-12 in Battle of Best New Hires at Head Coach
July 3, 2012

Jamie Squire/Getty Images
Each week at YB11, we'll put two of conferences (Big 12, Pac-12, Big East or ACC) in a head-to-head battle and break down specific players, coaches and anything else we feel like comparing.
A new hire can be an exciting acquisition for many programs.
While a fair amount of uncertainty hangs in the backs of fans' minds, the future and possibilities are endless for a new hire. The Pac-12 and ACC are no exception, as both have hired head coaches who are preparing for their first seasons with a new program.
For the Pac-12, the Arizona Wildcats' Rich Rodriguez, the Arizona State Sun Devils' Todd Graham, the UCLA Bruins' Jim L. Mora and the Washington State Cougars' Mike Leach are all new. The ACC, on the other hand, only has one new hire in North Carolina's Larry Fedora.
By default (but still well deserved), the best hire of the ACC is Fedora. For the Pac-12, the title goes to Leach. Between the two, however, who is the better hire?
Larry Fedora
Coming to North Carolina from Southern Miss, Fedora has already sparked a flame with school rival North Carolina State. Fedora didn't do this necessarily to upset anyone, In fact, it seems that the new head coach was simply building camaraderie among Tar Heels fans.
Fedora is a good hire for North Carolina because of the impact of his words and ideas.
One prime example is when Fedora invited the Class of 2013 football prospects to the North Carolina-Duke basketball game. The specific "junior day," as reported on by Andy Staples of SI.com, brought more than 20 of the state's best players to campus.
This is a step in the right direction for UNC fans who have seen their team fall into a state of mediocrity. Fedora is a hard worker, and that work ethic paid off when he led Southern Miss to a Conference USA title in 2011. It may not be the easiest job at times, but Fedora was a good choice for UNC. If anything, he will make an impact.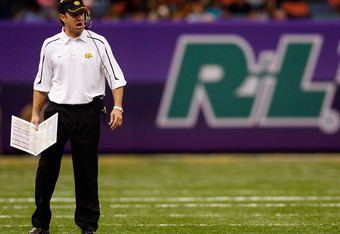 Chris Graythen/Getty Images
Mike Leach
Whether it be pirates or Craig James, Washington State's new head coach has been associated with a lot of things. For better or worse, Mike Leach is known for his honesty and dry sense of humor.
Leach comes to the Cougars after 10 seasons as the Texas Tech head coach. According to WSUCougars.com, Leach earned 10 bowl bids in his 10 years with the Red Raiders. The legacy that Leach left behind is one filled with many records and wins.
His resume is impressive, and his potential at Washington State is great.
Anticipation for the Cougars' spring game was high, and Leach did not disappoint. Known for his offense, the spring game showed just how fun it is going to be to watch Washington State during the 2012 season.
Both sides of the ball look to be exciting under Leach, which makes the $11 million investment in Leach's contract a wise one. If the spring game is any indicator, the 2012 season will be a great one for Leach and Cougar fans.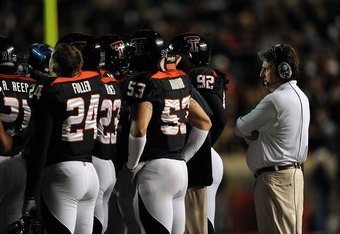 Ronald Martinez/Getty Images
The Winner
The clear winner is Leach.
The pure excitement that has been built around The Pirate is reason enough as to why he was such a good hire. Leach will be someone that will bring more than just wins to Washington State—he'll bring a new sense of pride.
As mentioned before, Leach's resume is second to none. A stellar resume and clear excitement put Leach's 2012 season at the top of the must-see list.
After all, as Bleacher Report's own Michael Felder said, "Mike Leach is back, and he's bringing the Cougars with him."