Chicago Bulls: Does Carlos Boozer for Kendrick Perkins Make Sense?
July 5, 2012

Drew Hallowell/Getty Images
I'm not going to sugarcoat it. Carlos Boozer is being paid far too much money to be replaced by his underappreciated backup, Taj Gibson, in the fourth quarter of the last game of the season.
Put aside the fact that Boozer was great in Utah and Cleveland, put aside the fact that he won two medals in with team USA in 2004 and 2008 and put aside that he was an All-Star twice. One fact remains; he hasn't delivered for the Bulls.
In all fairness, he's a good power forward. And really, what did the Bulls expect when they put an offensive-orientated player on a defensive-orientated team?
I can't help but think that he could still be that superstar player if he was in the right environment. That environment isn't with the Bulls though—he's been set up to fail.
On the other side of that coin, Chicago Bull fans feel let down by Boozer, who hasn't come through and become that No. 2 superstar player for the Bulls.
There's ways to fix this problem though. Taj Gibson's reputation as "Mr. Hold-down-the-fort" for the Bulls has made him very popular with the Chicago crowd. He could always just take Boozer's place as starter.
Or, the Bulls could opt to just get rid of Boozer's contract. There are options for the Bulls. They could just amnesty Boozer and sign a free agent like JJ Hickson or even Kris Humphries.
They could also trade him away. If Chicago could convince a team to take his contract, it would free up the budget, while providing the Bulls with a player more suited for the role than Boozer.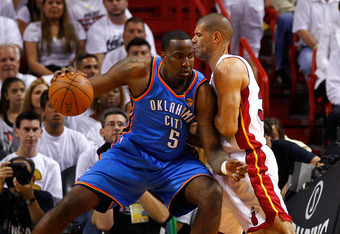 Mike Ehrmann/Getty Images
My choice for this trade would be the Oklahoma City Thunder's Kendrick Perkins.
What Chicago would get:
Kendrick Perkins is a beastly power forward/center. He's skills are not pretty, but he most certainly doesn't have the reputation of someone who's weak on defense.
While his offensive game isn't as good as Boozers, his brutish mentality is exactly what the Bulls could use—a big guy that opponents are scared to drive on.
Perkins would fit in perfectly with the Bulls defensive-orientated team, and the Bulls frontcourt would instantly become monstrous with his addition.  
Not only that, but the trade wouldn't work with just him; the Thunder would have to send over someone else, like Thabo Sefolosha.
Sefolosha proved in the finals that his defense is stifling. He's one of the best defenders in the league, and his offense isn't terrible either. Last season, he averaged .437% three-point shooting. He would make a fantastic backup for Richard Hamilton.
What Oklahoma City would get:
Carlos Boozer didn't work with the Bulls, but he would fit into Oklahoma perfectly. The Thunder could use a scoring big man, and Carlos Boozer wouldn't let down the fans if he only scores 15 points per game.
Also, Boozer wouldn't be under any real pressure to perform well, since the Thunder have three of the best scorers in the league in Durant, Westbrook and Hardin. That puts him in his element, and he would thrive.
End result:
Provided that the Bulls match Houston's offer and retain Omer Asik (or if they don't, someone like Ronny Turiaf could be signed), the Chicago frontcourt would be terrifying on defense. I don't know which duo would be more powerful—Joakim Noah and Taj Gibson, or their backups, Omer Asik and Kendrick Perkins.
In two or three years, when Nikola Mirotic comes from Europe, the Bulls could simply dump Asik and slide Perkins over to backup center. Then, Mirotic and Gibson could duel it out for starting PF rights.
Tom Thibodeau would undoubtedly love Sefolosha and Perkins, just because they would make his incredible defense even more awe-inspiring.
Unlikely as this whole scenario is, it makes sense. The only problem that the Bulls might encounter after this trade would be a lack of offense—although it's not like Boozer did much in the playoffs last year anyways.
Comment below with thoughts or questions.