Brett Favre: Breaking Down What Made Him an NFL Great
June 27, 2012

Jonathan Daniel/Getty Images
Retirement. Interceptions. Pics of his junk. Retirement. THE Interception. Limping. Interceptions. Retirement.
This is how Brett Favre left the NFL; this is how many fans remember his legacy: a ball-hogging caricature on the field, a leering adulterer off it. Most fans seem so eager to forget what made him an embarrassment they've forgotten what made him great.
Brett Favre was one of the best quarterbacks in the NFL for two decades. He played with—and outplayed—two generations of Hall of Fame quarterbacks. His career statistics are second to none. He embodied a franchise as few have done before or since. He's one of the best quarterbacks ever and one of the greatest football players of all time.
Talent
Brett Favre was born to play quarterback. His natural ability to throw the ball from any angle, anywhere on the field, to anywhere on the field with zip and touch dropped jaws from the 1991 Senior Bowl to his final stint with the Vikings.
Favre had the pocket awareness to avoid the rush, the athletic ability to escape it, the fearlessness to get hit anyway and the arm to get the ball to the open man by any means necessary—even underhandedly.
Sometimes, his reliance on talent got him in trouble, as when Favre threw 29 interceptions in 2005 trying to carry a 4-12 Packers squad, repeatedly forcing throws to receivers who weren't open. But no matter which color jersey he wore, or which color jersey the guy catching his passes wore, anyone who'd ever watched a down of football couldn't help but see Favre's God-given ability in every game he played.
Production
Here's a chart of Brett Favre's total career output, as measured by Football Outsiders' DYAR metric. Included for comparison are all Hall of Fame (or, in my estimation, Hall of Fame candidate) quarterbacks who played during Favre's career: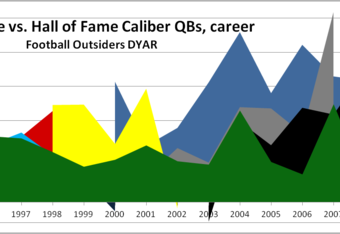 Here's Football Outsiders' quick explanation of DYAR (and here's the slow one):
Quarterbacks are ranked according to DYAR, or Defense-adjusted Yards Above Replacement. This gives the value of the quarterback's performance compared to replacement level, adjusted for situation and opponent and then translated into yardage.
In between Favre's second year as a starter (1993) to his last (2010) is a 16-season stretch of well-above-average, often great, football. The league-wide inflation in total passing statistics over that stretch is apparent, but Favre continued to produce amongst the league's best. He typically finished in the top five of DYAR, and almost always, the top 10.
Favre won everything a quarterback could win. He made the Super Bowl twice and won it once. He was named NFL MVP three times, first-team All-Pro three times, second-team All-Pro three times and to the Pro Bowl 11 times.
Favre is the all-time NFL career leader in passing completions (6,300), attempts (10,169), yards (71,838) and touchdowns (508); second-banana Dan Marino is well behind Favre in each category. Yes, Favre's also the all-time leader in interceptions (336) and times sacked (525), but that shouldn't be a surprise; he started 297 straight games, more than any other player in football history.
Steadfastness
It's almost impossible to put Favre's mind-blowing Ironman streak into words. Quarterback is the most important position on the field, the most targeted position by the defense and the most difficult to maintain a high standard of play.
Yet, Favre answered the bell every time it rang for 16 consecutive seasons, battling through a host of injuries ranging from broken thumbs and bone spurs to concussions.
Favre also battled personal demons and tragedies. While he was playing some of his best football, he was struggling with addiction to the painkillers that kept him upright. At age 26, Favre suffered a seizure that convinced him it was time to choose between sobriety and death.
In 2003, the Sunday before Christmas, Favre's father unexpectedly passed away. The Packers were scheduled to play the Oakland Raiders the next night on Monday Night Football. Per an AP report, the grief-stricken Favre "knew" his dad "would have wanted" him to play, so he did. Favre threw for 399 yards and four TDs in a 41-7 rout of the Raiders:
In 2004, Favre's wife Deanna was diagnosed with breast cancer. Though, thank goodness, her fight for survival was successful, her journey of diagnosis and treatment added more weight to Favre's pile of personal baggage he carried up that 297-game mountain.
Through it all, Favre never wavered from his life's work—being the best NFL quarterback in the business.
His best season was his second-to-last—2009. With an unfamiliar supporting cast and a world of pressure on his shoulders, the 40-year-old Brett Favre played quarterback better than anyone in my lifetime.
Per Pro Football Reference, Favre completed 68.4 percent of his passes for 4,202 yards, 33 touchdowns and just seven interceptions. He had the lowest interception percentage in the NFL that season, the highest yards per attempt ratio of his career and a mind-blowing passer rating of 107.2. Even as public sentiment had completely turned against him, Favre played better than he ever had—and that's saying something.
Mystique
This is the part of Brett Favre that everyone loved the most and the part that everyone hated him for when it all fell apart. The Ironman streak, his down-home, every-man way of speaking, the "he's just a kid out there" grins and touchdown celebrations...by the end, it all felt like an act. A lie. Self-parody.
Who could believe Favre was just a simple country boy who didn't need anything more than a football and a patch of grass when he kept to his own personal locker room with the Jets?
Who could extoll him as a devoted husband and father when he kept making a show of retiring to his family, and then un-retiring—not to mention hitting on, and sending nude photos to, former Jets' sideline reporter Jenn Sterger?
But for years, Favre's mystique was one of the most powerful in the history of sport. The later it got during the year, the colder the thermometer read, the bigger the stakes of the game, the more fear Favre struck in the minds of his opponents. While he was running and gunning and grinning, he was winning.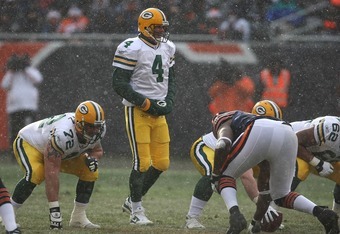 Jonathan Daniel/Getty Images
At one point, Favre was 35-0 at home when the temperature was below freezing and 13-0 in home playoff games. Before Mike Vick and the Falcons stopped those streaks in 2004, Favre seemed invincible. Even after that game, Favre still embodied Titletown, like he'd somehow inherited the Lombardi-era Packers' dominance and inevitability.
Legacy
Ironically, Favre seemed obsessed with his legacy. After the 2002 season, Favre preemptively declared he would not retire; as the Minnesota Star-Tribune chronicled, that began a nearly constant stream of publicly musing about his past, present and future that arguably has not ended.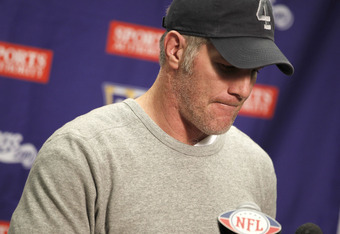 Gregory Shamus/Getty Images
Favre should be remembered forever as the embodiment of the Packers' post-Lombardi success. He should be permanently woven into the fabric of the Packers franchise and the city of Green Bay. Arguably, he should have taken the Packers' $20 million offer to retire a Packer and stay involved in the organization for life.
But Favre was born to play quarterback. All he wanted to do was keep playing until he couldn't anymore, and nothing—not alcohol or Vicodin or death or cancer or scandal or public consensus—was going to hold him back.
Favre is not now, nor has he ever been, perfect. But to remember him as a hairy-palmed screwup, or an infuriatingly inconsistent "riverboat gambler," is to overlook one of the most incredible players the NFL has ever seen.