5 Questions the St. Louis Rams Still Must Answer in Training Camp
June 25, 2012

Dilip Vishwanat/Getty Images
We're at the time of the year when NFL facilities are ghost towns and football news is slow at best, but St. Louis Rams head coach Jeff Fisher will still have plenty to ponder over the next several weeks before training camp. 
After a 2-14 campaign in 2011, the Rams entered the offseason with plenty of questions in need of answers.
Some of the acquisitions in the draft and free agency provided easy answers to those questions, but Fisher will still have to address several areas of concern before the season can begin. 
Another abysmal season is not an option for a fanbase that has witnessed only 15 combined wins over the last five years, so Fisher will have to carefully examine his options and fortify the team's weaknesses, or else he'll be forced to eat his words and go back on the promise he made to the fans—a promise that stated the team will never pick second in the draft again (h/t Bernie Miklasz, St. Louis Post-Dispatch).
If Fisher doesn't effectively solve the following problems, then the Rams will find themselves back in their familiar No. 2 overall draft slot a year from now, which would not be a good beginning for the Jeff Fisher era. 
1. Who's the Return Man? 
The Rams have four qualified candidates for kick and punt return duties—Danny Amendola, Janoris Jenkins, Chris Givens and Isaiah Pead. 
While possessing a crowded group of kick returners is a good problem to have, the coaching staff needs to carefully evaluate each player before determining who's best for the job.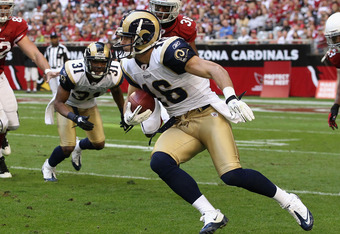 Christian Petersen/Getty Images
After averaging only 12.1 point per game and only 283.6 yards per game in 2011, the anemic offense needs every extra yard they can get, which is why return duties are particularly important for the Rams. 
Do they stick with Danny Amendola? Amendola is reliable and capable of gaining extra yards, yet he lacks the explosiveness to take it to the house. 
Or do they go with rookie Janoris Jenkins? Jenkins is much faster and more explosive than Amendola, but his hands are not as reliable.
Whoever they choose for return duties, it must be someone capable of giving the offense extra yards on a regular basis.
If you don't believe it's vital, then just look at Patrick Peterson, who single-handedly stole two wins away from the Rams last season on special teams. Arizona is a sub-.500 team in 2011 without Peterson's special teams play. 
2. Will D-Coordinator Duties Run Smoothly? 
While the NFL preseason is generally unpopular, the Rams are extremely grateful that they'll have four opportunities to practice defensive play-calling before the start of the season. 
With Gregg Williams suspended indefinitely, the Rams have been relying on their defensive position coaches to run the defense.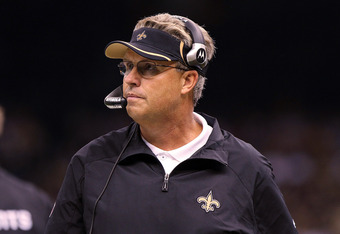 Matthew Sharpe/Getty Images
Having the coaches take turns may be working swimmingly at practice, but the actual games will provide more of a challenge. 
The preseason is a perfect opportunity to see if the committee approach is effective. If not, they need to seriously consider naming assistant head coach Dave McGinnis as the new interim defensive coordinator. 
If the committee approach backfires in the middle of the season, it will certainly result in criticism towards Fisher. 
3. Can Sam be Protected? 
This issue is of the utmost importance.
Not only is the success of the entire 2012 season directly dependent on Sam Bradford, but the immediate future of the franchise is also heavily reliant on the third-year quarterback. 
If Bradford is punished by the opposing pass rush early in the year, his psyche could be permanently damaged and his career will be flushed down the drain. 
Bradford already took 36 sacks in 10 games a year ago and has been sacked 70 times in his 26 total career games. How much more can he take? 
With this in mind, the coaching staff cannot afford to play the "trial and error" game with the offensive line. They need the five best linemen starting Week 1, and a failure to immediately discover the most effective combination of blockers could have devastating results for Bradford.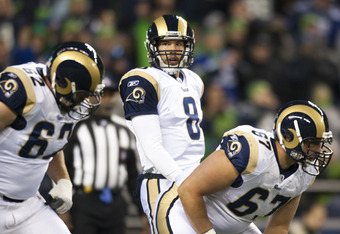 Jay Drowns/Getty Images
Four of the offensive line positions should be obvious enough, but the left guard spot needs to be filled by someone who can provide protection immediately, rather than someone who will take several weeks to adjust. 
For example, rookie Rokevious Watkins may be the best long-term option with the most potential, but perhaps veteran Rob Turner would provide better protection in Week 1. 
It would be nice if the Rams had the luxury to experiment with rookies and inexperienced players, but they can't allow Bradford to feel heavy pressure early in the year, or else the whole season could be jeopardized. 
4. Who Can Make Plays? 
Just as blocking for Bradford is extremely important, the same holds true when it comes to providing him with weapons—it's absolutely vital. 
Not that Bradford was perfect last season, but he was simply abused by his receivers due too horrendous route running and dropped passes. 
The coaching staff will need to identify the receivers on the team capable of playing with swagger. Bradford's targets must have the necessary confidence required to make big-time catches in high-pressure situations. 
This will be a difficult task since every receiver on the team is either young and inexperienced or prone to injury.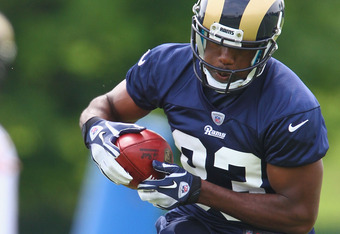 Dilip Vishwanat/Getty Images
However, there's enough raw talent for the team to thrive if injuries aren't an issue. 
Brian Quick, Danario Alexander and Lance Kendricks are sizable targets who can potentially cause mismatches in the secondary.
Meanwhile, Danny Amendola, Greg Salas and Steve Smith are all solid route-runners who know how to get open, while rookie Chris Givens is a speed demon who can stretch the field. 
Every receiver mentioned possesses talent and brings a special element to the team. The hard part is determining which of those receivers can translate that potential into on-field production. 
But this brings me to my next point, which focuses on one specific player...
5. Will Brian Quick Be the "Man"? 
The Rams used the No. 33 overall pick on small-school prospect Brian Quick (Appalachian State), but many draft "experts" felt there were better options on the table—such as Stephen Hill of Georgia Tech, Alshon Jeffry of South Carolina or even Rueben Randle of LSU.
The other receivers had more name recognition and played for larger universities, but the Rams felt that Quick had more overall potential at 6'4" and 220 pounds with a 4.55 second 40-yard dash and crisp route-running abilities. 
The Rams were expected to select Justin Blackmon with their top pick, but since Jacksonville traded up and stole Blackmon away, the Rams had to wait until the second round before they could grab a receiver. 
But even though Quick is not a first-round pick, he's fully expected to perform like a legitimate No. 1 receiver. The Rams didn't draft him to be a No. 2 guy or to merely provide depth. 
And with the departure of Brandon Lloyd this offseason, the Rams will need Quick to make an impact sooner rather than later. It's very important that Sam Bradford has a big and reliable receiver on the outside this season. 
So how will the Rams be able to tell if Quick is ready to be the "man"? 
Well, luckily, they are absolutely stacked at cornerback. Everyday in practice Quick will be going up against a Pro Bowl corner in Cortland Finnegan, as well as an elite coverage corner in rookie Janoris Jenkins. 
If Quick is capable of making big plays in practice against Finnegan and Jenkins, then he won't be overwhelmed when he faces opposing corners. But if he struggles in practice, then the Rams will have to be patient and let him develop, which also means they won't have a dangerous receiver this season.