England Deserved Their Predictable Penalty Death to Italy at Euro 2012
June 24, 2012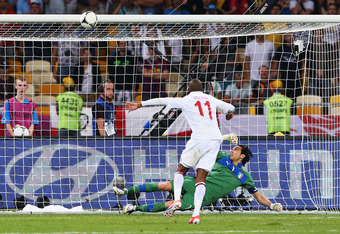 Alex Livesey/Getty Images
England hurts tonight. It hurts because for the sixth time in the football nation's wretched recent history, its team have been sent home from a major tournament after losing a penalty shootout.
This time, it was the blue shirts of Italy reeling away in delight, with sweat-drenched faces lit up in elation as English players covered theirs with hands. And this time it was Ashley Young and Ashley Cole who inherited the blame after missing their penalties and England fell to an all-too-predictable 4-2 spot-kick defeat.
It was a new agony, but it felt so very familiar. The names of Young and Cole now join a list that began collecting with Stuart Pearce and Chris Waddle at the 1990 World Cup—a list that stands as a reference point to England's perpetual penalties agony.
England's quarterfinal defeat becomes the fourth time in 10 years the Three Lions have gone out at the last-eight stage. Only twice since England's triumph at the 1966 World Cup have they gone further. Both times, at the 1990 World Cup and Euro '96, they lost on penalties.
Penalties. It had to be penalties.

Alex Livesey/Getty Images
But perhaps to focus too much on England's cause of death at Euro 2012 is to miss the symptoms that delivered it.
England were completely outplayed by Italy. They were technically inferior in practically every discipline measurable and were extremely fortunate to reach penalties at all after 120 minutes.
In fact, had Italy lost the shootout, it would be have been one of the more unjust defeats to befall any nation, at any tournament. In the age of ubiquitous stats, it's easy to throw numbers at you, so here goes (via Yahoo! Sport).
Italy had 68 percent of the possession. They completed 833 passes to England's 364. They had 36 shots to England's nine. They delivered 40 crosses to England's 20. There's more where they came from, but they all come to the same conclusion.
And then there's the things numbers can't tell you—like the space Italy found in midfield or England's hopeless inability to hold possession in the final third.

Claudio Villa/Getty Images
It all started so well too. For 45 minutes, England made a passable impression of a team who deserved to reach the semifinals. Roy Hodgson's team created chances of their own and appeared to have been freed to attack with far more adventure than we saw against France or Ukraine.
But England left their ambition in the dressing room at halftime. From the start of the second half to the conclusion of extra time, England looked hopelessly devoid of ideas going forward. Meanwhile, they were clinging on in defense.
It's not Hodgson's fault. He took the best set of players available and organised them in the most effective way possible. This England team simply reached their ceiling against Italy. And you can only imagine the kind of carnage Germany would have inflicted on them in a semifinal meeting.
The same fate may await Italy, of course, but at least we know Cesare Prandelli's men will come armed with the ability to hold possession and bring some imagination in the final third. That and Andrea Pirlo—whose latest imperious performance was summed up by the nonchalant flick he put past Joe Hart to score in the shootout. Pirlo deserves his chance against Germany.
Meanwhile, England will fly home in mourning to the traditional big-tournament postmortem a nation knows only too well. With two years to plan for World Cup 2014, Hodgson will now have the opportunity to state his true footballing policies and define how England will approach things in Brazil—should they get there.
As an Englishman myself, I can only hope he deviates greatly from the depressing plan we saw actioned at Euro 2012.
Hodgson did the best with what he had. But the best was nowhere near good enough.