Washington Redskins: Which 2013 Draft Prospects Should They Already Be Scouting?
June 25, 2012

Darren Carroll/Getty Images
This isn't a mock draft. I'd like to make that explicitly clear from the outset. However, a quick glance around the Internet reveals that first-round mock drafts for 2013 have indeed started to appear.
As we all know, the Washington Redskins have no first-round pick in 2013—or 2014, for that matter. This means that the mock drafts that are now appearing exclude the Redskins, and exclusion is not a good thing.
It's a shame that the Redskins are being glossed over—even at this insanely early stage—because the factors that will inform their drafting decisions next year are arguably the most interesting of all 32 teams.
When the Redskins' appeal for sanity in the wake of the cap scandal was brushed aside, they lost some of the ability to call their own shots in 2013. Not only does this affect their decisions to bring in new players, it denies them breathing space when looking to retain their existing ones.
Of the players who are expected to see playing time in 2012, there will be some notable free agents in 2013, including Fred Davis, Kory Lichtensteiger, Kevin Barnes, Tim Hightower and Tyler Polumbus. If we assume that the franchise tag will not be placed on Fred Davis again, then we can also assume that his deal will be at the expense of someone else.
Depending on Lichtensteiger's recovery, a new deal for him will cause similar headaches for Bruce Allen. Adam Gettis may have been drafted to eventually take over from Lichtensteiger, but despite his talent he remains something of a project, and one year isn't likely to change that.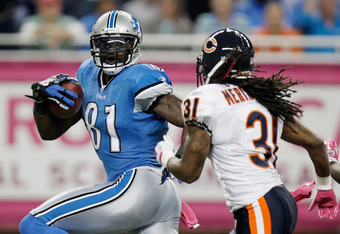 Gregory Shamus/Getty Images
The performance of Raheem Morris' patchwork secondary will be of utmost importance this year, and if they out-perform expectations, then the Redskins will breathe easier. However, a lot of the players brought in are on one-year deals, so the draft will always remain the best place to find a long-term solution.
 Ray Ray Armstrong, S
I'm sure you've heard, but there's a guy with dreads who plays safety for the Miami Hurricanes, wears No. 26 on his back, and had fearsome potential coming out of high school.
Choosing to play your college career in the shadow of Sean Taylor is a brave decision, and Ray Ray Armstrong hasn't yet stepped out of it.
Despite having the ability to dominate, Armstrong has instead relied on his natural talent to coast through college. He fails to follow through on his assignments, seeks only the big plays and seems more interested in himself than the team.
He's like the JaVale McGee of college football, made even more apparent when he was suspended for four games last season for his part in the Nevin Shapiro incident and then again for one more game after violating team rules.
These are all legitimate reasons not to draft him, but with a re-focused attitude, Armstrong could explode this season.
He has great size (6'4", 215 lbs) and strikes fear into the offense with big tackles. His natural athleticism makes him very coachable, and a sophomore season that saw him finish third on the team in tackles showed that he has what it takes.
Speaking to Jorge Milian at the Palm Beach Post, Hurricanes coach Al Golden sees a change in Armstrong's attitude going into the 2012 season:
Ray Ray, you can argue, had the best offseason of anybody. [He] made a lot of sacrifices on his time. He gave up his winter vacation and made a lot of progress. There's not a lot of guys got a black shirt, had the best rating you can in each of their eight UTough segments, and he did. He's leading by example right now
If he has a breakout year, he could go in the first round. However, further erratic on-field performances could see Armstrong go the way of Vontaze Burfict.
Should Raheem Morris remain in Washington, he would bring out the best in Armstrong. Demanding total concentration from his players, Morris will improve Armstrong's fundamentals, allowing him to alleviate the bad angles and errors caused by a lack of study, granting him more hits—and highlights—as a result.
In time, Armstrong could continue the legacy of one of Washington's most beloved players. Just don't give him the No. 21 shirt, Shanahan.
Carrington Byndom, CB
Although he's only going into his junior season, another consistent year should see Texas cornerback Carrington Byndom declare for the 2013 draft.
Byndom has developed quickly over the last two years to the extent that even his position coach has been surprised. When talking to The Daily Texan, Duane Akina had this to say of Byndom:
He's been a pleasant surprise...I knew he was going to be a good player, but he's really ahead of schedule, much more physical. He's really just seeing the game. He's an outstanding athlete and now the game is really beginning to slow down. All those reps are starting to catch up.
An excellent example of Byndom's maturation was the game against Oklahoma State, where he was tasked with covering Justin Blackmon.
As Carter Strickland noted for ESPN.com, Blackmon's average going into that game was 11 receptions and 104 yards per game, with Brandon Weeden throwing for three touchdowns per game. Against Byndom, Blackmon had seven catches and 74 yards. That was Blackmon's second-worst game of the season, and Byndom rightly came away with the plaudits.
Excelling in coverage, Byndom could become the shutdown corner that the Redskins lack.
He has a great attitude and works hard throughout every game, never switching off to celebrate or wave to the crowd when he makes a big play. He just lines up for the next one, focused and still.
Byndom has a good knowledge of receiving routes and isn't lured into poor tackles, either—he stays with his assignments and makes good decisions as the play develops.
Again, he could go in the first round if he has a stellar year, but it's more likely that he slips to the second. If this happens, his defense against the pass would be a valuable asset to the Redskins' secondary for years to come.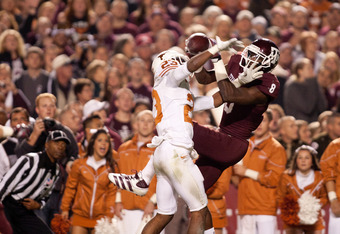 Darren Carroll/Getty Images
Margus Hunt, DE
Articles like this are all about potential, and it makes sense to continue in this vein.
Margus Hunt has the sort of measurables that conjure up words like "unblockable," as he measures 6'8" and 295 lbs with an 82" wingspan.
He hasn't had the most conventional route to college football, having won the world junior discus title in 2006, but he is being labeled in some areas as a first-round talent.
I'm not so sure, and I see both his inexperience and age counting against him when the draft rolls around. Prior to 2007, he had never played a down of football in his life and has learned everything he knows about the game at Southern Methodist.
This lack of exposure to offensive schemes means that he doesn't react as quickly as he should, sometimes taking too long to pick up the play and getting pushed back by linemen who are able to get underneath him and use his height against him.
He will also be 26 when the 2013 NFL season rolls around, and although Brandon Weeden proved that age isn't necessarily a barrier, the complexities of an NFL playbook will be more of a challenge to someone who has only played four years of football.
If Hunt has an impressive combine, he could invoke the sort of frenzy that would see his draft stock go through the roof, but it's much more likely that he falls to the second or third round.
A 26-year-old project at defensive end? I don't see Shanahan going for it, but Hunt's upside should mean that he remains in a lot of conversations during 2012.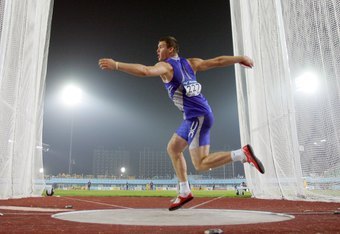 Andy Lyons/Getty Images
Chance Warmack, OL
With the drafting of Robert Griffin III, the Redskins suddenly have a lot more offensive options, including the opportunity to get a lot of yards from their running backs via the option and its different forms.
If this is to be successful, the offensive line must provide effective run-blocking and open up lanes for the running backs. Chance Warmack has good experience in this area, having given Trent Richardson great opportunities during his time at Alabama—something Richardson took full advantage of.
Warmack has good size and is strong at the point of attack, driving defenders back and opening up holes for the running game, as well as anchoring his feet in pass-protection.
He uses his strength and width to his advantage, which allows the quarterback the time he needs to run through his progressions and make accurate throws.
When there is a guard available that takes such obvious joy in blocking, it's probably safe to say that Mike Shanahan has noticed him.
In an interview with Ken Rogers at DothanEagle.com, Dont'a Hightower was particularly effusive about Warmack:
Whenever we line up good-on-good and doing team run, we try to look at the formation to see what's going on, but we always keep an eye on Chance. Chance is that one guy that you have to absolutely go full speed with. It doesn't matter if it's a broken hand or broken leg, he's going to come hit you.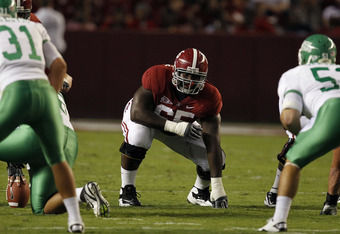 Butch Dill/Getty Images
In Shanahan's Redskins, a level of commitment is expected from every player, as exemplified by that quote from Hightower. Warmack would be an exceptional addition to any team, but the Redskins would amplify his already-daunting blocking ability and allow him to instill the same kind of fear into the NFL that was present in the SEC.
 The Ascendancy
While it would be reasonable to argue that it's completely pointless for me to go to such length over four players—all of whom may not even be drafted by the Redskins—I have chosen to do so because 2013 marks a crucial point in the team's development under Shanahan.
The salary cap hit will affect them greatly, and the performance of veterans with larger contracts—I'm looking at you, DeAngelo Hall—in 2012 will affect how the front office approaches the 2013 offseason.
That ensures that this year's recruits need to leave it all out on the field, as any holes exposed in areas previously considered to be filled will delay the ascendancy of the team for another year.
The words "rebuilding year" will grant a coach some leniency, but only for so long. The loyalty of the Redskins' fans has been admirable, but Shanahan's five-year plan has reached a point where the players have the tools to pay the fans back with results.
If that happens, the salary cap takes care of itself—and the draft will follow.