5 Green Bay Packers Most Likely to Lose Their Starting Spot by Week 8
June 14, 2012

Streeter Lecka/Getty Images
Whether due to age, ineffectiveness or lack of consistency, several players on the Green Bay Packers hold precarious grips on their starting jobs.
A poor training camp or a couple mental errors in a game could mean the difference between a spot in the starting lineup and a spot on the sidelines.
No one is throwing in the towel on these players. They'll receive every opportunity to prove themselves this season; they just have to take advantage of those situations.
Following his attention-getting triumph on the reality television series Dancing with the Stars, Donald Driver's recently restructured contract with more than a million dollars in guaranteed pay has all but assured he'll be part of the Packers' plans in 2012.
But how big of a role will Driver play?
First of all, some liberty must be taken with the term "starter," which, by definition, means a player was on the field for the first snap of the game.
In today's game of football that sees players shuttling on and off the field in specialized packages, being a starter doesn't necessarily have the same connotation it's typically perceived to have.
Even though a player like Jordy Nelson has surpassed Driver in terms of playing time and production, Driver technically started 15 games in 2011 to Nelson's nine.
There's little doubt a player like Nelson in the prime of his career will continue to out-pace Driver, who's entering his 14th year in the league.
A better question might be, who else will surpass Driver this year?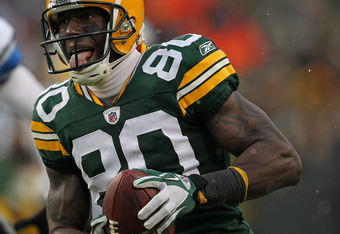 Jonathan Daniel/Getty Images
The obvious candidates are James Jones, a strong possession receiver, and Randall Cobb, a candidate to steal away snaps from Driver in the slot.
There's also a line of thinking that by keeping Driver, the Packers are stunting the growth of younger receivers like Tori Gurley and Diondre Borel.
Last season, Driver had 37 receptions for 445 yards and six touchdowns. If he can continue to put up those kinds of numbers, few people will complain. But if there's better options, the Packers may not hesitate to pass the torch.
Marshall Newhouse
After a rookie season in which he saw action in exactly zero games, Newhouse was thrown to the wolves in 2011.
Filling in for an injured Chad Clifton, Newhouse had an up-and-down sophomore year.
He gave up too many sacks on Aaron Rodgers than most coaches would be comfortable with, but Newhouse also played well enough to suggest that better days are still ahead of him.
Fans might remember that Bryan Bulaga had an inconsistent regular season in 2010 before settling in during the playoff run to the Super Bowl, a performance that carried over to 2011 as well.
But if Newhouse isn't able to show marked improvement, there's a couple candidates to take his place.
First in line is last year's first-round draft choice, Derek Sherrod. Even though Sherrod ended last season on injured reserve, there's every reason to think he'll be recovered and ready to play by the time the regular season starts.
If not Sherrod, rookie Andrew Datko is another option. Had injuries not slowed Datko's college career, it's possible he would have been a much higher draft choice than the seventh round he was taken.
A.J. Hawk
Solid, not spectacular, might be one of the best ways to describe A.J. Hawk.
The intangibles Hawk brings as a leader––being smart, communicating with teammates, not making mental errors and staying relatively healthy––are all positive traits.
The problem is that people expected more out of the fifth-overall draft choice in 2006. They'd gladly trade the intangibles if it meant more impact plays like sacks and interceptions.
Hawk came off arguably the best season of his career in 2010, only to take a step backwards in 2011. Missed tackles and problems in pass coverage came too frequently.
One linebacker looking for a bigger role on the team is up-and-coming second-year player D.J. Smith, who ProFootballFocus.com recently called the Packers' "secret superstar."
"As a rookie, Smith was one of the rare bright spots on last years' dismal defense," writes Bryan Hall of ProFootballFocus.com. "His four-game stint late in the season showcased a play-making ability the Packers have been missing from Hawk–who has averaged just 1.8 sacks, 1.3 INT's, and 0.3 FF per season–over the past six years."
Another player to keep tabs on is rookie Terrell Manning, who the Packers traded up into the fifth round to grab.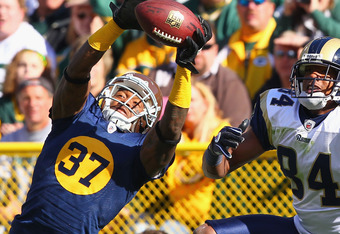 Dilip Vishwanat/Getty Images
Sam Shields
The unheralded hero of the Packers' 2010 Super Bowl just might have been Sam Shields, a college wide receiver that went undrafted and then made the transition to professional cornerback.
In just his rookie season, Shields played a large role in the Packers' nickel package, shutting down opposing wide receivers and coming up with a couple interceptions at the most opportune times, including the NFC Championship game.
Unfortunately for Shields, he appeared to regress in 2011. His coverage skills were still solid, but he was a liability in run support, appearing unwilling to get physical with opposing ball carriers.
The Packers went so far as to play Jarrett Bush on running downs and Shields in passing downs in the playoff loss to the New York Giants.
Again, the term "starter" must be taken liberally as it applies to Shields. Even though he technically started only seven games in 2011, the Packers played so much defense out of their nickel package that Shields received tons of playing time.
In his second year in the NFL, Davon House will push Shields for a spot at the top of the depth chart, as will Bush and rookie Casey Hayward.
Charlie Peprah
Charlie Peprah finds himself in a similar situation to A.J. Hawk as a player who's solid, but not a standout.
Filling in for injured safeties Morgan Burnett in 2010 and Nick Collins in 2011, Peprah has held down the fort, showing he's good enough to start in a Super Bowl and win it in 2010.
Peprah's résumé is highlighted by 94 tackles and five interceptions a season ago, but he has several other players breathing down his neck for playing time.
It doesn't help that Peprah didn't practice during any of the Packers' offseason program as he recovers from arthroscopic knee surgery.
Taking Peprah's place in practice was M.D. Jennings, a second-year player looking to make a big step forward.
Also in the mix is fourth-round draft choice Jerron McMillian, a raw player with a high ceiling.
Not be counted out either is Charles Woodson, whom many have speculated will line up at safety from time to time in certain defensive subpackages.