Manny Pacquiao, Timothy Bradley Decision Will Cause Boxing's Ice Age
June 12, 2012
Ethan Miller/Getty Images
Since graduating high school, I have sung the praises of pro boxing. For everyone who didn't want to know and didn't care, I told them twice. That graduation was back when Joe Frazier was heavyweight champion and Muhammad Ali was in exile. That graduation was when gasoline cost 19 cents per gallon.
I have always been able to defend the sport.  Lord knows, over the years, it has needed to be defended.  But after this weekend, how do I defend the sport from those who are asking, and rightfully so, "How could three judges not have seen what everyone else saw?" 
How?
On Saturday, June 9, spectators from all over the globe watched a 12-round welterweight match between Manny Pacquiao and Timothy Bradley.  What they saw was a good fight.  What they saw was a competitive fight.  It didn't provide the drama of Sugar Ray Leonard vs. Thomas Hearns I, but nor was it a 12-round sleep-inducer. 
What they saw was 12 consecutive rounds of both athletes giving their very best, pouring their very existence into coming out the winner.  At the final bell, we all applauded for the excellent fight we had just witnessed.
Those who had wagered on the previously-undefeated Timothy Bradley and who had hoped to collect on almost 4-1 odds tore up their tickets and flung them in the air. 
Bradley was a long shot, and they knew it.  After 12 rounds, their guy had done enough to survive, but not enough to win.  Bradley had won two, perhaps three rounds.  You were hard-pressed to find four rounds which you could claim him as the clear winner.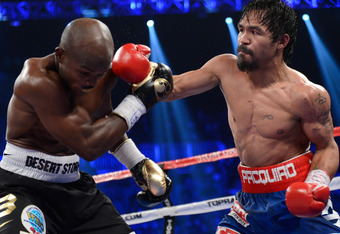 Kevork Djansezian/Getty Images
Then came the decision.  There was a 115-113 for Pacquiao.  115-113?
What?
Bettors scrambled to find the pieces of their ripped tickets.  We veterans knew what was about to happen. 
At that point, you knew another boxing earthquake was about to hit.
Then came another 115-113.  This one was for Bradley.  Boxing's foundation shook.
Then came the crushing temblor.  It was another 115-113 for the winner.
Now comes the Boxing Tsunami.  It's the aftermath of the damage.
But, hey, many millions of years ago, a meteor caused an Ice Age, wiping out the Earth's dinosaurs.  Let's look at what happened on Saturday as the meteor, and what is about to happen as the Ice Age.  I believe there will be a new beginning. 
The dinosaurs will become extinct.  Judges like Duane Ford and Jerry Roth have been around forever.  They have worked a total of close to 300 title fights.  But Roth barely had Pacquiao winning.  And Ford, who has been on the short side of many split decisions, had him losing. So did CJ Ross, who showed she wasn't a judge prepared for a fight of this magnitude.
Their 115-113 scores for Bradley caused the earthquake.  Their scores caused the Boxing Tsunami.  Their scores brought on the soon-to-hit Boxing Ice Age which will wipe them away.
The Boxing Ice Age will not only remove the three of them, but dinosaurs from every boxing jurisdiction all over the globe.  It will most likely cause sweeping change and reform in many state jurisdictions, especially Nevada.  Referees, especially the dinosaurs, will also be affected. 
NSAC Executive Director Keith Kizer will be forced to revamp his judging core and begin training newer, younger, sharper judges who know what they are watching.  If he doesn't do this, promoters will be ultra-hesitant to put on a major show in Nevada, terrified of bouts going to a decision. 
Would you want your fighter going into Nevada?  I wouldn't!  UFC President Dana White, who is also a boxing fan, has called the Nevada State Athletic Commission the worst commission in the world.
Nevada is a state where a majority of the major fights are promoted. The NSAC may have to start bringing in top officials from around the world to sit in as judges.  For the past 40 years, the NSAC has made it their custom to use all Nevada officials.  The Boxing Ice Age will crush and wipe out that practice.
Also, Kizer has said he does not intend to call in the three judges and ask them what they were watching that night.  If officials ever have had to be questioned, it is now. 
If Kizer doesn't call them in front of him and the five-member commission to explain their scoring of this fight, they all should suffer the consequences of the onrushing Boxing Ice Age.  They simply cannot defend their scores.  None of them can.  Not even Roth, who scored it for Pacquiao.
Yes, I have defended boxing long enough.  I will continue to do so.  But this was the last straw.   When I have to hear, watch and read how crooked our sport is, that boxing has reached its ultimate low, that's it!
Changes have to be made.  Drastic changes.  They have to be made now.
The Boxing Ice Age is here.