Which New NFC South Coach Will Make the Biggest Difference in 2012?
June 12, 2012

Al Messerschmidt/Getty Images
The coaching landscape around the NFC South this past offseason changed dramatically. The Tampa Bay Buccaneers landed a new head coach and new coaching staff, the Atlanta Falcons hired two new coordinators and several position coaches and the New Orleans Saints will be without head coach Sean Payton for the season.

Some changes, like the hiring of Dirk Koetter and Mike Nolan in Atlanta, and Greg Schiano and his staff in Tampa Bay were made as changes in direction for their respective franchises.

The Saints will be without Payton, and temporarily without interim head coach Joe Vitt, because of punishments handed down from the NFL because of their roles in BountyGate.

Whether the changes were made by the front office or the league office, there are a lot of new coaching faces in the NFC South.

But which new coach will make the biggest difference in 2012 to his team?
1. Greg Schiano: Head Coach, Tampa Bay Buccaneers
The Buccaneers started the 2011 season with a 4-2 record but lost 10 games in a row to close out a brutally tough campaign. As the team was imploding, rumors flew about then head coach Raheem Morris and his standing with the front office.

On a number of occasions during the year, whispers resonated from Tampa that the team was about to fire Morris. The move didn't come until the conclusion of the season, but those whispers—and they were loud whispers—created an environment of malaise and apathy between some of the players and coaching staff.
Enter Greg Schiano.
Schiano is a no-nonsense kind of coach who controls every aspect of his team's work regimen. It's this kind of step-by-step, methodical process that made Schiano a great choice.
He immediately stepped in and created a sense of adapt or leave. Schiano cut safety Tanard Jackson because he wasn't rehabbing with the team as much as Schiano would have liked. He then informed tight end Kellen Winslow that the Bucs were looking to deal him, primarily because Winslow hadn't been at the team facility through voluntary workouts.
With examples made, Schaino set his sights on the field of play, and he's been working his players harder than many expected. Schiano is creating a new way of life in Tampa Bay, and for those who buy in completely, the promise is a complete 180-degree turn in just about every phase of the team and a return to winning ways.
2. The Falcons' Coordinators
Former coordinators Mike Mularkey and Brian VanGorder left the Falcons after last year's playoff loss in New York to move on to other positions. Mularkey is now the head coach in Jacksonville while VanGorder is the defensive coordinator at Auburn.
Both departures were amiable and likely kept general manager Thomas Dimitroff from getting blood on his own axe.
The Falcons brought in Mike Nolan as defensive coordinator and Dirk Koetter to run the offense. Both bring a new style to units that don't need to be overhauled but could benefit from a tune up.
Nolan will find new ways to get pressure on the quarterback by bringing players from a multitude of different locations. His "Big Nickel" will choke offensive game plans and there are some potential scheme changes like some hybrid 3-4 looks and a move from zone coverage in the secondary that could push Atlanta in a positive new direction.
Koetter promised to bring the screen pass to the Falcons and add a vertical attack Matt Ryan's repertoire.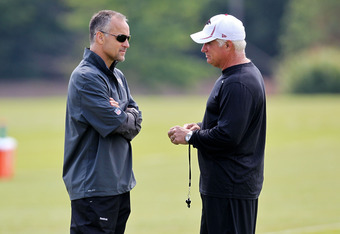 Daniel Shirey/Getty Images
Koetter is famously known around the NFL for putting the pieces together for a deep aerial assault. To do that in Atlanta he's going to have to fix the offensive line's inability to function through limited screen action and get them to provide just a little more time for Matt Ryan to throw the ball.
Koetter and Nolan aren't the flashy coaching changes as in Tampa Bay, or the most newsworthy as in New Orleans, but these two may provide the push that's needed most to Atlanta—ammunition to finally win a playoff game in the Mike Smith era.
3. Pete Carmichael and Joe Vitt: Interim Head Coaches
Joe Vitt and Pete Carmichael will be vitally important to the New Orleans Saints in 2012, not so much for what they know or can do, but for just how well they can keep the Saints' vehicle on course.
The biggest hit the Saints took when the NFL handed down suspensions during the BountyGate hearings was the one-year suspension to head coach Sean Payton. Not only is Payton an innovative coach, but his mind is quick, his game plans are thorough and tough to counter and his offense is a finely-tuned engine.
Vitt is going to have to take control of that engine and keep it purring while Payton is gone. But before Vitt gets an opportunity, he's going to have to sit out for six weeks first.
Vitt was also suspended as a result of BountyGate and will miss the Saints' first six games. It's during these times that the team will lean on Carmichael.
If Carmichael, and then Vitt, can run Payton's team with little to no drop-off, the Saints are still a playoff-caliber, if not Super Bowl-caliber, team.
However, the possibility is there that the Carmichael-Vitt regime could fall flat or maybe well below expectations. If that duo can't coach this team to the playoffs, Payton's suspension might end up being the harshest in history—because there's no reason why the New Orleans Saints shouldn't be in the playoffs.