Arsenal Listed as the Sixth Most Valuable Football Brand in the World
May 30, 2012

Clive Rose/Getty Images
Arsenal Football Club have been ranked sixth in Brand Finance's 2012 list of the most valuable football brands in the world, with a value of £250 million.
This marks the fourth straight year that Arsenal have ranked in the top 10, following No. 5 rankings in 2009 and 2010 before a sixth-place finish in 2011.
After seeing their brand value hover at roughly £213 million for 2009 and 2010, Arsenal saw that number drop to £194 million in 2011 before experiencing a 29-percent increase, which saw them land at 2012's £250 million tag.
They are the third-highest ranked English Premier League club, and one of nine in the top 25.
Manchester United reassumed the top ranking after posting a £550 million brand value in 2012—up from £427 million in 2011.
Brand Finance use a five-step process to arrive at their rankings. Here is the system, taken from their website.
1. Determine forecast revenues
Determine future revenues attributable to the brand over a five year explicit forecast period. This is done by referencing historic trends, market growth estimates, competitive forces, analyst projections and company forecasts.
2. Assess the Brand Strength
Determine the strength of the brand using the ßrandßeta® Index.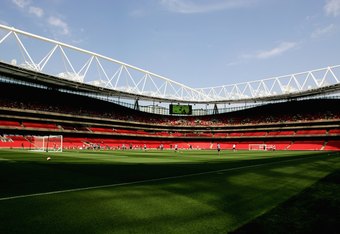 Paul Gilham/Getty Images
3. Establish Royalty Rate
Review comparable licensing agreements. Analyse margins and value drivers. Establish average royalty rate range for relevant sector. Apply ßrandßeta® Index to royalty rate range to determine royalty rate for the brand.
4. Determine the Discount Rate
Determine discount rate to calculate the net present value (NPV) of future brand earnings (accounting for the time value of money and the associated risk). 
5. Brand Valuation Calculation
The NPV of post-tax royalties equals the brand value.
Brand Finance designate each of the organizations it ranks with a brand rating, which benchmarks the the "strength, risk and potential of a brand, relative to its competitors." The scale ranges from "AAA" (extremely strong), to "DDD-D" (failing).
Arsenal have been classified as having an "AA-" brand rating. Manchester United boast an "AAA+" rating, followed closely by No. 2-ranked Bayern Munich, who are listed at "AAA."