Roger Federer Passes Jimmy Connors with 234 Grand Slam Wins in Open Era
May 30, 2012
Clive Brunskill/Getty Images
World No. 3 Roger Federer hasn't won a Grand Slam in over two years, but he accomplished something that is perhaps even more impressive today in his second-round French Open victory over Adrian Ungur. 
According to Alexandra Willis of The Telegraph, Federer's victory gave him 234 Grand Slam match victories, breaking a tie with American Jimmy Connors for the most Grand Slam wins in the Open Era.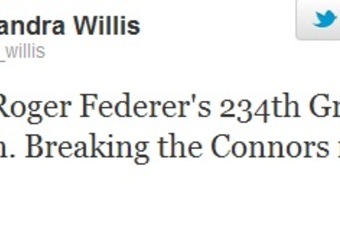 Considering Federer is only 30 years old, this particular record is even more impressive than it looks at first glance. Connors had to play into his 40s in order to reach that number.
Many believe he has lost a step or two, but Federer is still an elite player, so there is no reason why he can't play another five years or so. With that in mind, it is certainly possible that he could add another 100 wins to the 234 Grand Slam victories he has already accrued.
With those numbers, it would be hard to argue against Federer going down as the top men's singles player of all time. And that shouldn't come as a surprise to most.
This record is something the Swiss star will be able to look back on fondly once his career comes to a close, but I doubt he cares much about it right now. Federer's main goal is undoubtedly winning another Grand Slam to prove he can still compete with the likes of Novak Djokovic and Rafael Nadal. 
It won't be easy to do that, especially on the clay surface at Roland Garros, but you can never count out Federer. He does, after all, have the most Grand Slam titles in the history of the sport. 
Follow @MikeChiari on Twitter