Lawrence Taylor: How Much Did Giants Legend's Super Bowl Ring Sell For?
May 20, 2012
Tom Berg/Getty Images
The news that New York Giants legend Lawrence Taylor's Super Bowl ring was being auctioned off brought questions on how much the piece of sports history would go for. We have our answer.
Giants' insider for the New York Daily News Ralph Vacchiano is reporting on Twitter about the final selling price for the ring:
SOLD! The auction is over and Lawrence Taylor's Super Bowl XXV ring went for a whopping $230,401. #NYG

— Ralph Vacchiano (@TheBlueScreen) May 20, 2012
There was no estimated price for the ring, but the seller (LT's son) has to be happy about the fact that the final price for the piece of history was over $230,000. Not a bad day at the auctions at all!
What It Means
Giants' defensive end Osi Umenyiora did not buy the ring. After pledging to buy the piece of New York history if he got 500,000 followers on Twitter, the star barley broke the 55,000 follower mark (via Pro Football Talk).
While it's sad to see a star put himself out there like that only to be ignored, it couldn't have happened to a nicer guy. Maybe he would have gotten more followers if he hadn't offended half the world with his Mother's Day tweets.
If Umenyiora didn't buy the ring, that opens up the next logical question: Who did?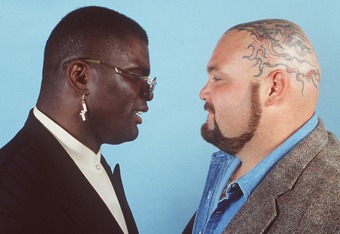 Bill Apter/Getty Images
What's Next
The biggest question marks remaining are who bought the ring and what their intentions are now that they paid $230k for it. I love my local team, but I wouldn't pay that much for a house let alone a Super Bowl ring, but that's just me.
There is almost no doubt in my mind that this will go into some rich man's personal toy room where he keeps all the things fans hold dear but can't afford. While that is likely, I prefer to think that somewhere a man bought this ring to donate it to the Hall of Fame.
If the person that bought the ring for over $230,000 is rich enough to throw that much money around, they can afford to donate the piece of history and use that as a tax write off. I don't know if that's legal or not, but rich people do what they want anyway, let's be honest.
Check back for more on the National Football League as it comes, and check out Bleacher Report's NFL Page to get your fill of all things football.