Bryce Harper: 19-Year-Old Phenom Sure to Keep Shining for the Nationals
May 17, 2012
Bryce Harper is just 19, and he was not supposed to join the Washington Nationals until June at the earliest.  But injuries and a confident front office were all Harper needed to show the Nats and the baseball world he's all they bargained he could be.
So far, Bryce Harper has taken the first pitch thrown at him like a man.  He has robbed home plate on a payback steal for the ages. And he has rumbled full speed around the bases and into outfield walls.  Did we mention that his face got the worst of a splintered bat, but he's all good?
Welcome to the nation's capitol, Mr. Harper.  You're the man, and Washington fans are fond to have you for the next decade or so.  
Harper has already come a long way since being criticized for cockiness and showboating in the minors.  Since his call up in late April, Harper has been downright humble in person, even when opposing players have tried to rile him up.
If Harper's loyal legion of fans could send an informal message to Philadelphia Phillies star pitcher Cole Hamels, it would probably go something like this.  

"Next time you decide to throw at a rookie, please remember to be more mature about it."  
Hamels rifled a fastball at Harper's back a couple of Sundays ago in Washington.  Bryce barely flinched, but Hamels showed the maturity of a teenager, admitting that he pegged Harper on purpose.  Hamels may have wanted to send a message of his own, but Harper got the last laugh, with an electrifying steal of home plate in the same inning.  
So how did the kid react?  With the chance to gloat, he took the high road and acted like a wily veteran.
Check this tweet out by Washington Post writer Adam Kilgore: 
Adam Kilgore@AdamKilgoreWP

Told Hamels admitted plunking him, Harper laughed. "He's a great guy, great pitcher, knows how to pitch. He's an all-star. It's all good."
Harper recently jacked his first two Major League home runs.  But talk about the accomplishment was secondary to how fast he ran around the bases.  In fact, 2012 statistics now show that Harper is listed as a respectable second among fastest home run trotters in baseball.   
Of course, Harper has had his share of rookie blunders.  He missed a routine catch in left field against the Phillies.  And recently, he took out his frustrations during an 0-for-5 performance by busting a bat against a metal door.  The door came out unscathed, but Bryce did not.  He actually needed 10 stitches after a broken part of a bat sliced the skin above his eye.  But he took that like a man too and never missed an inning.   
Nationals Manager Davey Johnson did not seem to mind either.
"I didn't think much about it," Johnson told the Washington Post. "We put a band-aid on it, one of those butterflies. That's what ballplayers do—break bats, throw helmets. That's not anything new."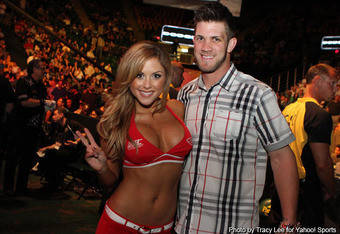 Fans may be waiting for Harper's arrogant side to come out, like the time he blew a kiss to an opposing player after crushing a home run in a Single-A game.  That reaction may have just been Harper's instincts getting the best of him.
But before we get carried away trying to judge him one way or the other, we should all be grateful for what we are witnessing.  Bryce Harper is an incredibly talented young man, who is determined to succeed.  He just happens to be doing so ahead of schedule.  
The beauty of it all is that he is succeeding against the odds with guts, passion and raw skill.  Harper is also making believers out of teams who likely thought the Nats would lay down and die when injuries began to mount.
A few weeks ago, Washington appeared to call up Harper out of necessity when the team lost Adam LaRoche and Ryan Zimmerman for the short term and Michael Morse for months.  
Harper answered the call and the Nationals have barely missed a beat, with a spectacular pitching staff that has them perched atop the NL East.  
So what's Harper's next great challenge?
If asked, he could say something immature, like "I'll hit twice as many homeruns in my first season than my idol Mickey Mantle did in his."  I guess it's possible because in 1951, Mantle managed just 13 HRs in 96 games as a 19-year old with the New York Yankees. But this writer believes Harper's answer would be more subdued.  Maybe the kid should simply wish for a postseason appearance in his rookie campaign.  
For that dream to come true, the Nationals would have to overcome more injuries, like the broken wrist Jason Werth sustained against Philadelphia.  But if the young whipper-snapper has his way, he may singlehandedly power the engine while Werth's away.