Oklahoma Football: Mike Stoops Will Simplify and Strengthen Sooners' Defense
May 13, 2012

Wesley Hitt/Getty Images
There is always an ugly side to coaching changes at a top program like Oklahoma—lost recruits, transfers, angry pitchfork mobs going full-on Sherman's March through the streets of Norman.
For example, when former defensive-back coach Willie Martinez left in January, 4-star cornerback prospect Da'Vante Harris decommitted from OU and chose Texas A&M instead. Up-and-coming sophomore linebacker Kellen Jones followed long-time defensive coordinator Brent Venables to Clemson this March. Lastly, I personally led a group of 10-12 angry Sooner fans down Main Street, wreaking havoc amongst the locals.
Okay, the last part isn't true. But you get the idea.
Considering the uncharacteristic shortcomings of last season's defense, the appointment of Mike Stoops (defensive coordinator, secondary) and Tim Kish (linebackers) could not have come at a better time.
Venables had historically done very well suppressing high-powered units like Texas Tech and Oklahoma State, but the upward trend in Big 12 offenses—now considered by most to be the most potent in college football—had become too much to handle for the veteran coach.
So what was Mike Stoops' mastermind plan to revamp the defense he once led to a national championship in 2000?
He began by moving players around to new positions to try to take advantage of their skill sets. Stoops moved Tony Jefferson to free safety, Javon Harris to strong safety, Aaron Colvin to cornerback, Joseph Ibiloye to weak-side linebacker and Gabe Lynn to nickel-back and safety.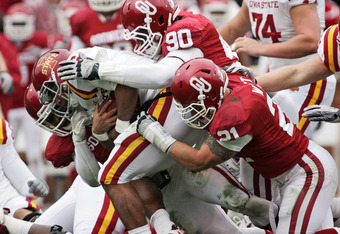 Brett Deering/Getty Images
"Sometimes players are asked to do things they can't do," Stoops said. "Part of our responsibility is to get our players in position to do things they can do well. And that's what we are trying to do."
The next step was to simplify the defense. Venables had been at the helm of the Oklahoma defense since 2004—a relatively long stint for any assistant coach these days. All those years spent fine-tuning his defense had produced a scheme too complex for its own good.
"One of the things we were lacking last year was just not knowing exactly what's going on," safety Javon Harris admitted recently. Harris was the scapegoat for much of the secondary's woes last year, but has enjoyed the changes. "In talking to some of my other teammates, I think everybody is liking the new defense and knowing exactly what they need to do."
The public's first look at the new defense was the annual Red/White game in April. Stoops was pleased, saying, "I've been encouraged with our guys all camp. Our position on the football was much better as the game went on."
But Stoops, a notorious "never satisfied" guy, identified a few problem areas. "Our pass rush needs to improve, and we still need to continue keeping position on the football in deep balls."
The rest of the off season will be spent shoring up problem areas and making the final touches in preparation for a tough 2012 schedule.
If it's any indicator as to how things are going so far, head coach—and big brother—Bob Stoops likes what he has see so far. "I've got great confidence in him of course and what he sees. It's been great to have him back," Stoops said. "It gives me a strong sense of security that we're doing things the best way we can."
It seems like the defense is in good hands with Mike Stoops. A strong defense combined with a potent offense is just what the Sooners need to bring the Big 12 Championship back to Norman and, most importantly, extinguish all of those angry mobs.