NBA Playoffs 2012: Stars Who Will Shine Brightest on the Biggest Stage
April 26, 2012

Stephen Dunn/Getty Images
True NBA legends are made in the playoffs, and these guys will further cement their legend with sparkling postseason performances. 
The three following players are stars for a reason, and they will prove it once again. For two of them, age has brought them close to their last chance at true domination.
The other has a few more years in the tank, but he is going to have a much harder time leading his team to a deep run to showcase his talents. 
Kobe Bryant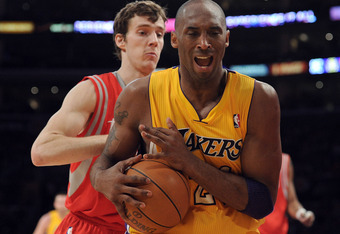 Harry How/Getty Images
The Black Mamba is nearing the end of his championship window. He knows it, and he is not going to go quietly into that good night. 
Kobe has had a fantastic season. Sure, his shooting percentage is low, but with as big a burden that he has to carry on the offensive end, it is slightly more acceptable. 
Compared to recent seasons, Bryant enters these playoffs as the picture of perfect health. His knee appears to have held up well, and the shin issues that caused him to miss a recent stretch of games is not only gone, but it gave him a nice little break just before the playoffs. 
Kobe is going to come up big on offense and defense in these playoffs, and he gave us all a little taste of that in their big win against the Thunder last week. 
Kobe struggled with his shot almost all game, and then he buried the Thunder in true Mamba-closing style. He also played great D on Russell Westbrook. 
That is the Kobe we will see in the playoffs, only he won't struggle with his shot for three quarters every game. 
Kevin Garnett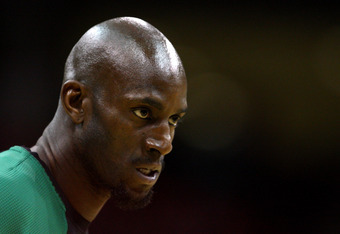 Chris Chambers/Getty Images
KG's days of domination are even closer to an end than Kobe's. But that will mean very little in the short window that is the playoffs. 
The Celtics have had a nice late-season resurgence. At one point, they were in danger of not even making the playoffs. 
They have turned things around, and KG is a big reason. He has shown flashes of the old KG, and he likes to do that in big games. In the Celtics' win over the Heat on April 10, Garnett had 24 points on 11-14 shooting in that contest. He also chipped in nine boards. 
He has sat out the Celtics' last two games with hip issues, but that is likely a lot more precautionary than serious. 
Garnett is just getting ready for one last hurrah.
Carmelo Anthony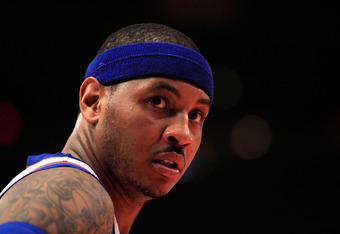 Chris Trotman/Getty Images
Carmelo Anthony is going to have an excellent playoffs, and he is going to have to if the Knicks want to last more than four games. 
They are headed for a matchup with the Miami Heat in the first round, and what a first-round matchup that will be: Carmelo vs. LeBron.
This matchup has always brought out the best in Melo, and these playoffs will be no different. 
He certainly won't be hurting for touches. The Knicks are going to have to rely heavily on his scoring to have a chance. 
I honestly do not expect the Knicks to advance past the first round, but they will win a couple and make it interesting, and all along the way, Carmelo will be filling up the stat sheet.